How to Cut PVC Pipe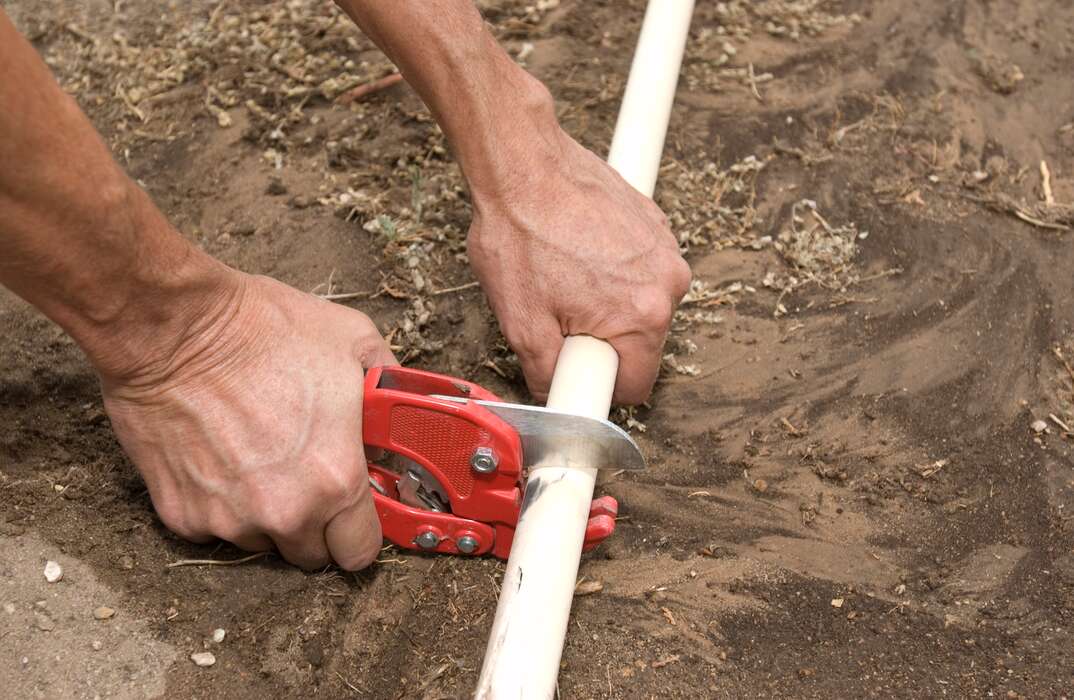 If you're a home-improvement do-it-yourselfer, you're certain to undertake a project, at some point, that calls for the use of PVC pipe — and that means you're going to need to know how to cut the pipe to your project's specifications. Well, you're in luck, because working with PVC pipe can really be quite simple, even for those with no experience or training.
This May Also Interest You: 8 Easy DIY Home Maintenance Tips
Read on to learn all about what you may need PVC pipe for, how much you'll need and the typical methods for cutting PVC pipe to your project's specifications.
Why Would You Need to Cut PVC Pipe?
PVC (polyvinyl chloride) pipe has many different uses, but it's most commonly used in sewage lines, water mains and irrigation. The reason PVC pipe is so popular is that it's lightweight, strong, durable, recyclable, cheap to produce and easy to work with — including cutting.
Know How Much You Need
PVC pipe purchased from a hardware store typically comes with markings on the side — so all you need to do to determine the size is check the side of the pipe. These measurements are based on the hole inside the PVC pipe. Sometimes, people will measure the outside diameter of their PVC pipe and wrongly assume that's the pipe size, resulting in their purchasing a size much too big for their needs.
Making the Cut
When starting a PVC project, you'll need to cut your PVC pipe down to the right size. You'll be relieved to learn that cutting PVC pipe can be easier than cutting other materials such as wood, concrete and other building materials. There are several different ways you can cut PVC pipe, but here are three of the most popular methods, along with their respective pros and cons:
1. Plastic Pipe Cutter
For this method, you'll need a plastic pipe cutter, which will run you roughly $10-$15. These tools are inexpensive and make the pipe-cutting process much easier. The rotating pipe cutter uses a blade that clamps down onto the edge of the pipe, and you can rotate it to cut deeper into the pipe. Position the point you want to cut on the blade, in the jaws of the pipe cutter, then squeeze the handles together and rotate the cutter around the pipe.
This method is great for those who are apprehensive about using tools with "teeth," such as saws, as well as for those averse to noisy power tools.
2. Hand Saw
Using a hand saw is the most common way of cutting a PVC pipe because the tool essentially does all of the work for you. Like the plastic pipe cutter, hand saws are relatively inexpensive to buy. You can use nearly any kind of saw, but a hacksaw is best, as it affords much more flexibility. Simply hold or clamp the pipe over the edge of a counter or workbench and position the saw on the mark where you want to cut. Saw carefully in a back and forth motion, all the way through the pipe.
Although simple, using a hand saw can create quite a mess. You'll also have to deburr the pipe, as sawing leaves behind spikey edges at the end.
3. Electric Miter Saw
If you need to cut a large amount of PVC pipe, an electric miter saw may be your best option. This method can help wrap up the process quickly. To cut PVC with a miter saw, you have to have a method to clamp the pipe to the miter saw base; otherwise, it'll come loose and wreak havoc. Once clamped, make sure the blade of the saw is lined up with the mark on the PVC pipe you're cutting, then activate the saw blade and drop the saw slowly down onto the pipe until you cut is complete. Once you make it all the way through the pipe, release the button and stop the blade before lifting the saw head back up.
The biggest drawback of using an electric saw is that it can be intimidating, especially for the inexperienced. You'll need to exercise extreme caution when using an electric saw, as a power tool like this can easily sever fingers or other body parts.
Should You Seek Professional Help?
If you're unsure as to whether you can handle a PVC project yourself, you should seek professional assistance. Remember, some of these tools can be dangerous if not used properly. Not confident you can handle an electric saw? Not every DIY project is for every DIYer, so don't sacrifice safety for personal pride: Consult an expert.
Since we're all home now more than ever, being prepared for unexpected home repairs with a plan from HomeServe is important. Having a plan in place gives you the peace of mind knowing that you can simply call our 24/7 repair hotline for covered breakdowns. See what plans are available in your neighborhood.