Scrub-a-Dub-Dub: How to Clean Your Bathtub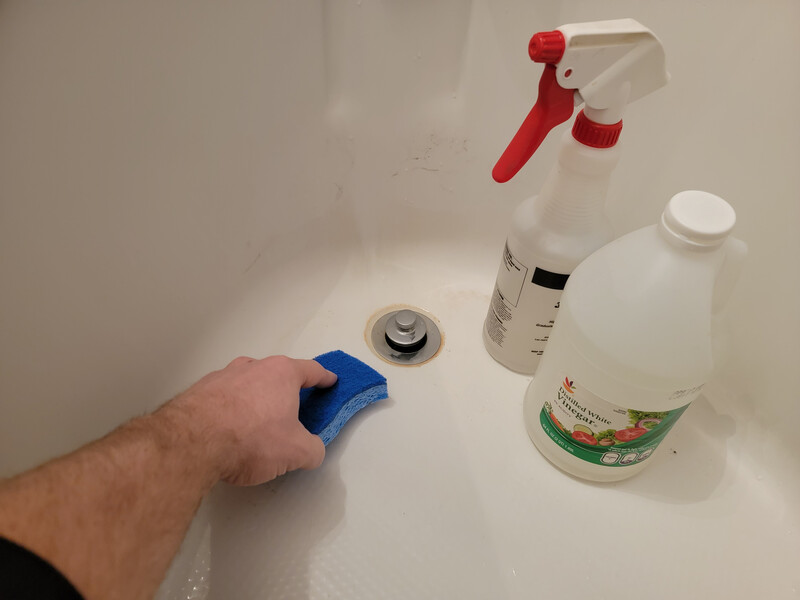 Cleaning a Bathtub at a Glance
Tools and materials: White vinegar, water, spray bottle, sponge, baking soda, hydrogen peroxide or cleaning solution and sponge
Step 1: Spray solution and let sit
Step 2: Wipe with sponge
Step 3: Rinse
Step 4: Tackle stains
Step 5: Clean drain
Step 6: Wash curtain
Your tub is the setting for the most relaxing bubble bath you can imagine. There are flickering candles, soothing music and floral-scented soaps. But wait — isn't this the same place you wash the dog?
This May Also Interest You: How to Clean a Jetted Tub: 6 Steps to Bath-Time Bliss
Bathtubs are magnets for slime, mildew and soap scum. Even the cleanest tubs will gather stains from rust and hard water. You can use store-bought cleaners to cut through the gunk. Some popular ones are Scrubbing Bubbles, Clorox and CLR.
If you use these, make sure you follow the manufacturer's recommendations for safe use. Scrub with a sponge, and you should be able to get your tub back to bathing condition. While working with chemicals, keep the area well ventilated and protect your skin by wearing rubber gloves. Never mix cleaning products.
Natural Cleaning Technique
If you're looking for a natural way to clean your bathtub, a few inexpensive household staples are all you'll need. This do-it-yourself method is easy and effective on grime and stains.
Tools and Materials
Cleaning your bathtub can be an easy Saturday morning chore with the right supplies. This is all you'll need:
White vinegar
Water
Spray bottle
Sponge
How to Clean a Bathtub
1. Fill your spray bottle with a solution of half warm water and half white vinegar.
2. Spray the tub surface with your solution and let it sit for 15 minutes.
3. Wipe the surface clean with a sponge.
4. Rinse with warm water and wipe it down one last time.
Tackling Stains
Sometimes a weekly cleaning just isn't enough to keep your bathtub clean. Even after you follow the steps above, you might find that a few stains were left behind. No worries. We have you covered with that, too.
Most stains will come off with just one extra ingredient: baking soda. Sprinkle some on the stain, then spray it with the vinegar-water solution to create a bubbly reaction. Let it sit for about 15 minutes, wipe and rinse.
Stubborn Stains
If you have stubborn stains, it's time to bust out the hydrogen peroxide. Here are the steps:
1. Make a paste with one part hydrogen peroxide to two parts baking soda.
2. Rub the paste on the stain. Let it sit for up to one hour, then rinse.
3. Use your vinegar-water solution to wipe the area clean, then rinse again. (Note: Don't mix the hydrogen peroxide directly into your vinegar solution. Combining the chemicals can create an irritating acid.)
4. Repeat, if necessary, until the stain is gone.
Hard Water Stains
According to Good Housekeeping, it's best to remove hard water stains as soon as you notice them to prevent them from becoming worse. But not all of us are keeping close tabs on the state of our bathtub, so they're bound to build up. Here's how to remove even stubborn hard water stains:
1. Dip a rag or paper towels in full-strength white vinegar.
2. Apply the soaked paper towels to the stained areas. Let this sit for 1 to 2 hours.
3. Scrub with a baking soda and vinegar paste, then rinse it clean.
To avoid hard water stains in the future, you might want to invest in a water softener.
Rust Stains
Rust stains are a huge eyesore in a bathtub. If you have rusty water, you'll notice brown stains all over your tub, with the worst ones near the faucet and drain. You can get rid of these stains with a paste made out of borax powder and lemon juice. Here's what to do:
1. Sprinkle the rust stains with borax powder.
2. Cut your lemon in half and rub each stain until a paste forms.
3. Let this paste sit for 15-30 minutes. Then, wipe and rinse.
More Related Articles:
Sanitizing Your Tub
The Centers for Disease Control recommend using a diluted bleach solution to disinfect surfaces. To sanitize your bathtub, you can use 1/3 cup of bleach mixed with a gallon of water. Wipe all the bathtub areas with this solution. Wait a few minutes, then rinse the area thoroughly.
Don't Forget the Drain
Now that you have your tub sparkling clean, you'll want to give your drain some attention. Unclogging your drain is never fun, but it can be prevented with some regular maintenance. Regularly cleaning the hair and debris out of your drain is a start.
You can also use a homemade drain cleaner. Try these steps:
1. Put a half-cup baking soda into the drain.
2. Pour a half-cup of vinegar after it, then cover the drain opening.
3. After the fizzing stops, you can pour another half-cup vinegar into the drain.
4. Wait about 15 minutes, then flush the drain with a gallon of boiling water. If you have PVC pipes, you shouldn't use boiling water. Flush with tap-hot water instead.
Cleaning the Shower Curtain
If your bathtub has a curtain, you'll want to give that curtain a good cleaning, too. If it's washable, stick it in the washer. If not, simply wipe it clean with the vinegar and water solution you've been using. Shower curtains often collect mold. If your notice yours is moldy, it's time to replace it.
Since we're all home now more than ever, being prepared for unexpected home repairs with a plan from HomeServe is important. Having a plan in place gives you peace of mind knowing that you can simply call our 24/7 repair hotline for covered breakdowns. See what plans are available in your neighborhood.