Not Ready to Go All-in? Here's How Much a Semi-In-Ground Swimming Pool Costs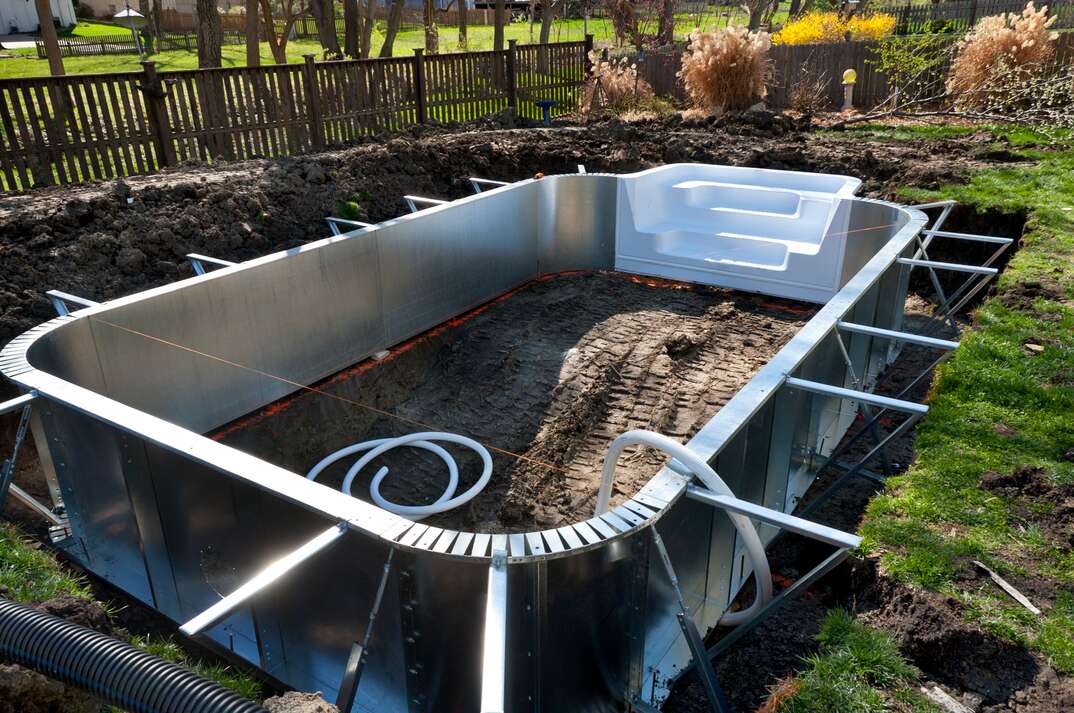 With everyone spending more time at home these days and using their houses for entertainment as well as work, homeowners are investing more money into upgrades that make staying in more enjoyable. Pools and backyard oases are increasingly popular in suburban areas, as all of us adapt to being homebodies. You're likely familiar with the more conventional in-ground and above-ground swimming-pool varieties, but what about the type that splits the difference: a semi-in-ground pool?
This May Also Interest You: Preparing your home before a long vacation
Let's take a look at some important considerations for homeowners to explore before diving right in to this kind of home improvement.
Traditional In-Ground Pools Vs. Semi-In-Ground Pools
The main difference is that traditional in-ground pools are completely buried into the surrounding landscape. Advantages include ease of access from every angle, as well as all support and insulation for the structure being supplied by the surrounding soil, thereby keeping the pool water cooler. A disadvantage of in-ground pools is that they require somewhat level ground to rest within.
Semi-in-ground pools are similar, except that a portion of the pool walls are exposed above the ground. The walls in plain sight get finished for functionality and aesthetic appeal. Where semi-in-ground pools shine is in yards with steeper-than-average slopes.
By only partially burying the pool, retaining walls can be constructed to keep the pool itself level while the grade around the pool slopes away. Likewise, semi-in-ground pools can be configured with additional features like waterfalls and infinity walls.
A downside to some semi-in-ground pools is that the more the walls of the pool lie above the ground, the less the water in the pool is insulated by the surrounding earth. Tha means pool-water temperatures will be warmer.
Semi-In-Ground Pool Prices
Let's talk some realistic numbers for semi-in-ground swimming pools to give you an idea about what kind of budget you might be looking at. For semi-in-ground pools to work, the pool walls do double duty as retaining walls. The price range for semi-in-ground pool walls is between $7,000 and $20,000, depending on size and materials.
Pool sizes between in-ground pools and semi-in-ground pools are similar, and the prices of each follow suit. Cheaper materials like fiberglass and vinyl liner pools will save you money upfront, but expect to repair or update them sooner than a concrete pool.
Semi-In-Ground Pool Installation Costs
Installation is where savings come with semi-in-ground pools thanks to less excavation, and somewhat easier access to wiring and plumbing. Most online sources estimate between $7,000 and $24,000 for semi-in-ground pool installation plus materials. But because sloping yards are a non-starter for in-ground and above-ground pools, semi-in-ground may be the way to go if you live in a house on a hill.
Semi-In-Ground Pool Costs With Deck
According to the experts at ConcreteNetwork.com, the average size of a pool deck is 900 square feet. Like most pool features, prices range depending on how bland or fancy you want the deck to be. The deck is typically a separate budget item, and here are some estimates by which you can gauge your project's price:
Simple concrete deck: Up to $10 per square foot
Custom-design concrete deck: Up to $15 per square foot
Elaborate-design concrete deck: More than $15 per square foot
Semi-In-Ground Pool Vs. Above-Ground Pool Costs
With the added labor and excavation involved in installing a semi-in-ground pool, homeowners average about $10,000 more than the total price for an above-ground pool. For those looking for a pool to suit all occasions, that may seem like a reasonable price to pay.
The limiting factor for above-ground pools is always going to be depth. If the deep end won't be missed, and your yard is somewhat level with some room to spare, an above-ground pool might be something to consider. But current consumer trends suggest more homeowners are willing to dig deeper in their pockets in order to be able to dive deeper into their pool.
Other Factors to Consider
Be careful how you measure return on investment. Paying $100,000 for a pool in your backyard rarely correlates to value on the sale price of your home. That said, in today's increasingly socially distanced culture, consumers are putting a premium on enjoyment and relaxation at home, citing those, not resale prospects, as the main considerations for having a semi-in-ground pool as a part of their backyard oasis.
Since we're all home now more than ever, being prepared for unexpected home repairs with a plan from HomeServe is important. Having a plan in place gives you the peace of mind knowing that you can simply call our 24/7 repair hotline for covered breakdowns. See what plans are available in your neighborhood.