How Much Does an Above-Ground Pool Cost?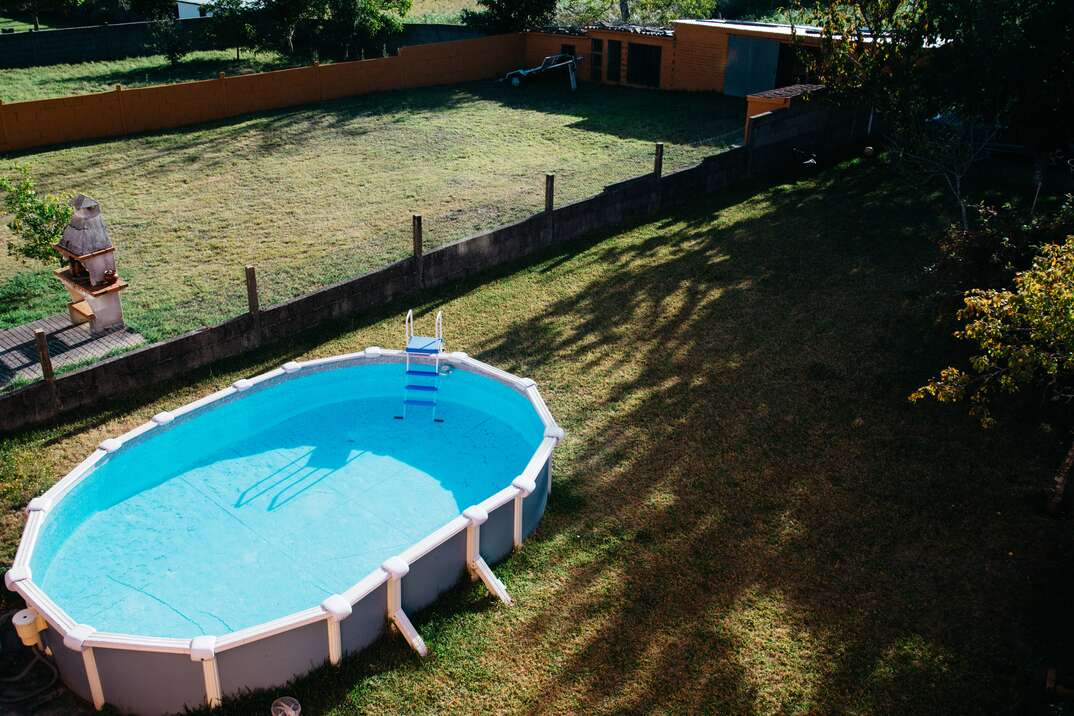 Above-Ground Pool Costs at a Glance
Average pool price: $1,500
Price range: $850-$3,000
Installation: Additional $1,000-$3,000
Total cost: $1,850-$5,000
Compare to inground-pool price: $20,000 or more
Given how much time everyone spent at home in 2020 — and uncertainty as to how things are going to go in the months and even years ahead — installing a swimming pool in your yard might prove to be a wise investment when you're looking to while away the hours at home in the warmer months. While an inground pool is certainly a consideration, an above-ground pool can be an easier, less-expensive way to dive into the process of creating a backyard oasis for the next time you're isolated at home — whether by global events or by personal choice.
This May Also Interest You: Preparing Your Home Before a Long Vacation
Read on for our comprehensive guide on how much you should expect to spend on an above-ground pool, different options available and other considerations you'll want to make before getting started.
What Factors Into the Cost to Purchase and Install an Above-Ground Pool?
There are several decisions to make when trying to determine the cost of an above-ground pool. Start by researching the requirements and restrictions in your city, county and state. The size and shape of the pool will determine the capacity, in turn impacting the cost to fill and maintain the pool. Moreover, do you want an inflatable, resin, plastic, steel or aluminum frame?
Your next decision is whether to install the pool yourself or have a contractor perform the installation. Whatever your decision, be sure to do your research in order to get the maximum enjoyment at the minimum cost.
How Much Does an Above-Ground Pool Cost?
The average price of an above-ground pool kit is about $1,500, with prices covering a range of $850-$3,000. Unless you plan to do the installation yourself, you'll need to spend another $1,000-$3,000 to hire a contractor.
You'll also need to determine if your property is ready for an above-ground pool or if some grading or excavating will need to be done before proceeding. If your property has a slope to it, installing a semi-inground pool is also an option. You can install an above-ground partially inground, but it is not the same as an inground pool.
Then there are the add-ons to consider, including:
A pool deck
Landscaping
In-pool lighting
Safety-step systems
A larger, more effective filtering system
A pool cover
What Are the Options for an Above-Ground Pool?
You have several choices as to what type of above-ground pool best suits your particular needs. Here are the primary options available:
Inflatable
Your least-expensive choice is an inflatable pool. These are usually not as durable, and are smaller than a framed or solid-wall pool. You'll want to purchase an air pump sufficient to do the job of inflating the pool. Prepare yourself going in for the fact that installing a vinyl pool will kill the grass underneath, leaving a large, brown spot during the offseason. Even with an inflatable pool, you'll need some sort of filtration system to help eliminate dirt, debris and insects, and improve the circulation of chemicals that keep it sanitized.
Metal
If you want to spend more for greater durability, a steel-wall pool will last about five to 10 years. Aluminum pools are even more durable, but also more pricey, and will oxidize.
Resin
A pool wall constructed from resin with steel components has the greatest durability. The frame makes for a stronger structure that's less likely to collapse under pressure. Because of increased strength, this type of pool can be purchased in larger sizes with greater depth.
In addition to a resin pool's wall component, its wall thickness, size and shape also affect the cost. Shapes offered include round (which is the least expensive and easiest to install), oval and square or rectangle. If you want an above-ground saltwater pool, you'll need to purchase a resin model.
Before you buy a resin pool, know if all the components you need are included in the kit, even if you plan to hire a contractor to do the installation. In addition to the pool, other considerations are safety requirements, such as a fence and gate.
How Much Will I Spend to Install a Pool?
Once you decide on the material makeup of your pool, you'll need to consider the size. That will, in part, be determined by your local requirements and restrictions. Those will dictate how close a structure may be to your property line and your house. In addition to size and shape, the depth will affect both the cost of the pool itself and of the installation should you choose to have a professional do the work.
If you decide to do your own installation, you need to know what's included in the pool kit you purchase. Additional expenses can include:
Purchase of a permit
Grading or excavating the area where the pool will be located
A base, usually sand, for the pool
Electrical cost for labor and materials of $500-$1,500
Filling the pool with water
Should you decide on a professional installation, the cost for a basic setup can run from $1,000-$3,000. This does not cover accessory expenses, such as a ladder, safety-step system, safety gate, pool cover, and pool deck. The total cost of the above-ground pool will be $1,850-$5,000 — but, remember, that's still much less than the $20,000 or more that an inground pool costs.
How Long Does It Take to Install an Above-Ground Pool?
The actual set up of the pool can be done by you or a professional in one or two days. It's the prep work that'll be the big time investment. This comprises:
Applying for the permit
Researching local regulations and restrictions
Calling utility companies at least a week ahead to come and mark water, gas and power lines before digging
How Long Will an Above-Ground Pool Last?
The answer to this question depends on what you purchase. An inflatable pool can last one to five years. For the best durability of an inflatable pool, choose one made of a composite of rubber and PVC.
If you invest in a steel frame, aluminum or resin-and-steel composite model, you can expect to enjoy it for seven to 15 years, with a host of factors impacting the durability.
Is the Cost of an Above-Ground Pool Justifiable?
That all depends on your goals and expectations. Are you a person who really enjoys cooling off in the water on a hot, sweltering day? Do you want to keep the teenagers close to home and provide a place where they will bring their friends for the next few years? Are you just hoping to keep younger children occupied for a couple of years?
Base your benefit-cost analysis on the personal value you place on having a pool. If your goal is to increase the monetary value and marketability of your home, an above-ground pool isn't your best choice. For property value considerations, an inground pool will give you a better return on your investment — though your investment will be substantially greater in either case.
That said, we would hazard a guess that in the dog days of summer when you're relaxing in the cool, refreshing water, soaking up some sun and washing away your cares, it'll feel worth it in that moment.
Since we're all home now more than ever, being prepared for unexpected home repairs with a plan from HomeServe is important. Having a plan in place gives you the peace of mind knowing that you can simply call our 24/7 repair hotline for covered breakdowns. See what plans are available in your neighborhood.