How Much Does It Cost to Paint Kitchen Cabinets?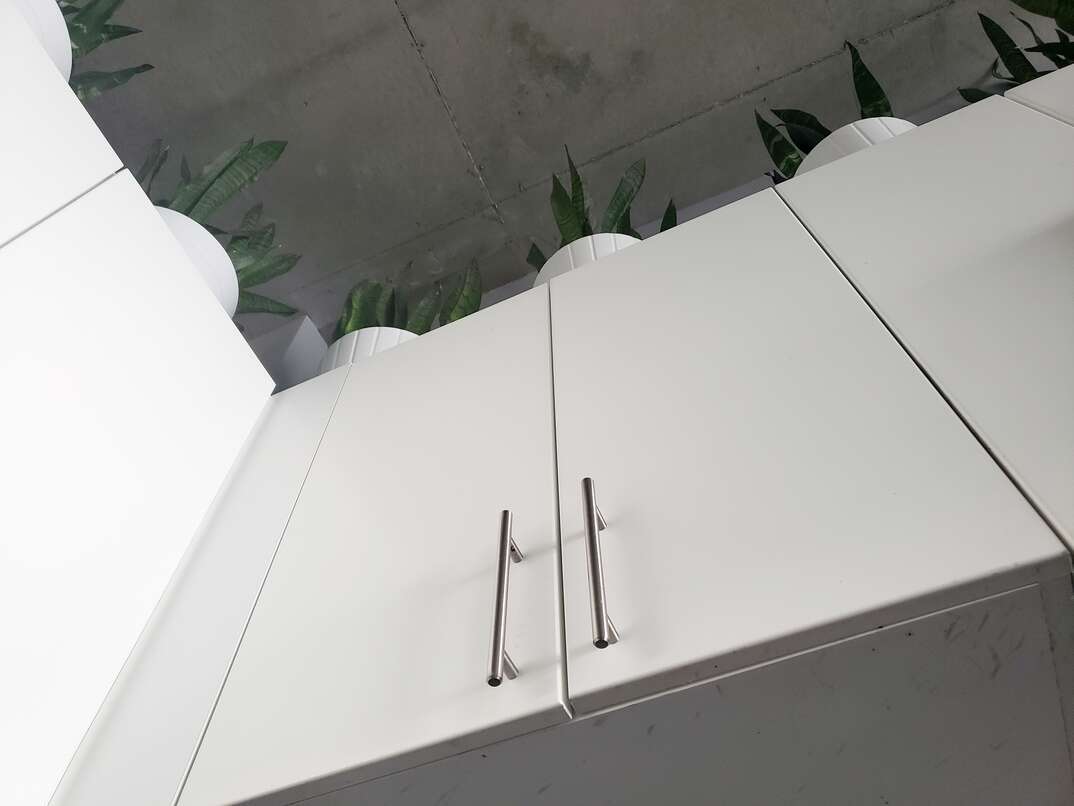 Kitchen Cabinet Painting Costs at a Glance
Average total price: $2,100
Price range: $900-$3,764
Price per square foot: $5-$10
Price to strip, sand and apply putty per square foot: $2-$3
Glazing: $10-$25
Total-cost range for a 200-square-foot kitchen: $2,000-$5,000
Average cost of spray painting, per linear foot: $40 (upper cabinets); $80 (lower cabinets)
Labor per square foot: $2-$6
Labor per hour: $20-$50
Painting your kitchen cabinets is a surefire way to boost the appearance of your kitchen — and the value of your home — without breaking the bank on a full-scale remodel. In fact, in many cases, refinishing your cabinets can provide the same effect as replacing the cabinetry altogether.
This May Also Interest You: Kitchen Cabinet Refacing: Pros and Cons
Read on to learn why you should consider painting your kitchen cabinets, how much you can expect to pay, and whether you should do it yourself or leave it to the painting pros.
Can Painting Your Kitchen Cabinets Boost Your Home's Value?
As a homeowner, you may be looking for ways to boost your property value. Painting your kitchen cabinets a neutral color can have a significant impact on the resale value of your home.
A current favorite for buyers is the tuxedo cabinet trend — when a white or light-colored cabinet is paired with a black or dark navy bottom cabinet, or a kitchen island. This one upgrade alone can increase your home value by $1,547 on average. You can further boost your home's value by pairing cabinet painting with new appliances.
Cost of Painting Kitchen Cabinets
As is the case with any home improvement project, how much you pay for cabinet painting will depend on several different factors, including the size of your kitchen, the paint material and whether you do the work yourself. At the low end, you can expect to pay around $900, $2,100 on average and $3,764 on the high end.
The typical price range to strip, sand and paint kitchen cabinets is $5 to $10 per square foot. Prior to painting, paint stripping, sanding and applying putty costs $2 to $3 per square foot, depending on the current condition of the cabinets and the extent of any damage.
Glazing cabinets costs $10 to $25 per square foot, or between $2,000 and $5,000 total for a 200-square-foot kitchen, which is roughly the average size in the U.S. The glaze is a transparent or semi-transparent coating that adds depth and color to the finish and is applied after staining or painting.
Spray Paint or Roll Paint?
You may be wondering whether you should apply spray paint or whether you should apply it with rollers. If you go the spray paint route, expect to pay around $40 per linear foot to do the upper cabinets and $80 per linear foot to do the lower cabinets. Spray painting cabinets enables the use of high-quality lacquer paint for greater durability. Also, cabinets can be sprayed in place without removing the doors, drawer faces or hardware.
Rolling paint on kitchen cabinets provides a thicker, more consistent layer of paint, and is often used to cover up an existing dark color. Spraying cabinets provides a smooth, even-coat surface and prevents drips, and the paint easily covers narrow crevices, complex textures and detailed woodwork.
How Much Do Painters Charge Per Hour?
Typically, a painter will charge by the foot rather than by the hour. You'll spend between $2 and $6 per square foot on average to hire a painter. Keep in mind, you'll still have to pay for paint if you go with a professional company.
If the company that you hire does charge by the hour, you'll pay $20 to $50 on average. Again, most companies choose to charge by the square footage of the area they're painting versus by the hour. Painting charges can vary widely — as much as 150% — depending on your state or region, depending on the cost of living index.
Should I Paint or Replace My Kitchen Cabinets?
It's much cheaper to simply apply a new coat of paint to your kitchen cabinets than it is to replace them outright. Painting is a cost-effective alternative for homeowners simply looking to upgrade the appearance of their kitchen. Refacing the cabinets is another budget-friendly option.
There are some instances, however, in which your cabinets need more work than simply painting over old coats. Your cabinets are prone to wear and tear over the years. If you notice the wood is starting to warp or show signs of mold, or that the doors longer open or close properly, you'll want to consider replacement.
Being prepared with a home repair plan from HomeServe is one way to avoid dealing with costly repairs. When you have a plan and a covered issue arises, simply call the 24/7 repair hotline and a local contractor will be sent to your home. See what plans from HomeServe are available in your neighborhood.