How Much Do Marble Countertops Cost to Buy and Install?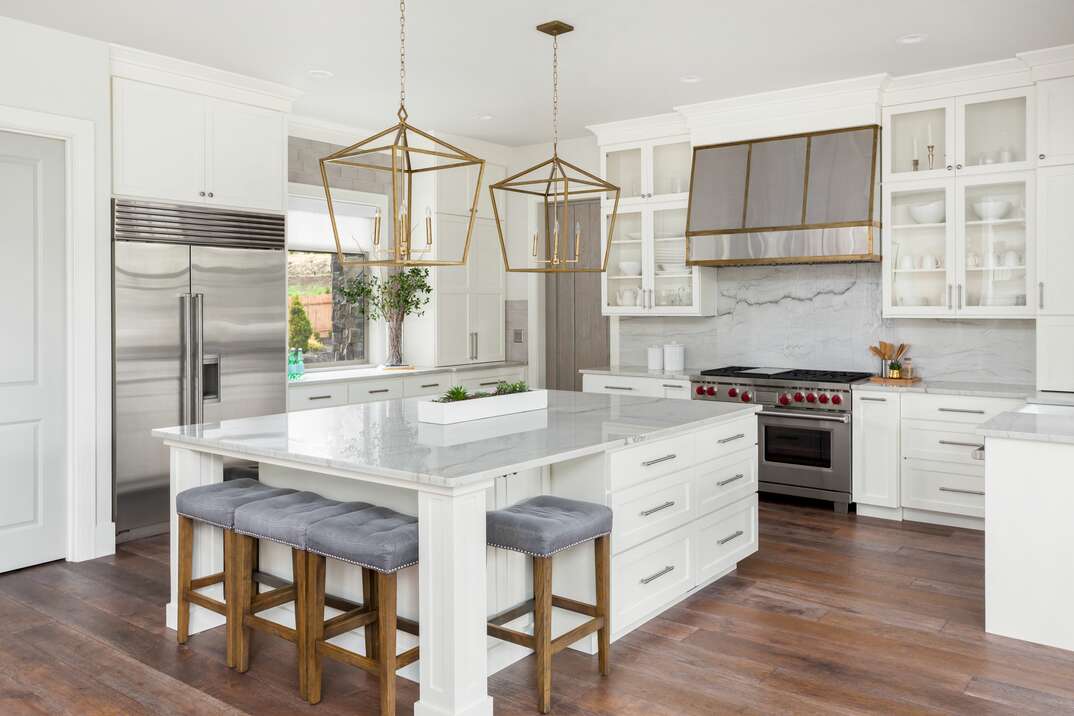 Marble Countertop Costs at a Glance
Price range per square foot: $40-$180
Average per square foot: $60
Labor/installation: $40 per hour
Compare to granite: $40-$100 per square foot
Compare to quartz: $55-$75 per square foot
Marble is a luxurious, timeless stone. It brings to mind sculptures and classical architecture. It's also an elegant choice for kitchen countertops — and it might be more affordable than you think.
This May Also Interest You: How Much Are Granite Countertops?
Thinking about adding marble counters in your kitchen? Here's what you need to know.
How Much Does Marble Cost?
The average marble countertop costs $60 per square foot, but cost ultimately depends on the type of marble you're going with. For example, Carrara, a type of marble with a softer vein pattern, costs about $40 per square foot. Rarer Calacatta marble can cost well over $150 — even up to $200 — per square foot.
How Much Does a Marble Countertop Cost to Install?
While you can install marble countertops by yourself, it is a job best left to professionals. They can remove your existing countertop, safely transport large slabs of marble and level your cabinets before installation. Professional installers will also have the equipment to cut slabs of marble exactly to the size and shape you need.
You can expect to pay about $40 dollars per hour for the labor. Depending size and complexity of the project, it will take anywhere from several hours to several days for installation.
How to Install Marble Countertops
Here's a quick overview of the steps involved in installing a marble countertop:
1. Remove the existing countertops and check whether the cabinets are level.
2. Make a template out of wood to use as a guide to cut marble.
3. Test the cuts by putting the marble in place.
4. Apply a generous amount of silicone to the plywood and set marble.
5. Finish with trim or a backsplash.
More Related Articles:
Types of Marble Countertops
These are some of the most common types of marble countertops you will find:
Carrara Marble
If you want a clean, crisp appearance, this off-white or grayish-blue option is a good fit. Carrara marble has more muted veins compared to the more expensive options. The major benefit is that it's affordable — about $40 per square foot.
Calacatta Marble
Calacatta marble is considered to be the most luxurious. The unique swirls of gold or gray make a Calacatta countertop a statement piece in any kitchen. But, you'll pay for this rare beauty. Calacatta marble costs $180 per square foot on average.
Statuario Marble
Statuario is also a white marble with large, gray veins. It costs $50 per square foot.
Black Marble
This is a bold type of marble, with a black base and white or gray veins. You can look to spend about $75 per square foot.
Blue Marble
Light blue marble with veins of white is also a gorgeous option. On average, it costs around $70 per square foot.
Marble or Granite Countertops?
Marble countertops aren't without downsides. The main thing is that they're porous. If you spill something like wine or oil on your counters, that stain can set deep into the natural stone and may never fully come out. To help prevent damage, you'll want to seal your countertops every six months. Marble is also a soft stone (think of how artists are able to chisel it into sculptures) and is prone to scratches and chips.
Granite countertops come without a few of these issues. They're generally more durable and are less easy to scratch. And, they're typically cheaper. That said, they don't offer the same marble aesthetic, if that's what you're really after.
If you don't mind the extra maintenance and care involved, marble countertops can be a beautiful addition to your kitchen. They're also heat resistant and can last a long time when properly cared for.
Since we're all home now more than ever, being prepared for unexpected home repairs with a plan from HomeServe is important. Having a plan in place gives you the peace of mind knowing that you can simply call our 24/7 repair hotline for covered breakdowns. See what plans are available in your neighborhood.