Hardie Board: When Vinyl Siding Just Won't Do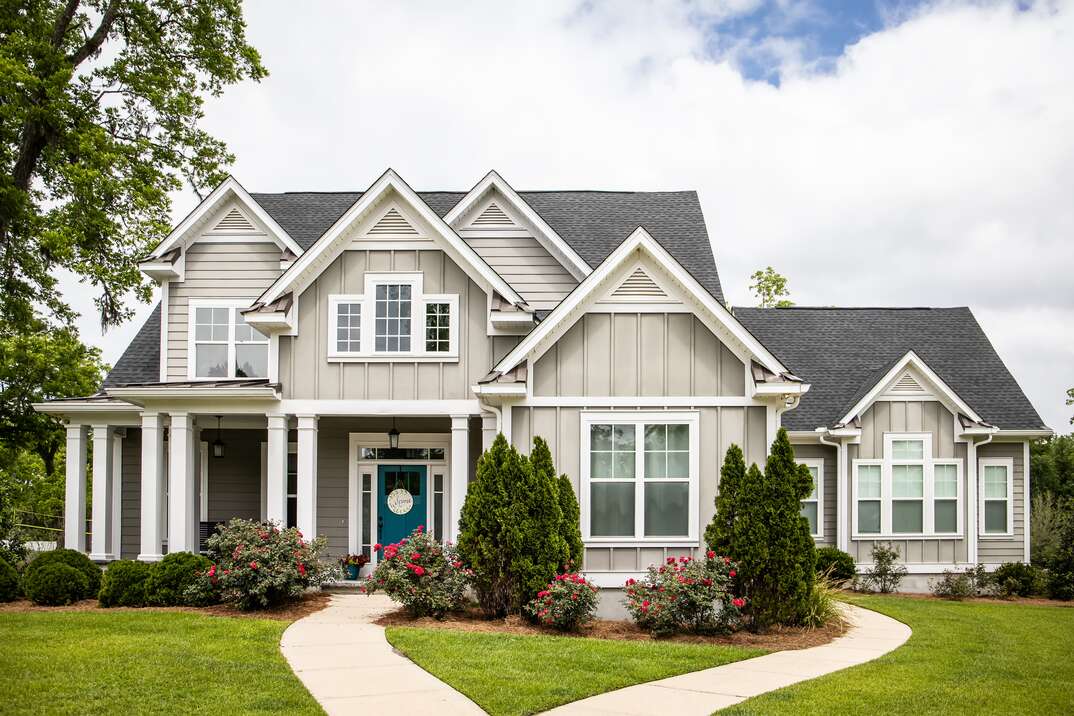 Are you looking to give the outside of your home a little personality? Old siding can make your house look drab, and open it up to possible moisture damage and lots of home repairs. If you're looking to replace some old vinyl siding or just to update the outside of your home, Hardie board could be a good investment for you.
For Further Reading: 9 Home Maintenance Tips for Fall
It's super durable, can be painted almost any color you can imagine, and it's fire-resistant and storm-resistant. Who doesn't want to come home to an attractive house with looks that'll last for years?
What is Hardie Board?
Hardie Board Siding is a super durable siding product made of cement, sand and cellulose fibers. When these components combine, they create an outstanding material that protects your home while also helping to spruce it up. Hardie Board siding — also known as fiber cement siding and James Hardie siding — lasts for years and comes with a lengthy warranty.
Pros of Having Hardie Board
Hardie Board siding is an increasingly popular choice among home siding options and offers several noteworthy advantages. Most Hardie board comes with a 50-year limited transferable warranty, plus it's rot- and insect-resistant and can even handle salt spray from the ocean.
Hardie board siding can be made to mimic almost any other siding material, and most color options come with a 15-year warranty. Because it's made of 90-percent sand and cement, it's also fire-resistant — plus, when it comes to extreme weather, this siding is one to strongly consider. If you're in the path of a violent hailstorm or hurricane, you'll appreciate it's durability.
Cons of Hardie Board
As with any product, it also has its cons, which should be considered before installing it on your home. Installation costs and labor costs can be higher than typical vinyl siding. It takes a additional planning, a larger labor force and more time to finish the job.
Installation
The board weighs about 300 pounds per 100 square feet compared with 60-70 pounds for vinyl siding. That's one of the reasons it costs more for labor and installation.
Maintenance
The maintenance on the Hardie board might also be considered a con. It'll have to be repainted every few years.
Warranty
The warranty for the paint and labor for chipping and peeling of the finish covers just 15 years. Most people agree the pros outweigh the cons, but that's something you'll have to decide for yourself.
How Much Does Hardie Board Cost?
The cost of Hardie board will vary based on your climate, the number of contractors, demand and the materials you need. You can expect it to be more expensive than vinyl siding, but it's cheaper to use than brick or stucco and about the same price as other composite sidings.
On average, Hardie board siding costs $10 per square foot — so, for example, a 1,200-square-foot exterior wall would cost around $12,000 to install. While that may seem a little steep to some, you have to consider this could be the last siding needed on your home in its lifetime, in which case it may be a wise investment.
Installing Hardie Board
Before Hardie board is installed on your home, the structure must be examined, as it's very heavy and needs a structurally sound surface to be on. Every stud or beam will need to be checked to make sure no damage is done that could compromise its strength.
Here are the steps in the installation process:
Any damaged wood needs to be replaced before the siding can go on.
A layer of building paper is added over the wall sheathing, overlapped at seams.
The boards are then ready to be installed.
Typically, the siding is put up using a pneumatic coil siding nail gun.
From that point, the layout process is typically the same as for wood siding.
After applying the siding to the wall, you'll need to get the trim and the corners done.
Once everything is done, the plastic will be removed — but be sure to leave it on until then to protect the paint and the board during installation.
The last step? Standing back and admiring your new siding.
Maintaining Hardie Board
Looking to touch up your Hardie board? Simply grab a soft nylon brush and a water hose and get to scrubbing any dirt that has accumulated. You should only have to do this once or twice a year, and you'll likely find that maintenance is easy.
Other Exterior Options
The most common types of home siding are:
Vinyl siding
Wood siding
Metal siding
Fiber cement siding
Insulated siding
Other types of materials used to cover the outside of the home include:
Stucco
Brick
Concrete
Stone
Engineered Wood
Glass
Tips for Choosing the Right Siding
Choosing the type of siding for your house doesn't have to be a stressful, overwhelming process. First, weigh the pros and cons of each type. Second, compare prices for each type. Third, be sure to choose a color that will compliment your home's exterior. And, finally, if you've followed our suggestions and done your due diligence along the way — be confident in your choice and proud of your home.
Since we're all home now more than ever, being prepared for unexpected home repairs with a plan from HomeServe is important. Having a plan in place gives you the peace of mind knowing that you can simply call our 24/7 repair hotline for covered breakdowns. See what plans are available in your neighborhood.