Here's How Much It Costs to Install or Replace a Deadbolt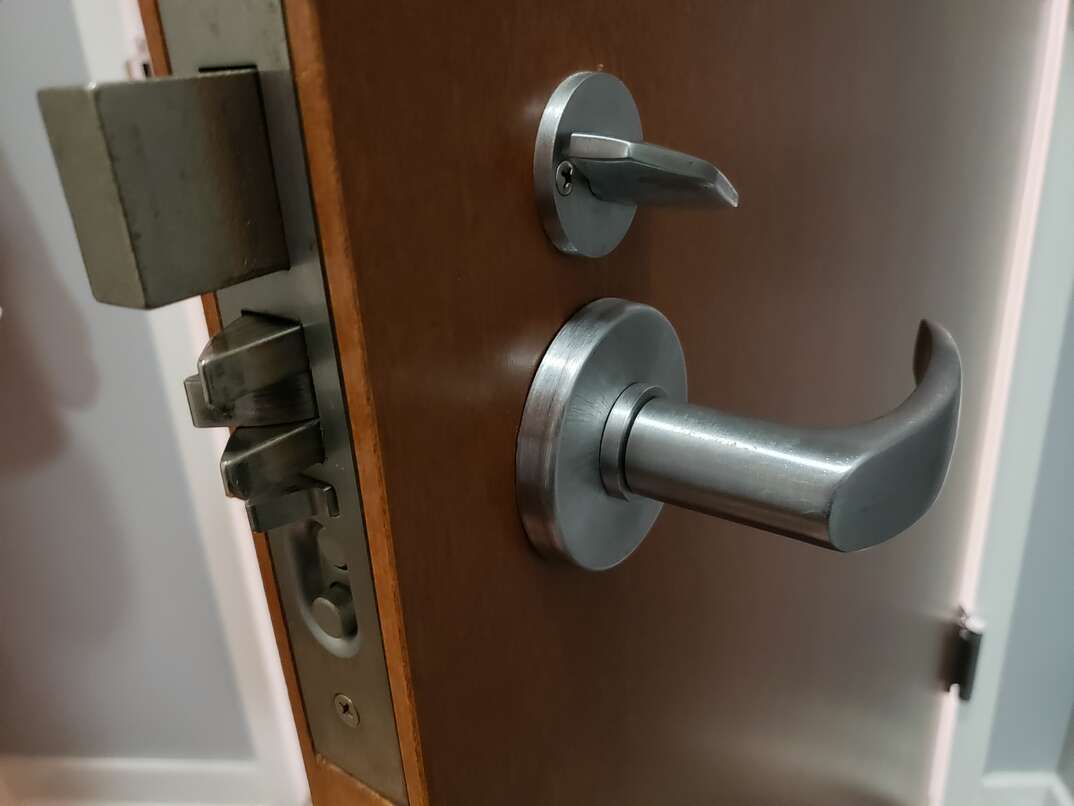 Deadbolt Installation/Replacement Costs at a Glance
Deadbolt: $15-$30+
Installation labor cost: $65-$145, plus $25 service fee
Replacement labor cost: $100-$150, including service fee
Installing deadbolt locks on exterior doors can provide an extra layer of security for your home. You can sleep better knowing you and your family are protected. Comparatively, installing a deadbolt is a lot less expensive than putting in other kinds of home security measures.
This May Also Interest You: How to Install a Deadbolt: Get Your Home Security on Lock in 6 Simple Steps
If you're handy, you can install or replace a deadbolt yourself and lock in significant savings on installation costs. Or you can hire a professional to do the installation for you. Here's a look at how much it costs to install or replace a deadbolt.
Can You Install a Deadbolt Yourself?
Installing a deadbolt yourself is simple, provided your door isn't made of steel. Check out the link above for the full step-by-step installation instructions. Here's a quick overview:
Use the template from the manufacturer to mark the appropriate reference points on the door. Keep in mind that a deadbolt should sit roughly six inches above your doorknob.
Cut the holes you've marked on the face of the door with a hole saw.
On the side of the door, use a drill to make a hole for the deadbolt latch.
Using a wood chisel, create an indent on the edge of the door for the faceplate. Drill pilot holes for the screws, then install the faceplate.
Install the deadbolt mechanism and fasten it in place using screws.
Replacing a deadbolt is even easier because the framework is already laid out for you. All you need is your new deadbolt, a screwdriver and some screws.
How Much Does a Deadbolt Installation Cost?
According to those in the locksmith industry, deadbolts are extremely affordable considering the high level of protection they add to your home. Professional locksmiths can install a deadbolt for you within a couple of hours. However, you'll pay a higher price than if you just purchase the parts and install it yourself.
A deadbolt from Walmart costs roughly $15 to $30, though you may pay more depending on what type of deadbolt you want and where you purchase it. This is a nominal fee for a heavy-duty lock, especially if you already own the necessary tools. If you need professional installation, a locksmith's services (based on the national average) can range from $65 to $145 per door, depending on the material of the door and where you live. Keep in mind that, on top of the labor costs, most locksmiths also charge a service fee just for coming out to your house. Usually, it's around $25.
How Much Does It Cost to Replace a Deadbolt?
But what if you only need to replace the deadbolt? The holes are already drilled, so replacing a deadbolt yourself is easy — just buy a new deadbolt and put it in according to the manufacturer's instructions.
Hiring a locksmith to come out and perform the swap for you can cost anywhere from $100 to $150, including the service charge. In this case, you're paying basically the same amount that you would for an installation. Given that it's a simpler procedure than a full-blown installation, you should be able to perform the replacement yourself. It will save you a significant chunk of money.
More Related Articles:
How Long Does It Take to Install a Deadbolt?
A professional deadbolt installation takes less than two hours. If you're attempting the DIY route, it will take a similar amount of time, depending on your familiarity with the necessary tools. Deadbolt replacements can be performed in just 15 to 30 minutes since all you're doing is swapping out the hardware.
How Much Does It Cost to Get a New Lock Installed?
Getting a new lock installed in your home brings about the same cost as the aforementioned deadbolt installation and replacement. A simple rekey of the locks on your home is a significantly cheaper option that may only cost around $40. Rekeying doesn't require a complete hardware replacement but rather a change to the lock pins so that you can use a new key to access the house. If you lose a house key or have security concerns regarding someone who has one of your keys, this is the most affordable way to secure your house quickly.
If you prefer to leave home repairs to the professionals, you might benefit from a home repair plan from HomeServe. Having a plan in place gives you peace of mind knowing that you can simply call our 24/7 repair hotline for covered breakdowns. See what plans are available in your area.