How Much Does Cedar Shake and Shingle Siding Cost?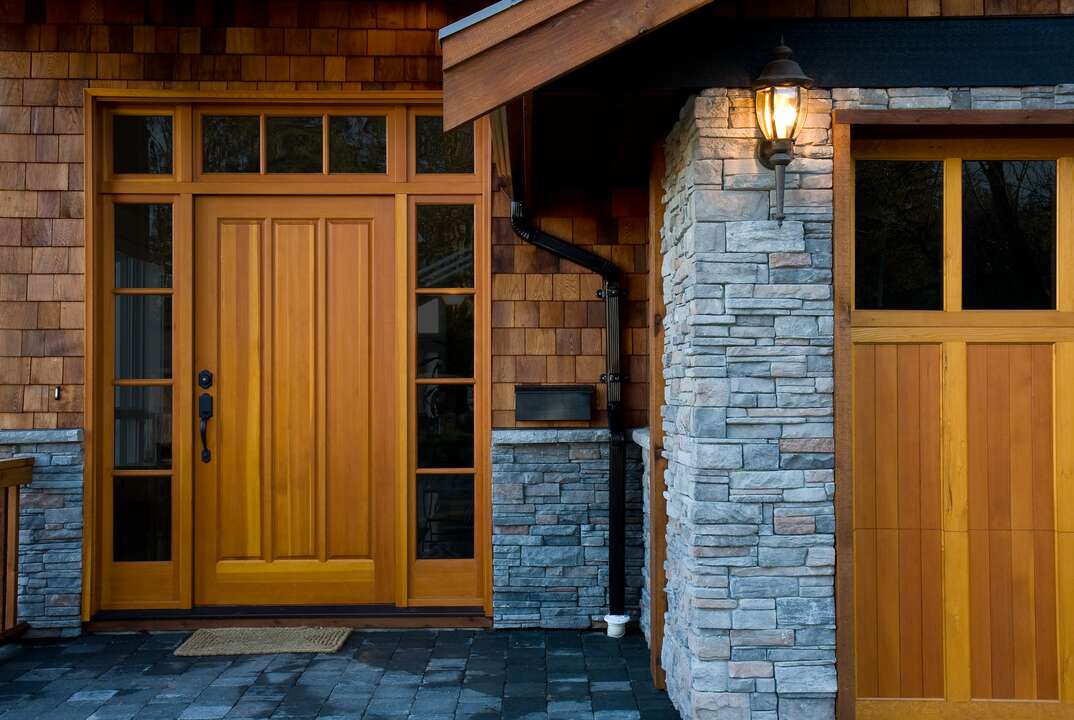 Cedar Siding Costs at a Glance
Cedar shake siding per square foot: $6-$12
Cedar shingle siding per square foot: $6-$10
Whole house cost: $9,000-$19,000
The warm look of cedar siding can create a rustic aesthetic for your home. The natural material blends in well with wooded surroundings for a timeless look. It's also a durable material that can last decades if properly cared for.
This May Also Interest You: Hardie Board: When Vinyl Siding Just Won't Do
Considering cedar? Read on for everything you need to know.
What's the Difference Between Shingle and Shake?
The main difference between shakes and shingles is how they are manufactured. Shakes are made by hand and are usually split on one or both sides. Splits follow the wood grain, so each individual shake can look unique. Shingles are cut with a saw, making them more uniform.
Here are some features of each type:
Cedar Shingle Siding
Smooth application
Tapered cut
Thin appearance
Lasts 20 to 40 years or longer
Cedar Shake Siding
Thicker and more durable than cedar shingle siding
Made of premium wood
Lasts 30 years or longer with proper maintenance
Maintenance recommended every 2 to 4 years
How Much Does Cedar Siding Cost?
Cedar shake siding costs between $6 and $12 per square foot for materials and installation. Shingle siding costs $6 to $10 per square foot. To put cedar siding on an entire house, it costs $9,000 to $19,000 or more, depending on the size of the home.
Your old siding will have to be removed before any new siding can be installed. For an average-sized house, expect to pay an additional $1,000 to $3,000 for the removal of the existing siding — or about 5% of the total project cost. It costs $50 to $250 to dispose of the old siding.
While shake and shingle are the most popular, cedar siding comes in many forms. Here's what they cost per square foot:
Engineered wood: $3 to $8
Bevel cedar siding: $2 to $7
Board and batten siding: $2.50 to $7
Cedar lap siding: $2.50 to $7
Cedar tongue and groove siding: $4 to $8
Clapboard siding: $6 to $10
More Related Articles:
More Types of Wood Siding
Not sold on cedar? You can still get the wood look with other types of siding, like pine, spruce, fir and redwood. Pine, spruce and fir are known to be especially affordable.
Cedar Siding Maintenance
Cedar siding requires a lot more upkeep than vinyl siding. If the look is worth it to you, here's the what you can expect in terms of maintenance:
Pest Control
Cedar has the unique property of being a natural insect repellant. But where there is wood, there is potential for termites. Termites can damage not only your siding but other wood structures of your home. You will want to hire a pest control service for routine checks and preventative treatments.
Regular Cleaning
To keep your siding looking nice, you'll want to power wash it twice a year. You can do this yourself or hire a professional, just make sure they are experienced in cleaning cedar siding.
Flame Retardant
Wood siding is flammable, so you'll want to treat your cedar siding with a flame retardant to keep your fire risk low.
Stain and Repaint
The sun will eventually fade the warm color of your cedar siding to gray. To revive it, you can stain or repaint it. Staining your siding costs $120 to $150 per 100 square feet if you hire a professional. Or, you can do it yourself.
Check for Cracks
As with any siding — not just cedar — you should check for cracks regularly. When cracks and splits happen, moisture can get in and cause major problems. While not prone to rot, cedar siding can rot easily if dirt and moisture build up.
Since we're all home now more than ever, being prepared for unexpected home repairs with a plan from HomeServe is important. Having a plan in place gives you the peace of mind knowing that you can simply call our 24/7 repair hotline for covered breakdowns. See what plans are available in your neighborhood.