How Much Does a Basement Remodel or Renovation Cost?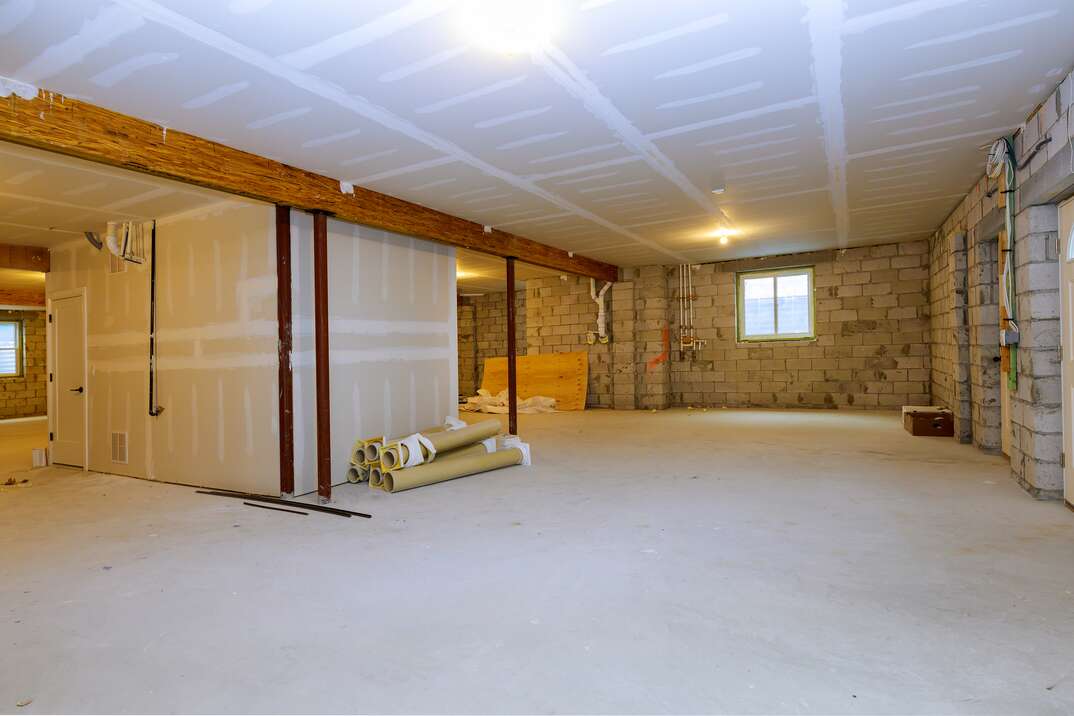 Basement Remodeling Costs at a Glance
Average total cost: $20,000-$60,000
Cost per square foot: $32-$47
DIY renovation: $1,000-$6,000
Add bedroom: $23,000+
Add bathroom: $15,000-$90,000
Add kitchen: $25,000+
Having an unfinished basement can feel like you're sitting on a lot of unused space. Where you currently have a damp, dreary cellar, you could have a home gym, additional bedroom or office. You could also increase the value of your home. According to a study by the National Association of Realtors, 64% of the expense involved in refinishing a basement was recovered by the increase in value to the home.
This May Also Interest You: Tips for Cooling and Heating Your Basement
Your basement remodel doesn't have to be extravagant; a few basic touch-ups can be enough to convert a previously uninhabitable space into a useful or pleasant part of your home. Here's a guide to how much that might cost.
How Much Does It Cost to Remodel a Basement?
A basic DIY renovation could cost as little as $1,000 to $6,000, according to HGTV, but a finished basement done by a contractor or design firm costs $20,000 to $60,000. Depending on the customizations you're looking for, that price could soar as high as $200,000. Home Guide estimates the typical basement remodeling project costs $32 to $47 per square foot.
The specific features you add will have a huge bearing on the overall price. Cost is also dependent on the basement's starting point. If your basement is already finished or partially finished, the cost of a remodel will be significantly less. These prices should give you a good ballpark figure of what to expect. But the actual price tag will be determined by what you want the end product to look like, as well as what basic work needs to be done just to make your basement a functional space.
Sealing and Moisture Control
If you live in a wet or humid climate, your basement is predisposed to moisture invasion — and the mold growth and water damage that follows. When you're remodeling, you'll want to make sure your basement is protected and sealed. Unless you need major foundation repair or a full HVAC (heating, ventilation and air conditioning) installation, most sealing measures are relatively low-cost.
According to HGTV, here are a few ways to make your basement more moisture resistant:
Gutters and downspouts: $3 to $40 per linear foot
Modifying surrounding landscape: $1,000 to $3,000
Sealing gaps: $500 to $1,000
Mildew-resistant paint: $40 to $100 per gallon
Repairing foundation cracks: $250 to $800 for minor cracks, $2,000 to $10,000 for major ones
Sump pump: $1,000–$15,000
HVAC air control: $500 for minor work
Heating and Cooling
Heat rises. So, in addition to being one of the wettest parts of your house, your basement is also one of the coldest. This makes it a great place to hang out in hotter weather, but it may be difficult to heat in the winter. If there's currently no ductwork in your basement, you may need to extend your current HVAC system. This costs $10 to $20 per linear foot. You will need to make sure your system has the capacity to heat and cool this extra space; if not, you'll have to install a new unit, which can cost up to $10,000.
Installing a new furnace costs between $1,750 and $6,000, and new exhaust fans will set you back $100 to $500. You may simply need to add more insulation, which costs $1.45 to $3.50 per square foot.
Doors and Windows
Increasing the number of windows can help brighten up basements with poor lighting. They may also be required by building codes if you will be using a basement space as a bedroom. Adding a window can cost $2,500 to $5,000. Installing a door to the outside costs between $5,000 to $10,000.
More Related Articles:
Flooring
Installing flooring in your basement is roughly the same process as installing flooring in the rest of your house. However, note that tile tends to make any room cooler. Installing it in an already chilly basement may make heating it that much harder. A concrete-finished floor can be an attractive option and costs $2 to $30 per square foot. Hard surface flooring costs $1 to $40 per square foot. Adding baseboards costs $5.70 to $8.95 per linear foot.
Plumbing
Plumbing costs can be nonexistent if your remodel doesn't include moving or installing fixtures. However, adding a bathroom or kitchen will require plumbing work. Bathrooms will need a connection to your septic system and may require specific fixtures like backflow valves that cost up to $600. Moving a drain can run up to $15,000. Kitchens and wet bars will also require some plumbing work. The average cost is $600 to $5,000 per fixture.
Additional Remodeling Costs
As extensive of a list as this is, there may be more basement remodeling costs to consider — a testament to just how much is involved in a basement overhaul.
According to The Spruce, these are some miscellaneous costs to consider, depending on your project:
Drywall: $1.50 per square foot
Framing: $1 per square foot
Ceiling: $1 to $6 per square foot
Electricity: $2,500 on average
Internet: $200 to $2,000
Lighting: $2,880 on average
Adding Rooms
Have something special in mind for your basement? Adding or remodeling whole rooms can be quite an undertaking, especially if you'll need to install plumbing or wiring where there currently isn't any.
Here are some common rooms — and how much they'll cost to add to your basement, according to HGTV:
Bedroom: $23,000 on average
Bathroom: $15,000 to $90,000
Home theater: $20,000 to $60,000
Kitchen: $25,000 or more
Wine cellar: $5,000 to $20,000
Since we're all home now more than ever, being prepared for unexpected home repairs with a plan from HomeServe is important. Having a plan in place gives you peace of mind knowing that you can simply call our 24/7 repair hotline for covered breakdowns. See what plans are available in your neighborhood.