Upon Reflection, Cleaning a Mirror May be Trickier Than It Appears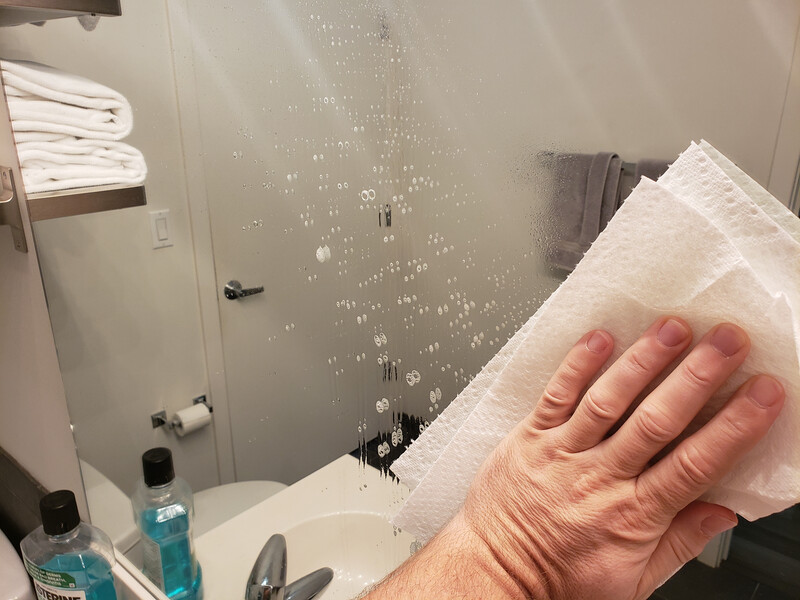 Cleaning mirrors can be a more frustrating task than it initially seems to be. Sometimes, it seems like you've tried everything and still have streaks and foggy residue left over. It's enough to drive you crazy. But before you get too frustrated and wind up with seven years' bad luck, learn the best ways to make your mirrors shine, right here.
This May Also Interest You: How to Clean Shower Doors
There are many products you can buy that'll give you great results or, if you're looking for a more natural approach to cleaning you can go that route, too. You've likely heard of many different products and techniques for this purpose, but read on for everything you need to know about cleaning your mirrors.
Different Types of Glass-Cleaning Solutions
There are many different methods and solutions that people use to clean their mirrors. You have to do a little bit of trial and error to make the right choice for your particular needs. Among the different solutions people use are:
Glass-cleaning paste
Glass-cleaning wipes
Ammonia-based glass cleaners
Non-ammonia-based glass cleaners
Foam glass cleaners
Best Solutions for Streaks and Smudges
There's a very particular kind of frustration that comes with cleaning all the windows and mirrors in your home, only to walk by one and see smudges and streaks when you're finally finished. It can drive you up a wall. Some of the best types of glass-cleaning solutions for this purpose include:
Vinegar and water mixed in equal parts in a spray bottle
Rubbing alcohol in a spray bottle
Not only is the solution that you use to clean your windows important, but so is the product you use to wipe the glass. For instance: Have you ever had problems with the lint and residue that some paper towels leave behind? Here are some options that won't have that problem:
Flat-weave microfiber cloths
Lint-free cotton clothes
Coffee filters
How Do You Clean a Cloudy Mirror?
Have you ever had a mirror that just always looks cloudy? Maybe the wrong products were used on it or something was smeared onto it at some point (like ... toothpaste). In any case, there's a way you can clean it to get rid of that stubborn cloudy residue.
Follow these four steps:
1. Gather Your Supplies
You'll need shaving cream and paper towels ... yes, you read that right. (You may want to have a towel or extra paper towels just in case you make a mess with the shaving cream.)
2. Smear It On
Smear shaving cream all over the entire surface of the mirror and let it sit for a few minutes.
3. Wipe It Down
Use a dry, clean paper towel to wipe away all of the shaving cream from the mirror.
4. Finishing Touches
Continue to wipe with dry paper towels until all of the residue is removed.
How to Clean Mirrors With Windex
Windex is one of the most commonly used solutions to clean mirrors in your home. It's very simple and easy to use and, most importantly, effective.
Here's a step-by-step on how to use it for the best results:
1. Gather your supplies, including Windex, and paper towels or a microfiber cloth.
2. Spray the entire mirror with Windex.
3. Let it sit for a second.
4. Wipe the entire area in a zigzagging motion, starting in the top, left-hand corner.
5 Then turn the cloth over and wipe with the dry side.
Can I Use Newspapers to Clean My Mirrors?
Throughout many, many years of people trying to find a perfect method for streak-free mirrors, newspapers were discovered to work pretty well. You can use any of the cleaning solutions that you buy in the store, or the aforementioned natural options — and they don't have the lint and cotton residue that rags and paper towels can leave behind. Plus newspaper can absorb the cleaning solution instead of leaving some behind on the mirror.
There's also no need to worry about the ink that's in the newspaper, as the glass mirrors aren't going to absorb any of it. All that'll be left behind is nice, clean mirrors.
Once you try this method you might never look back — and your only challenge may be finding a newspaper. (But, hey, any reason to subscribe to your local paper is a good one.)
Since we're all home now more than ever, being prepared for unexpected home repairs with a plan from HomeServe is important. Having a plan in place gives you the peace of mind knowing that you can simply call our 24/7 repair hotline for covered breakdowns. See what plans are available in your neighborhood.