Here's How to Clean Soap Scum off Your Glass Shower Doors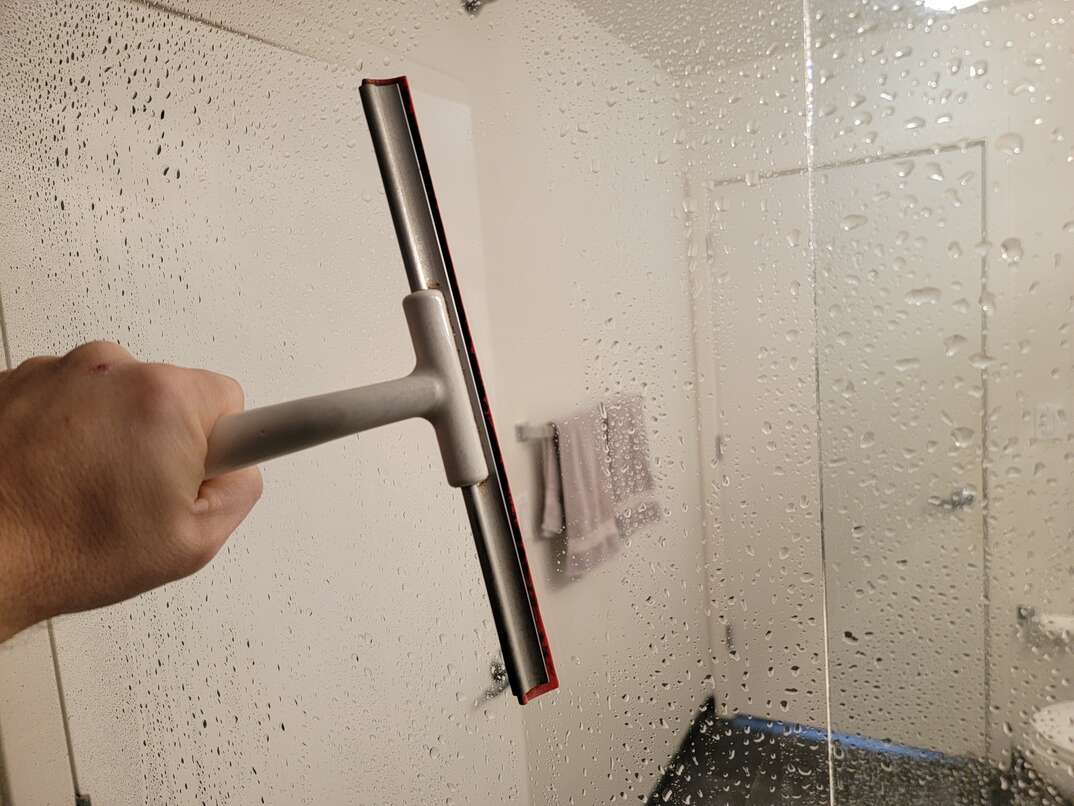 It doesn't matter how much you scrub your bathroom — if you neglect the shower door, it makes the whole room look dingy. Stains and buildup give the glass a grimy, foggy look. Lifting hard water stains and soap scum from your glass shower doors is a dreaded cleaning project for anyone. It can be challenging to find a good way to clean it. If you've tried different cleaners with no success, you're not alone.
This May Also Interest You: How to Clean a Jetted Tub: 6 Steps to Bath-Time Bliss
Unless you stop showering altogether, soap scum is inevitable. It's how you deal with it that matters. Here are our tips.
Things You'll Need
You should be able to clean your shower door with a few cleaning products you have in your pantry or laundry room. You can also choose to use a store-bought solution.
Safety tip: Never use ammonia or vinegar at the same time you use bleach or another chlorine cleaning solution. If these chemicals mix, they can combine to form a toxic gas.
Here are some tools and materials you'll need to clean your glass shower door:
Spray bottle
Microfiber cloth or towel
Paper towels
Sponge or scrub brush
Squeegee
Glass cleaner
Baking soda
White vinegar
Ammonia
Optional: Essential oils
How to Clean a Glass Shower Door With Vinegar
According to Shower Doors of Austin, you can use white vinegar and baking soda to remove soap scum. Here's what to do:
1. Spray the doors with the showerhead or using a spray bottle filled with water. Warm water is best.
2. Warm vinegar in the microwave for about 30 seconds, then put it into a spray bottle.
3. Spray the doors with vinegar and let them sit for at least 10 minutes to give the soap scum time to break down.
4. Dip your sponge or brush in baking soda and scrub to remove stains.
5. Rinse the area fully to remove all the vinegar and baking soda.
6. Dry the entire area with a microfiber cloth. To get a shinier finish, you can follow up with glass cleaner.
How to Clean a Glass Shower Door With Ammonia
Ammonia is stronger than vinegar, so you'll probably want to wear rubber gloves if you go this route. Make sure the bathroom is well ventilated. Garrety Glass lists these steps:
1. Mix a solution of one part ammonia to three parts water in a spray bottle.
2. Spray the glass.
3. Use a brush that has coarse bristles to really break down the soap scum. However, be careful not to use a cleaning tool that is so abrasive that it scratches the glass.
4. Thoroughly rinse the glass and make sure all the ammonia is washed away. Use a microfiber towel to dry the glass completely so there are no water droplets left behind.
More Related Articles:
Add Some Essential Oils
Essential oils are compounds extracted from plants. They're increasingly popular and can be used as an alternative to store-bought cleaners. According to Better Homes and Gardens, you can make a shower cleaner by adding 10 to 20 drops of your favorite essential oils to a solution of vinegar and water. Lavender, lemon, eucalyptus and tea tree essential oils work well for this. You can also this as a daily shower spray to prevent soap scum from building up.
How to Prevent Shower Scum
The easiest way to keep your bathroom looking spotless is to prevent hard-to-clean areas from becoming unmanageable. The glass shower door is definitely one of those. If you leave it untreated, it can be difficult to return it back to a streak-free state.
The main thing is preventing water from drying on the glass — but that seems like an impossible task considering what a shower is used for. There are some things that you can do to make the process a little bit easier:
Keep a squeegee nearby that can be used after taking a shower. This will get the water droplets off the glass and prevent those water spots from forming.
Dry the doors with a microfiber cloth or towel.
Purchase a daily shower spray or another product that repels water. It can help to make the water run down the glass rather than sit and dry.
After cleaning, wipe some lemon oil on the doors. The water won't stick to the oil, and neither will the soap.
If the stains seem to be from the water itself and not soap scum, hard water might be your problem. If you have some room in the budget, install a water softener. Depending on the model, this may be a pricey solution. It will, however, limit the amount of mineral buildup on your shower doors. Hard water has minerals; softened water does not. A water softener can prevent mineral buildup on fixtures throughout your house.
Since we're all home now more than ever, being prepared for unexpected home repairs with a plan from HomeServe is important. Having a plan in place gives you peace of mind knowing that you can simply call our 24/7 repair hotline for covered breakdowns. See what plans are available in your neighborhood.