How Much Does It Cost to Paint a Room?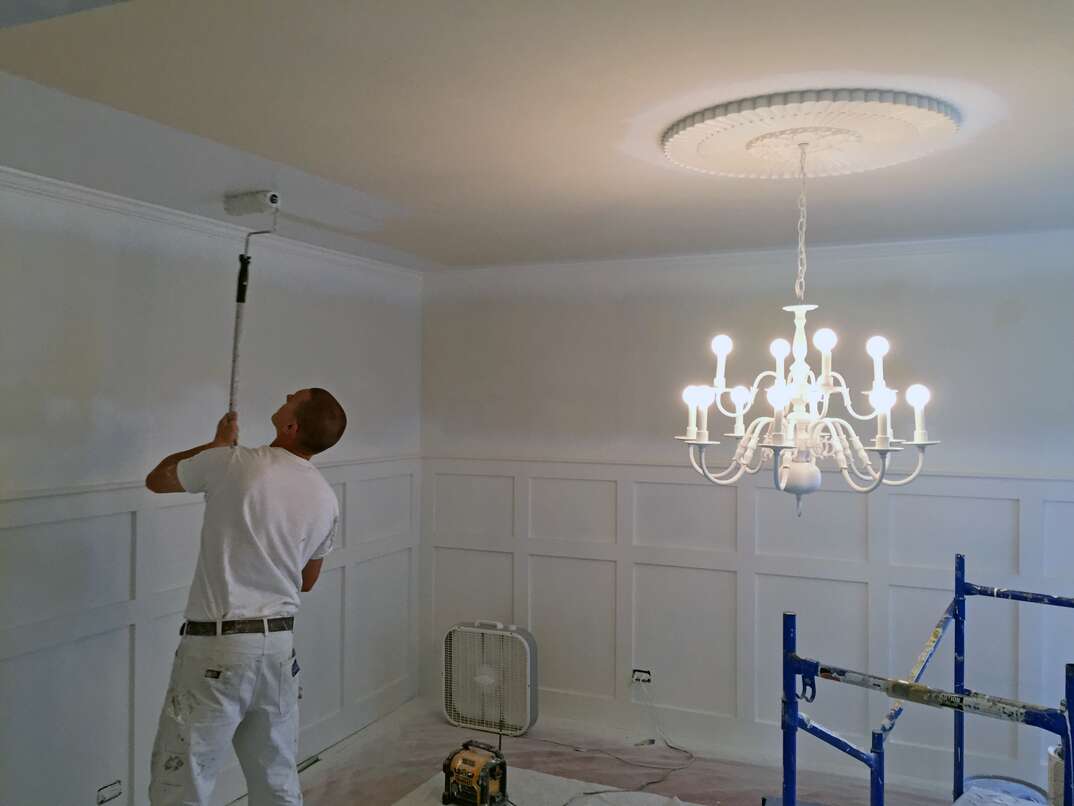 Room Painting Costs at a Glance
Professional painters, per square foot: $1-$3
Professional painters, per hour: $25-$35
For a 12x12 foot room: $650-$1,000
DIY: $100-$300 total
Furniture removal: $100-$150
Wall repairs: $40-$45 an hour
Vaulted or cathedral ceilings: $100 extra per room
Decorative finish: $5-$11 per square foot extra
Painting ... something so simple can make the biggest impact on a room. It doesn't matter if you're trying to update the look, change your color scheme, or simply would like a change, painting is an inexpensive way to accomplish it all.
If you're more of the do-it-yourself type, painting a room is certainly a doable project that could save you some money. On the other hand, if you're planning on hiring a professional for your project, you should expect to spend some money.
This May Also Interest You: How Much Does It Cost to Paint a House?
Read on the compare and contrast the costs associated with painting a room yourself versus paying a pro.
Average Cost Per Square Foot
When you're calculating how much it'll cost you to paint a room, you should take into account that most painting companies charge per square foot. How much money will your painter charge? That's one of the first questions you should ask when you call for a quote.
On average, painters will charge from $1 to $3 per square foot of surface area to be painted. To help you calculate an estimate, you'll need to know how much surface area you wish to be painted and how many rooms.
For an average room measuring 12 feet by 12 feet, the cost of work could be anywhere from $350 to $850. Keep in mind that this is normally just the labor cost, and you'll need to pay for materials such as paint separately.
What If I Do the Painting Myself?
If you choose to go the DIY route, you can save quite a chunk of change — just be aware that you're taking on a lot of work to realize that savings.
At the high end, you might pay a professional painter as much as $1,000 for a 12-foot by 12-foot room. On that same-size room doing the work yourself, you can expect materials costs to be $100 at the low end and up to $300 at the high end, while obviously saving 100% of labor costs — a discount of between 70% and 90%, depending on where you come down on the whole time-is-money question.

Cost of Painting a Room
If you just want one room painted in your house, some professionals may charge you by the hour instead of by the square foot. Be ready to pay between $25 and $35 an hour in that case. It's ultimately more expensive per square foot to have a single room painted compared with getting the whole house painted.
The overall price for getting just one room painted can amount to $650 to $1,000 when you figure in extra costs for baseboards, wall repair, ceiling and trim. If you're looking for the painter to also remove your furniture, you're typically looking at an extra $100 to $150.
It's always a good idea to get an estimate from several different contractors before you choose which one you want to hire.
Other Factors
There are other factors that can affect the total cost of your painting project. These include:
Wall Repairs
If you have damaged walls in the area you're having professionally painted, expect to pay $40 to $45 an hour to have them repaired.
Color
If you need more than two coats of paint to ensure the wall is covered, this will also increase the cost of your project.
Special Texture
Certain room designs require textured walls, increasing the paint needed by 20% to 30% depending on the texture and, in turn, will require more labor.
Quality of Paint
Common brands such as Behr and other labels found at home improvement store are used the most by professionals for primer and paint. If you prefer to use a premium color or premium quality, such as Farrow & Ball, you can look to spend upwards of $99 per gallon.
Vaulted or Cathedral Ceilings
If you have a room with vaulted or cathedral ceilings, you can expect to spend an additional $100 to paint the room, as the process will take longer and will require more labor.
Paint Window Trim
It's recommended that you paint the window trim in the room that you're painting to give the room a more finished look, the price of which will be based on the number of windows you have.
Decorative Finish
You may have to spend hundreds of dollars to paint an accent wall or a whole room using a special texture. Such work can start at an additional $5 to $11 per square foot extra.
Since we're all home now more than ever, being prepared for unexpected home repairs with a plan from HomeServe is important. Having a plan in place gives you the peace of mind knowing that you can simply call our 24/7 repair hotline for covered breakdowns. See what plans are available in your neighborhood.