How Much Does an Inground Pool Cost?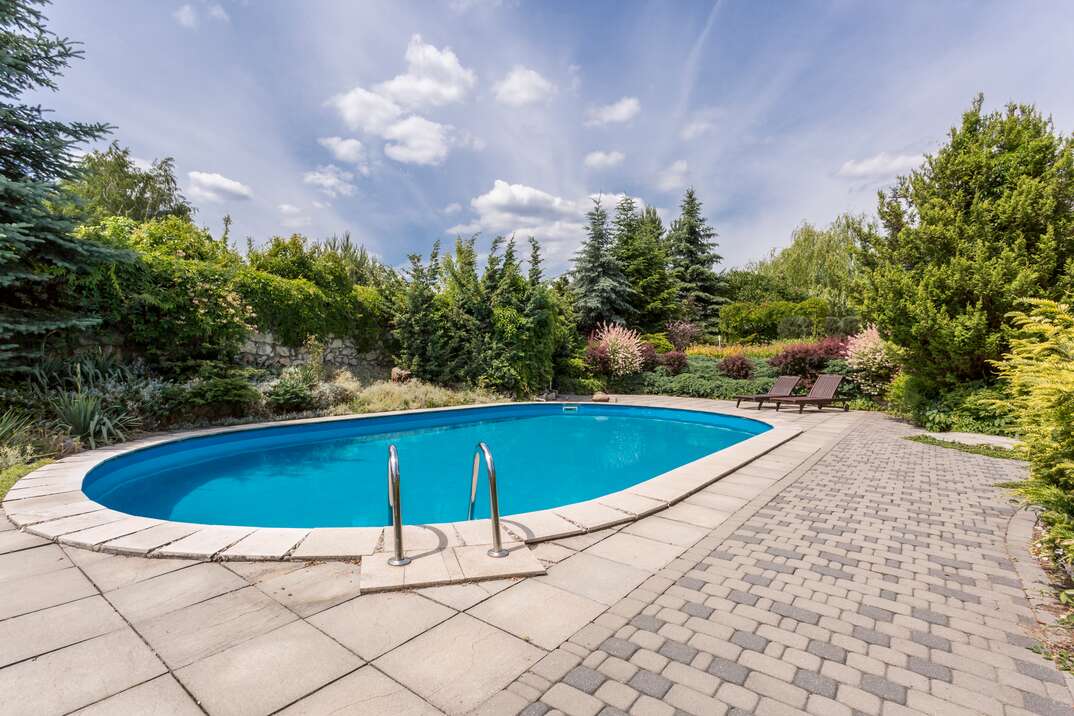 Inground Pool Costs at a Glance
Price range per square foot: $50-$125
Total-cost range: $25,000-$60,000
Average total price: $37,000
12x24-foot pool: $26,000-$38,000
10x20-foot pool: $18,000-$26,500
20x40-foot pool: $73,500-$105,300
Mini-inground pool: $10,000 and up
Concrete pool: $30,000-$60,000
Fiberglass pool: $17,000-$62,000
Vinyl pool: $22,000-$50,000
Infinity pool: $55,000-$130,000; $79,000 average
Having an inground pool is a cool way to beat the heat in warm climates and through the summer months — plus it can add style to your yard. But before you get in too deep, it's important to know what to expect with an inground pool — especially when it comes to cost.
This May Also Interest You: Putting in a Pool? Here's Everything You Need to Know
One of the first things to think about when considering making any changes to your home is whether it'll add value. On average and under ideal conditions, an inground pool can add between 5% and 8% percent to your property value.
Inground Versus Semi-Inground Pool
There are several options available as to the type of pool you choose and costs associated with each. An above-ground is decidedly less expensive, but not always the aesthetic people want in their backyard. Other options to consider are the traditional inground pool or a semi-inground pool.
The difference is how much of the pool is in the ground. With a semi-inground pool, you'll likely need a deck or some other way to access it. These models can be less expensive than an inground pool, but you have to factor in the cost of building the wall or deck, or paving around the pool, which can increase costs significantly.
Average Cost Of Inground Pool
The cost of an inground pool is going to depend on a few factors:
The type of pool
The size of the pool
Who installs it
An inground pool typically costs between $50 and $125 per square foot, for a range of between $25,000 and $60,000 for the total cost. The average price is about $37,000.
Pool Cost By Size
Size is one of the primary factors to consider once you've settled on installing an inground pool. It's important to consider the available space and also factor in any decking or paving you may opt to have around the pool, be it inground or semi-inground.
You'll also want to consider what the pool will mostly be used for: swimming laps, or lounging? How many people will generally beusing the pool at one time.
12x24 Inground Pool Cost
A 12-foot by 24-foot pool is considered medium-sized, and is suitable for swimming laps. The cost for this size, on average, will be between $26,000 and $38,000, depending on the type of material used. Materials and their average associated costs are as follows:
Concrete, $38,000
Fiberglass, $34,000
Vinyl, $26,000
10x20 Inground Pool Cost
This is considered a small pool, but it's sufficient if you're working within a small space, or if you primarily intend to use it for lounging or cooling off. The cost of a 10-foot by 20-foot inground pool will be between $18,000 and $26,500, depending on the type of material used. Materials and their average associated costs are as follows:
Concrete, $26,500
Fiberglass, $23,700
Vinyl, $18,000
20x40 Inground Pool Cost
This is a much larger pool size and requires an appropriate-size yard to accommodate it. The cost of a 20-foot by 40-foot inground pool will be between $73,500 and $105,300 depending on the type of material used. Materials and their average associated costs are as follows:
Concrete, $105,300
Fiberglass, $95,400
Vinyl, $73,500
Mini-Inground Pool Cost
A mini-inground pool is anything 10 square feet or smaller. They're also known as plunge or splash pools, and can be used to take a quick dip on a hot day or even for small exercise or therapy sessions.
These can cost $10,000 or more, depending on the material and any other features you want to add.
Inground Pools Prices By Type
The type of material you use for your inground pool will impact the price. It'll also affect how the pool is maintained — so after you have an idea of what size pool you want, consider the material. While some types of pools can be less-expensive upfront, the cost of maintenance down the road can offset that initial savings.
Concrete Pools
This is one of the most expensive options. It costs more upfront and can be expensive to maintain. Concrete pools cost, on average, between $30,000 and $60,000 — with some pools even running into the hundreds of thousands of dollars.
Concrete pools require more chemicals to remove mold and algae. Over time, that can compromise the pool's structural integrity, leading to damage and more costly maintenance. This type of pool usually must be replastered every 10 to 15 years, which can cost more than $10,000.
The major benefit of a concrete pool is there are more design options, possible shapes and available features.
Fiberglass Pools
This tends to be more affordable, and the maintenance cost is lower. It can cost between $17,000 for a 10-foot by 16-foot pool up to $62,000 for a 18-foot by 30-foot pool. Maintenance is around $4,000, and the pools last up to 25 years.
With this type of material, it's possible to do some of the work and maintenance yourself, which will reduce the cost. The downside is that you can't customize it as much as you can with a concrete pool.
Vinyl Pool
Vinyl is also an affordable option, ranging from $22,000 to $50,000. However, this type of pool is higher-maintenance because the liners can crack and break, so they may need to be replaced more often. That can cost upwards of $5,000, contributing to maintenance expenses over a 10-year period reaching $13,000 or more.
A perk of vinyl pools, however, is that they're easier to maintain and keep clean because algae can be wiped off and you don't need a lot of chemicals to keep the water at proper levels.
Infinity Pool Costs
For a pool to be considered an infinity pool, the water needs to be at the same level as the edges surrounding the pool so that it creates the illusion of the edge merging with the blue sky or an ocean. The disappearing edge is a visual trick, and some allow water to overflow on one side.
Infinity pools are a more luxurious option with a price tag to match. The average cost is $79,000, with a range from $55,000 to $130,000-plus. An infinity-edge pool can add $25,000 or more to the price of a pool.
Other Factors to Consider
Opting for an inground pool isn't just about digging a hole and adding some water. There are a lot of factors to consider.
Zoning Laws
Before you start letting those dreams carry you away too far and too fast, make sure your property is permitted to have a pool. For this, you'll need to check zoning ordinances.
Insurance
If you pass zoning-law muster and are allowed to break ground on a pool, make sure your insurance is up-to-date. Check with your agent on extending your home policy to cover your pool in the event of damage.
Circulation System
Make sure you get an appropriate circulation system for your pool. Now is a good time to consider adding a heater, as well, if you want your pool to stay at a certain temperature.
Water Features and Landscaping
Consider any special water features, like waterfalls, that you may want and any particular landscaping. Trees can provide shade, but may also result in the need for more maintenance if leaves and branches get into the pool.
Do-It-Yourself Vs. Professional Installation
Installing the pool yourself may save you money, but if you don't know what you're doing, the mistakes can be costly. Each pool type has a specific process by which it needs to be installed, and usually requires renting equipment like excavators or purchasing special tools.
Installing a pool yourself requires digging the hole; removing and hauling away dirt; installing the shell, liner or concrete; making sure the project is level; and installing all of the plumbing. Typically, with concrete swimming pools, expert help is worth the money you'll pay.
One of the perks of using a professional installer is the warranty that comes with it to cover any mistakes or problems that may arise. And, oftentimes, a contractor uses a team and can get the project completed faster.
Maintenance Costs
No matter which size or type of pool you go with, there'll be the necessary upkeep to ensure your pool runs properly. Maintenance costs can run up to $2,000 a year — and that doesn't even include repair needs that might arise.
Maintenance usually consists of getting the water tested, purchasing chemicals as well as cleaning the pool and filter. In addition, pools can add up to 30 percent to your power bill, and you may need to add water to it, as well, an incur an additional utility expense for that.
No matter what type of inground pool you opt for, now might be the time to consider a home repair plan from HomeServe to cover your plumbing, heating and cooling, and electrical repair needs. Our hotline is available 24/7 for you. We'll schedule a licensed technician to handle your repair needs — so you can relax by the pool.