How Much Does a Custom Closet Cost?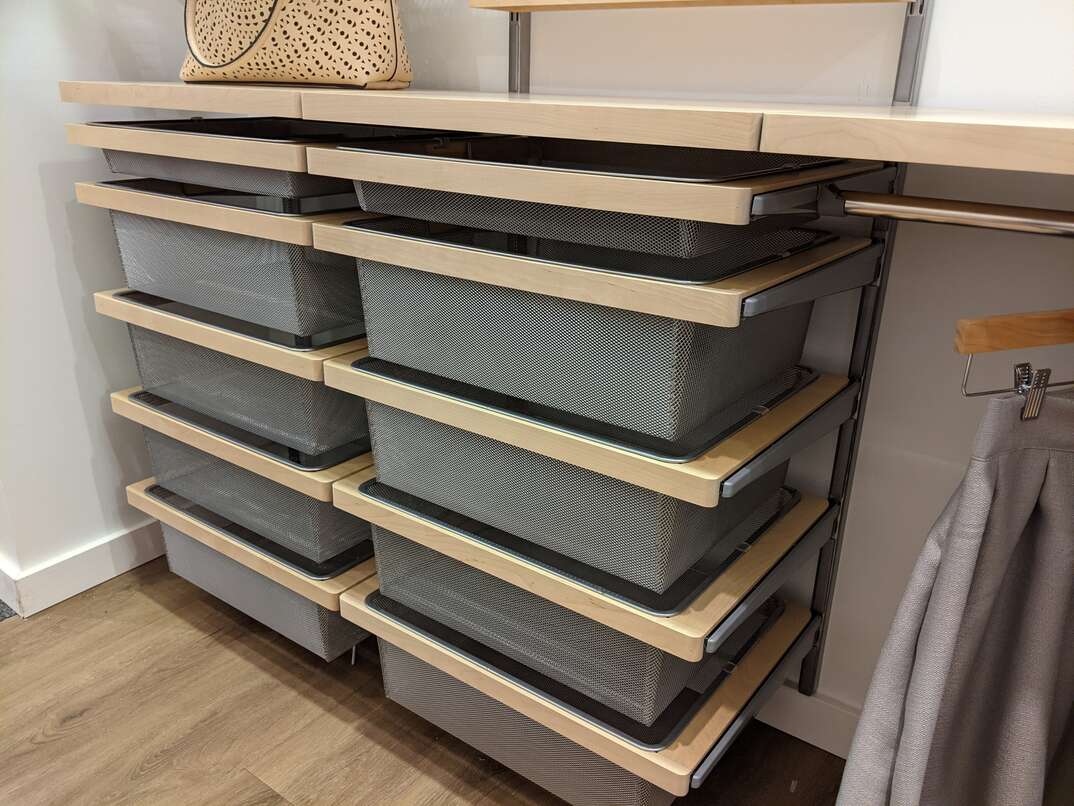 Custom Closet Costs at a Glance
Price range: $1,200-$20,000
A place for everything and everything in its place: A closet organizer is a must-have when it comes to storing your belongings in your master suite. A custom closet system adds luxury and the ability to tailor the space to your needs. Got an impressive collection of ties? Add a tie rack. More of a shoe person? You can design a space for that, too.
This May Also Interest You: How to Install a DIY Closet Organizer
Wondering about custom closet costs? Here's how much you can expect to shell out for this project, plus some factors that influence the overall price.
Average Cost to Install Custom Closets
According to The Home Depot, the average total cost to install a custom closet ranges from $1,200 on the low end to $20,000 on the high end. This price includes materials and labor.
Factors Affecting Custom Closet Costs
When determining how much to budget for your custom closet, remember that an optimal closet for your space is one that takes both your home and your storage requirements into consideration. Several factors determine custom closet costs, including:
Mount Style
A floor-mounted style is generally more expensive than a wall-mounted version.
Colors and Finishes
If you're looking for your closet to match other fixtures in your home, you might need to choose an upgraded color or finish, which may up the price of your custom closet.
Closet Size
Perhaps one of the biggest factors affecting custom closet costs is the size of the space. A reach-in closet is usually smaller than 8 feet by 3 feet, while the walk-in variety may be 15 feet by 12 feet or even larger. In general, a larger closet is more expensive than a smaller one, though a large closet with a relatively simple design may be less expensive than a smaller, more complex one.
Drawers and Doors
The drawers and doors you choose for your closet can greatly influence custom closet costs. For example, solid wood doors may cost more than those made from MDF or fiberboard. Similarly, laminate closet materials may be more affordable.
The style of your chosen doors and drawers can also have an impact on the overall price. More detailed styles, such as beadboard or molded doors and drawers, may be more expensive than shaker or flat-panel designs.

Add-ons and Accessories
The market is brimming with all kinds of optional extras that will make your closet work for you. Some of these bells and whistles that can elevate the price tag of your custom closet include:
Racks and shelves, which can be useful for shoes, pants, ties and belts.
Trays and baskets organize small items like jewelry. There are also specific jewelry drawers available for otherwise hard-to-store items like necklaces, earrings and rings.
Hook boards and hooks for belts, ties and bags. Opt for hook boards with hooks to hold a lot of items in a compact space.
Valet rods, pull-down rods and coat hooks keep essentials organized and within easy reach.
Shelf dividers keep linens and folded items separated and tidy on your custom closet shelves.
A full-length mirror as a pull-out or built-in feature so you can check your look while you're getting ready.
Keep in mind that things like slow- or soft-close doors or drawers with dovetail construction can also elevate custom closet costs. The same holds true for decorative details you desire for your closet makeover, such as base trim and crown molding.
More Related Articles:
Other Costs to Consider
In addition to the expenses and options outlined above, your custom closet costs may also be inflated by the need for new paint, lighting and flooring in and around the area where the closet is installed. You may need to hire an electrician to install hardwired fixtures.
DIY Vs. Professional Installation
If you're handy with tools such as a cordless drill and a level, and you know how to use a tape measure, you may be comfortable taking on the project of installing a custom closet yourself. Keep in mind that this is a labor- and time-intensive project, so be sure you're up for the task prior to getting started.
Obviously, building your closet yourself can spare you the expense of contractor's fees if you have the time, skills, equipment and motivation for a DIY project of this scope. But if you can fit it in the budget, you may want to entrust this job to a professional. Hiring a contractor to do the job for you ensures that it's done right and that your custom closet is finished in a timely manner.
Since we're all home now more than ever, being prepared for unexpected home repairs with a plan from HomeServe is important. Having a plan in place gives you peace of mind knowing that you can simply call our 24/7 repair hotline for covered breakdowns. See what plans are available in your neighborhood.