Get water heater services in Brooklyn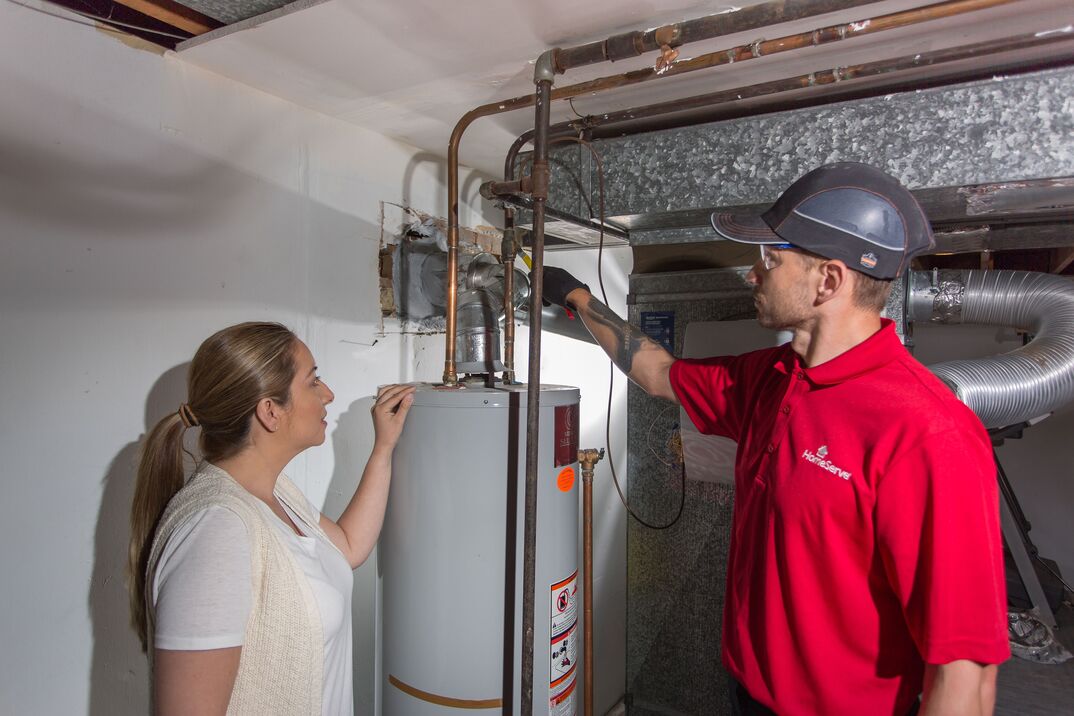 Why choose HomeServe for your water heater repair, replacement, and installation needs?
The expert water heater service professionals at HomeServe Brooklyn provide trusted water heater repair, water heater replacement and installation, and tankless water heater repairs to the Brooklyn area. Our licensed, certified technicians have years of experience working on a wide variety of furnaces, boilers, air conditioners and water heater issues, repairs, and replacements. Our trusted team has the skills and training to ensure our customers are provided with the finest repair, replacement, installation, and maintenance services available. We're proud to have dedicated HVAC specialists to provide your home with the water heater repair solutions you need.
HomeServe Brooklyn also provides a 24/7 emergency repair hotline, giving you peace of mind that you'll be able to get the water heater repair help you need if there's ever a problem with your home's heating, cooling, or water heater system. No matter what issues you're having, we can provide you with fast, effective water heater repair, replacement, and installation services.
24/7 Emergency Repair Hotline

When HVAC emergencies happen, you need a trusted and reliable professional

Call us 24/7 at (877) 808-1965

Done Right Guarantee

If the work is not completed to your satisfaction, HomeServe will make it right. If we can't make it right, we'll refund your money for the original purchase price.

A Business You Can Trust

We are focused on providing the best service possible to our customers.
HomeServe Offers The Following HVAC Services
What to know about water heater repair, replacement, and installation service from HomeServe

Your water heater is vital to your home, so when a repair, replacement or new installation is needed, it can be stressful. When water heater issues happen or you need a water heater replacement or installation service, homeowners like you must quickly find a qualified handyman and determine how they're going to pay for a potentially costly home repair. With HomeServe, you can feel a sense of relief that we'll handle the repair at a fair market cost. HomeServe also has a network of licensed and insured technicians who will diagnose the problem and determine a replacement or installation solution, if needed.

Explore more water heater repair, replacement, and installation services

Find out more about our water heater repair, replacement, and installation services. In addition, we offer other HVAC services, including heating repairs, heating system replacements, air conditioning repairs, air conditioning replacement and installations, furnace repair and furnace maintenance. Get HVAC installation service or repair service.

Get a water heater repair plan from HomeServe

There are a variety of home repair plans available from HomeServe to fit eligible homeowner's needs, including water heater coverage. Problems with your water heater can mean no hot water, leaks near the tank, water that looks red or yellow. A Water Heater Repair Plan from HomeServe offers you optional coverage that safeguards you against unexpected expensive repairs, which can happen at any time and can cover the costs to repair a tank-based electric, natural gas or propane water heater that is damaged from normal wear and tear.
What HomeServe Customers Have to Say
TF. Martorano (Brooklyn, NY)

"The service men were timely, polite, and worked clean."

D. Argenziano (Staten Island, NY)

"The service was awesome. The technicians are very friendly, helpful, and knowledgeable."

"The technician explained everything. He was able to tell us what he was doing, and why the problem existed."

J. Dupree (Staten Island, NY)

"The technicians were very friendly and explained everything to us step by step. We have a furnished basement and we needed our hot water heater replaced. They were very careful and did not spill any water from the tank. They also cleaned up when they were done."

L. Argrillo (West Islip, NY)

"Service rep responded immediately. The technician knew the right way to fix the problem and ordered the parts to replace it next day. Good job."
Frequently Asked Questions - water heater repairs
What's covered with water heater repairs?

HomeServe offers a variety of repair and replacement services for heating, cooling, and water heaters. The service provided is dependent upon your needs. Find out more.

Who is HomeServe owned by?

HomeServe is a Brookfield Infrastructure portfolio company. HomeServe is a leading provider of home repair and installation solutions for nearly 5 million customers in the U.S. and Canada. We operate under the HomeServe, Service Line Warranties of America (SLWA) and Service Line Warranties of Canada (SLWC) names.

HomeServe's goal is to provide homeowners with the tools to help protect against the expense, worry and inconvenience of plumbing, water, sewer, electrical, heating and cooling emergencies. We are a Better Business Bureau (BBB) accredited business and take pride in providing quality local home repair service and expert installation services. For nearly two decades, HomeServe has been working with leading utilities and municipalities – now numbering over 1,100 – to make optional service plans available to their customers, members, and residents.

How do I contact HomeServe for water heater repairs?

Our water heater professionals provide emergency repair services and routine maintenance, installations, and upgrades on many types of air conditioning, heating, and water heater systems. You can visit us at www.homeserve.com to chat online or call us toll-free at 1-855-336-2465. We are here to help.
Areas of Service
Prospect Heights
Bay Ridge
Williamsburg
Brownsville
Crowns Height
View HVAC Repair Articles
Book Your Service Appointment Now