HomeServe Celebrates Eighth Annual Contractor Awards
13 Family Businesses Recognized for Exceptional Service, Customer Experience
"Our contractor partners truly represent what our business is all about – providing a hassle-free home repair experience. They are on the front lines of our business, interacting with customers and delivering on our promise of exceptional customer service and repair quality."
Published September 5, 2023
NASHVILLE, Tenn. - HomeServe North America honored 13 of its network contractors during the Eighth Annual Contractor Awards at the Omni Nashville Hotel Aug. 31.
HomeServe invited the top 81 performing contractor partners from its network around the U.S. and Canada for a day of sessions exploring utilizing technology to improve the customer experience, business growth strategies and encouraging people to enter the skilled trades. These sessions were followed by an awards ceremony to recognize the best of the best in service delivery and announce the winners of the Diamond Award, which goes to the top contractors of the year.
"One of the highlights of my year is coming together with our contractor partners, getting their feedback, looking for ways to take our customer experience and service delivery to the next level and celebrating their achievements," Sylvester Criscone, Senior Vice President of Contractor Management and Administration, said. "Our contractor partners truly represent what our business is all about - providing a hassle-free home repair experience. They are on the front lines of our business, interacting with customers and delivering on our promise of exceptional customer service and repair quality."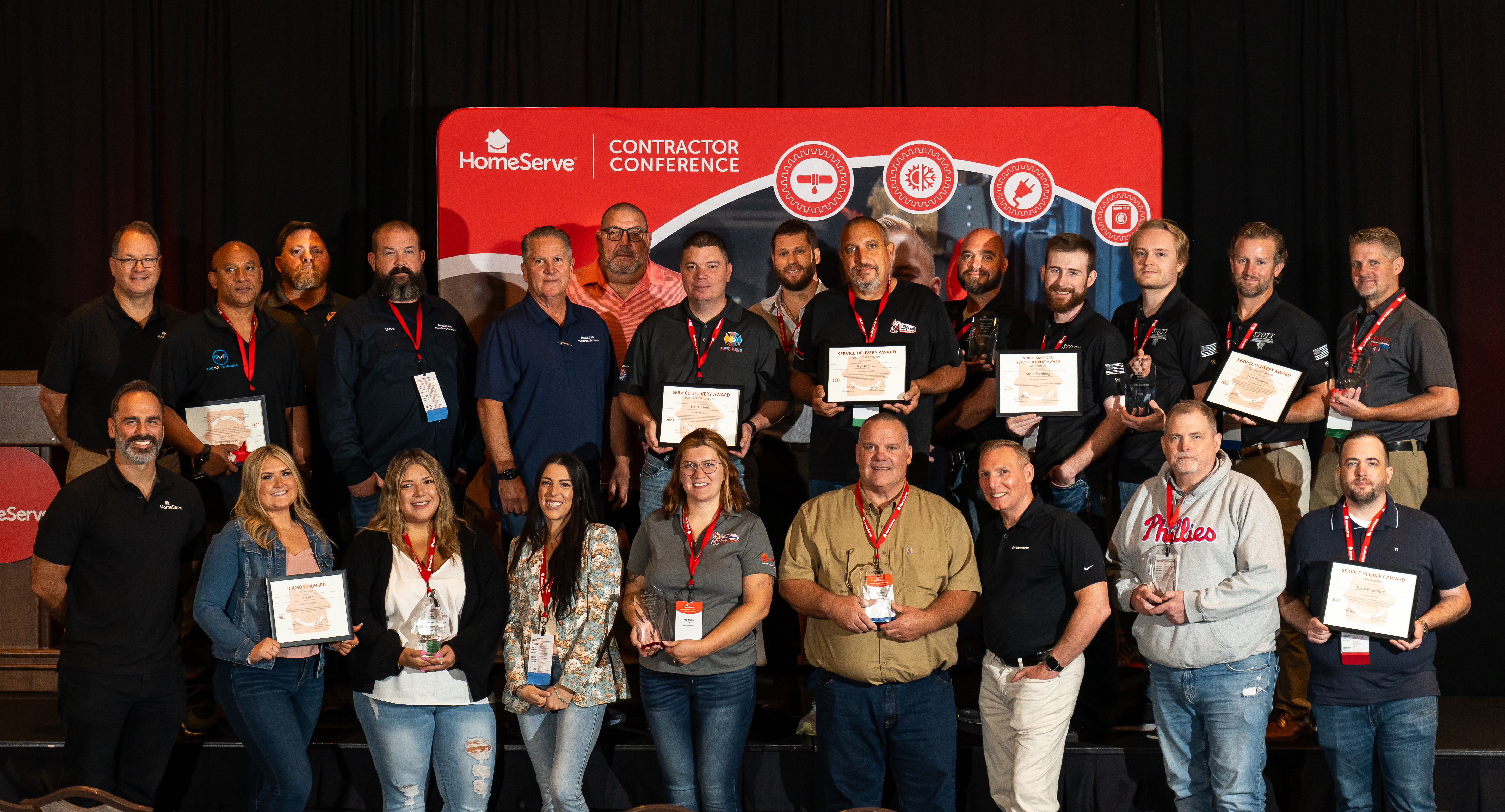 During the ceremony, HomeServe recognized the top-performing contractor partners in the following categories:
McAtee Plumbing, Heating and Cooling of Columbia, South Carolina; and Frassica Inc., of Corona, California, Diamond Award, which is awarded to the contractors who best represent and align with HomeServe's customer experience and service delivery values;
SNH Electric of Wantagh, New York, National Service Delivery Award, Eastern Region and Stott Plumbing of Salt Lake City, Utah, National Service Delivery Award, Western Region. National Service Delivery Awards are awarded to the contractors who consistently deliver exceptional service through solid business practices;
Johnson Appliance Repair of Greenville, South Carolina, Best Use of Technology, which is awarded to the contractor who best adapts and uses the technology provided by HomeServe;
McAtee Plumbing, HomeServe Cares Foundation Award, which is awarded to a contractor who has taken part in a HomeServe Cares Foundation repair and showed exceptional care for a resident in need as voted on by their peers attending the conference; and
Promo Plumbing of South San Francisco, California, Newcomer Award, which is awarded to a contractor who joined the HomeServe network within the last year and has already shown themselves to be a top performer.
Service Delivery Awards were presented to the top-performing contractor partners in each region who consistently delivered exceptional service, held their teams to the highest level of accountability and ensured their operations were in line with HomeServe's values and goals. Contractors in all categories were evaluated against several criteria including performance reports, score cards and customer feedback, among other measures. The Service Delivery Award winners included:
SNH Electrical Services of Wantagh, New York, Northeast Region
T-Bar Electric of Hayes, Virginia, Mid-Atlantic Region
Total Plumbing and Drain Cleaning of Warminster, Pennsylvania, Pennsylvania Region
McAtee Plumbing, Heating and Cooling of Columbia, South Carolina, Southeast Region
K&S Plumbing of Pelham, Alabama, River Plains Region
Hey Neighbor Heating and Cooling of Canton, Ohio, Great Lakes Region
K-Jett Services of Belton, Missouri, Northwest Region
Hart HVAC of Weatherford, Texas, South Central Region
Stott Plumbing of Salt Lake City, Utah, Southwest Region
Superior Plumbing Services of Windsor, Ontario, Canada Region
Advanced Appliance and Air of Youngsville, North Carolina, Appliance Service Delivery
"When our contractor partners provide great service to our shared customers, they are delivering on our promise to make home repair easy," Tom Rusin, HomeServe North America CEO, said. "Our business connects our customers with the best skilled tradespeople, and we couldn't be as successful as we are without the dedication and work of the people in our contractor network. This is one of the ways we celebrate our partnership together and the year's successes. Congratulations to all the award winners!"
HomeServe, in cooperation with its network of more than 2,600 local, licensed, insured and qualified contractors, has provided emergency home repair services to nearly 5 million customers, servicing hundreds of thousands of households each year. Our network contractors include plumbers, electricians and HVAC technicians providing service across a variety of household systems. HomeServe customers also have access to a U.S.-based call center available 24 hours a day, 365 days a year for service and support.
For more information, visit homeserve.com.
HomeServe USA Corp. (HomeServe), the leading residential infrastructure repair services company with nearly 5 million customers across North America, protects homeowners against the expense and inconvenience of plumbing, electrical, HVAC and other home repair emergencies. HomeServe empowers its over 1,200 leading municipal and utility partners to educate, protect and advocate for their customers who are faced with home repair emergencies.
Through its network of skilled, locally based technicians, HomeServe makes a repair or install in a customer's home every 34 seconds. HomeServe is also a leading installer of residential HVAC systems and has installed over $100 million dollars' worth of residential efficiency upgrades over the past twelve months.
HomeServe has an exceptional customer satisfaction rating, is accredited by the Better Business Bureau and is endorsed by the National League of Cities. For more information about HomeServe and to get the latest home repair advice and customer stories, please go to www.homeserve.com. Connect with HomeServe on Facebook and Twitter @HomeServeUSA, Instagram @HomeServe_USA and on LinkedIn @HomeServe-USA. For company news, follow on Twitter @HomeServeUSNews.
HOMESERVE MEDIA CONTACTS:
Myles Meehan
HomeServe
Phone: 203-356-4546
Email: Myles.Meehan@homeserveusa.com
Kristin Elder
Hill+Knowlton Strategies for HomeServe
Phone: 703-835-6245
Email: Homeserve@hkstrategies.com
HomeServe USA