HomeServe Acquires Taylor Heating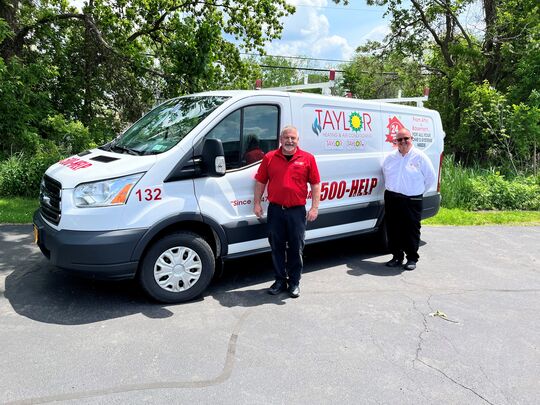 Rochester, N.Y. – June 8, 2022 – HomeServe USA, a leading provider of service plans, repair, and installation services for the home, today announced the acquisition of Taylor Heating, Inc. (Taylor Heating), based in Rochester, New York.
Taylor Heating was founded 75 years ago in 1947 by Robert Taylor. Since then, they have been providing top-tier service to area residents for their heating, air conditioning and plumbing needs.
One of two of founder Robert Taylor's successors, co-owner Tony DiCiacce, has been at the helm since acquiring the company in 2006. Tony started working for Taylor Heating while in college at the age of 19, and after 45 years of service, he is taking a step back as President and settling into the new role of Senior Advisor as the company begins this new chapter as a part of HomeServe. Co-owner Aurel Cournoyer has been with the company for 25 years and will maintain his long-standing role as Service Manager.
"Taylor Heating has been diligently serving Rochester residents for over seven decades, making it one of our longest-standing acquisitions to date," commented Deb Dulsky, Global Managing Director, HVAC at HomeServe. "They have made it clear that they match HomeServe's commitment to putting the customer at the heart of everything they do. We are thrilled to welcome them into the family, and excited to see them grow in this next chapter."
Taylor Heating and their team of 36 have worked tirelessly to build and maintain an unbeatable reputation in the greater Rochester area, with a near perfect Google rating from over 1,000 reviews. Their services, which primarily serve the residential market, include 24-hour emergency repairs, air conditioning installation, maintenance and repair, heating boiler and furnace installation, maintenance and repair, and gas leak detection, drain cleaning, sump pump repairs and much more.
"We chose HomeServe for our next chapter for a lot of the same reasons our customers have chosen Taylor Heating. HomeServe understands that we have an important role in supporting the community, and that we have built the company over the years by being there for our people when they need us most," said Tony DiCiacce, former owner of Taylor Heating. "They share a set of values and a level of commitment that I think is important to our legacy, and the employees on our team. They've allowed us to maintain important relationships that we've built over the years, and I'm very confident that the community, employees and company will benefit greatly in this next step."
Leading HVAC, plumbing and electrical businesses interested in exploring the opportunity to join HomeServe should visit www.HomeServeTransition.com or contact Deb Dulsky, Global Managing Director, HVAC, at Deb.Dulsky@homeserveusa.com. For more information about HomeServe, visit https://www.homeserve.com/.
About HomeServe
HomeServe USA Corp. (HomeServe) is a customer-focused company that enables utilities and municipalities to educate, protect and advocate for their customers who are faced with home repair emergencies. Serving more than 4.8 million customers across the US and Canada and working through over 1,100 leading municipal and utility partners, HomeServe protects homeowners against the expense and inconvenience of plumbing, electrical, HVAC and other home repair emergencies.
Through its network of skilled locally based technicians, HomeServe makes a repair or install in a customer's home every 34 seconds. HomeServe is also a leading provider of residential Energy Efficiency Solutions. Over the past twelve months, HomeServe has installed almost $100 million dollars' worth of residential HVAC efficiency upgrades.
Connect with HomeServe on Facebook and Twitter @HomeServeUSA. For news and information follow on Twitter @HomeServeUSNews.
MEDIA CONTACT: