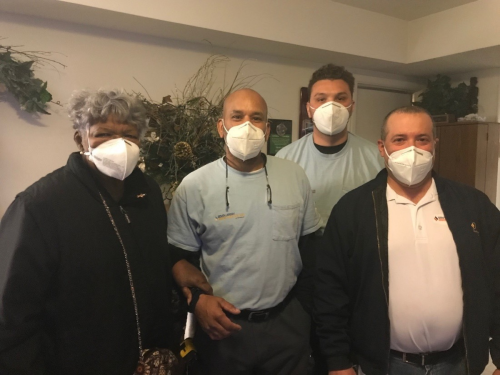 Catherine E. of Sicklerville, New Jersey, thought that having a policy to cover maintenance and repairs to her home furnace would be a prudent idea.
Catherine is an older adult on a fixed income with chronic health issues that require treatment three times a week. She's lived on her own in her home for more than a decade.
"I thought that (the policy) was something good to have, so that, if something happened in my home, I could have someone look at it for me," she said. "It wasn't expensive, and I have a set budget."
So, when her furnace broke down in early March, having a HomeServe policy proved to be very prudent.
"I have a blanket I always wrap myself up in, and it felt like I didn't have a blanket on at all," she said. "My house got cold, very cold."
She turned to HomeServe for help and learned that her furnace was not only no longer functioning, but it also was now a danger to her. This was confirmed by Catherine's utility company, who issued a "red tag," meaning they disconnected gas supply to the furnace out of concern for safety issues.
"They (HomeServe technicians) told me it was dead, and it wasn't doing anything, just blowing cold air anyway," she said. "There was no heat whatsoever and the only thing it was doing was allowing carbon monoxide to escape."
"It's God's gift from heaven. I'm speechless and it's unbelievable that I will have heat tonight. I have no idea what I would have done without HomeServe."
Carbon monoxide is extremely dangerous because of its lack of odor and color. If inhaled in large amounts or for an extended amount of time, it can prevent the blood system from carrying oxygen to the heart and brain. The symptoms of carbon monoxide poisoning include dizziness, nausea, respiratory issues and death. Each year, at least 430 people die and 50,000 have an emergency hospital visit because of accidental carbon monoxide poisoning, according to the Centers for Disease Control.
Unfortunately, the plans Catherine had in place covered repairs to her gas line and repairs to her heating and cooling system, but not a complete replacement of her system.
Her furnace was 16 years old, on the lower end of the average useful lifespan of 15 to 20 years for a gas-fired furnace. In addition, her water heater was 21 years old, far outside the useful lifespan of 8 to 12 years, and she did not have a plan to cover replacement of either.
The total cost to replace the HVAC system and water heater was just over $10,000, and Catherine simply didn't have the money. However, since Catherine had been a loyal customer for years, HomeServe agreed to cover the cost of the replacements under its Customer First program. Under Customer First, which is part of the HomeServe Cares Foundation, HomeServe undertakes repairs outside of those outlined in a customer's policy as a goodwill exception.
If it wasn't for her ongoing relationship with HomeServe, and the concern showed by our technicians who raised the case, Catherine would not have been able to afford the repairs.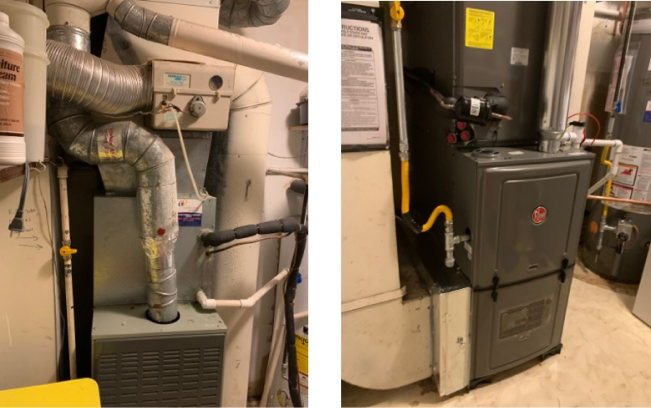 "I have no idea how I would have afforded that," she said. "No, I wouldn't have had two cents to give. HomeServe is an excellent, excellent program – I had no idea that they did all of this."
Not only was Catherine pleased with the new system, but she was thrilled with the service from HomeServe's South Jersey Energy Service Plus (SJESP) technicians who came to her home for the install and the customer service representatives who handled her case. "I'm keeping them," she said. "I am keeping them."
"SJESP is part of HomeServe, a company that helps millions of people nationwide every day, but for those of us working for the SJESP side of the business in South Jersey, we're glad we could go the extra mile and come to Catherine's aid," Frank Siderio, SJESP Field Service Manager. "She's part of our community, and we're glad we're part of hers and could help make sure she was able to safely stay in her home."
When asked what the repair meant to her, she said, "It's God's gift from heaven. I'm speechless and it's unbelievable that I will have heat tonight. I have no idea what I would have done without HomeServe."
Published March 17, 2022