Lead Water Line Replacement: NY Homeowner Saves Big
Lead Water Line Replacement: NY Homeowner Saves Big
$7,000 Saved
Exterior Water Service Line
New York
Linda B. , a New York homeowner, had been widowed and was looking for assurance that repair costs wouldn't force her from her home. She turned to HomeServe.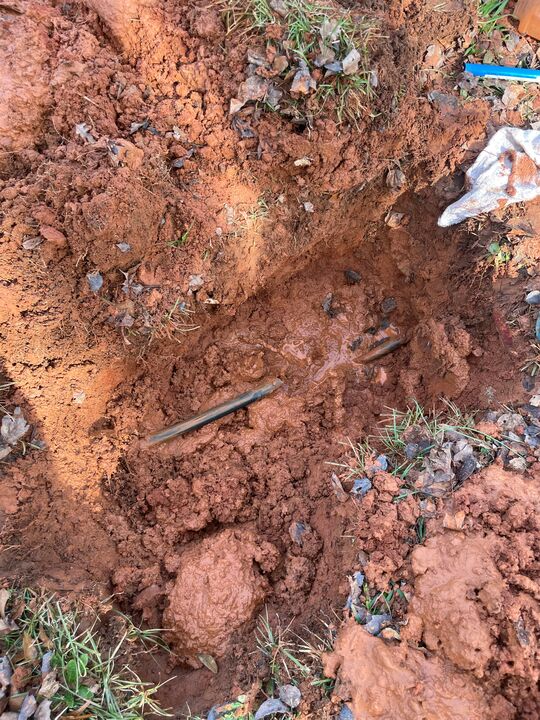 Linda B. of Lockport, New York, has had a difficult time of late, losing her husband in December and struggling to catch up with the medical bills after his passing.
She knew that she needed help around the house as well, including a leak in the roof of the home she and her husband shared. Because she was on a fixed income, she put a bucket under the leak while she tried to scrape the money together for a repair. But, still, she worried.
To alleviate her concerns and ensure she had repairs done by someone experienced and qualified, Linda decided to enroll in several plans with HomeServe North America, a leading provider of emergency home repair plans. In January, she enrolled in plans that would provide her with coverage for her plumbing and electrical systems.
"It was the best service I ever had in my life. He was awesome to work with. Between HomeServe and Joel, I was 150% satisfied." "I think I have just about every plan (HomeServe) has, except the one for appliances," she said.
By September, less than nine months into the program, she was glad she had the foresight to enroll, because, in addition to the leak in her roof, her water service line was leaking, her drains were running slow, and she needed her furnace repaired.
Not only was her water line leaking, sending her water bill soaring to the point that she received a shut-off notice, but the exterior water service line was made of lead. The U.S. Environmental Protection Agency banned lead water service lines in the mid-1980s because they are the number one cause of lead exposure, causing myriad health problems, especially in vulnerable populations such as infants and children.
"It was the best service I ever had in my life. He was awesome to work with. Between HomeServe and Joel, I was 150% satisfied."
Since lead lines are so problematic, many communities require the entire lead line be removed and replaced when a leak is discovered. Ordinarily, if a water service line made of other materials is in otherwise good shape, it can be repaired for much less than a full replacement. However, since lead lines typically must be completely replaced, this may require extensive trenching and roadwork.
Municipal codes usually require that the line be replaced to the connection with the municipality's system, which sometimes is beneath the street. This cost may fall on the homeowner, and in Linda's case, she just didn't have the money for such a repair. In fact, 60 feet of pipe needed to be replaced and the street would have to be opened to replace the line.
"It's more than I could afford," she said.
Joel Tucciarone, master plumber and general manager at The Plumber Heating and Cooling in Lockport, knew that Linda desperately needed help. He wasn't aware of any grants or programs available to help her – there was only The Plumber and HomeServe. He knew the cost would be over $9,200, exceeding Linda's benefits covered under the service plan, so he reached out to HomeServe, offering to discount his services by more than $2,200 to make the job more affordable for her.
"I could see it in her eyes, and just talking to her that she needed help," Joel said. "I don't usually go to the water line estimates, but this one just ended up on my desk. The leak was in the street, not in the sidewalk, and I knew it would cost $9,000 or $10,000, so I told Sara (P., a HomeServe customer experience agent) that I would do it for $7,000. I felt bad, because she had a leaky roof, her husband had died, her son had died and she refinanced her home to keep it out of tax foreclosure because she was paying medical bills. It just stuck with me."
Unfortunately, although the line was Linda's responsibility, it was beyond her property line and wasn't covered by her policy. However, HomeServe activated its Customer First program to make things right for her, knowing that the repair was outside of Linda's ability to pay. Customer First allows payments above the benefit amount to make things right for our customers.
"Joel was extraordinary," Linda said about her champion. "It was the best service I ever had in my life. He was awesome to work with. Between HomeServe and Joel, I was 150% satisfied."
Joel and his crew got to work, and he even acted as a go-between with Linda and the local water department to help mediate the shut off notice. And he continues to go to bat for her in getting her furnace repaired, after she didn't have heat last winter.
"I'm glad she was happy and I'm glad we were able to help her with the water line," he said. "She also was having issues with her furnace, and I sent one of my techs there to help her with that as well so she could have heat. I figured, I'm replacing her water line, and it'll freeze and break if she doesn't have heat."
Although Linda had gone without heat all winter, the technician was able to fix her furnace within a few hours.
"It had wiring issues," he said. "She couldn't get it up and going, so we re-did some wiring and got some parts. We didn't do it for the PR, it's just purely courtesy toward the customer. That's just how we do things."
Linda was more than happy with the extra thoughtfulness Joel and The Plumber provided.
"It was awesome," she said. "I'm telling all my friends."
Published Sep 16, 2022