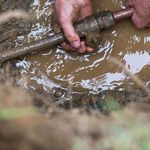 The city of Windsor, Ontario had seen quite a bit of rain during a week in mid-September. So, when resident and homeowner Jennifer P. heard her sump pump running the day following a heavy downpour, she didn't think much of it. But after an additional 48 hours, the pump seemed to still be working overtime. Jennifer and her husband went down to the basement to look and realized that they had a real problem.
They observed a strong, waterfall-like stream of water filling the pump, and the longer they watched, the quicker they realized the water seemed to be recycling itself – the pump would take it in, pump it out, and it was coming right back through. The first step Jennifer took was to call the city to let them know, and it was then if they asked her if she had signed up for exterior sewer line or exterior water line coverage through their affiliation with Service Line Warranties of Canada (SLWC). It turns out that she had, less than two years earlier.
At about 11 o'clock in the morning the next day, Jennifer called SLWC for help. She was connected to a Repair Management agent at SLWC's North American-based call center, who swiftly dispatched a reliable member of its contractor network out to the home. Just a few hours later, Windsor based Superior Plumbing Solutions was on the scene and had mostly completed their investigation. They were surprised to discover a large hole in Jennifer's sewer line that a different contractor hired by the previous owner had attempted to patch with, believe it or not, a plastic bag.
"These policies are well worth it thanks to the sense of security and knowing that you have a safety blanket alone."
Superior Plumbing promptly sawed off and removed the damaged section of the sewer line and replaced it, saving Jennifer and her family over $3,000 CAD.
"The contractor that you sent out, Superior Plumbing, couldn't have been more professional," Jennifer told us. "They were very efficient, thorough, clean and respectful. We had just replaced our lawn, and they were careful not to destroy or severely damage it, which we really appreciated."
Jennifer first heard of Service Line Warranties in Canada back in 2017. The City of Windsor had a serious problem with water back-up after heavy rainfalls. In addition to their private sewer replacement program, the City of Windsor entered into an agreement with Sewer Line Warranties of Canada to provide residents with an option to enroll in sewer and water line coverage program for their private property. Jennifer was on the fence, but decided to get a service plan in late 2020-and boy, was she grateful that she did.
"These policies are well worth it thanks to the sense of security and knowing that you have a safety blanket alone," said Jennifer. "And looking at the amount of money it saved my family – it costs me about $150 per year to have both policies, and this job alone saved me over $3,000. Those numbers speak for themselves."
Jennifer lives in a tightknit community, and had many neighbors observe the saga of events involving this sewer line repair. She made sure to spread the word on the program, because she didn't want anybody in her life to suffer from an uncovered line repair.
"I told my neighbors, if you don't have Service Line Warranties of Canada, get it. Five of them have since signed up after they saw how it helped me, along with several of my co-workers," Jennifer told us. "I've even had family members sign up after learning about my experience. I'm grateful that the city of Windsor did a thorough job of promoting it to residents, and plan to remain a customer for a very long time."
Published Oct 07, 2022