What's the Span of Your Fan? Here's How to Measure for a Ceiling Fan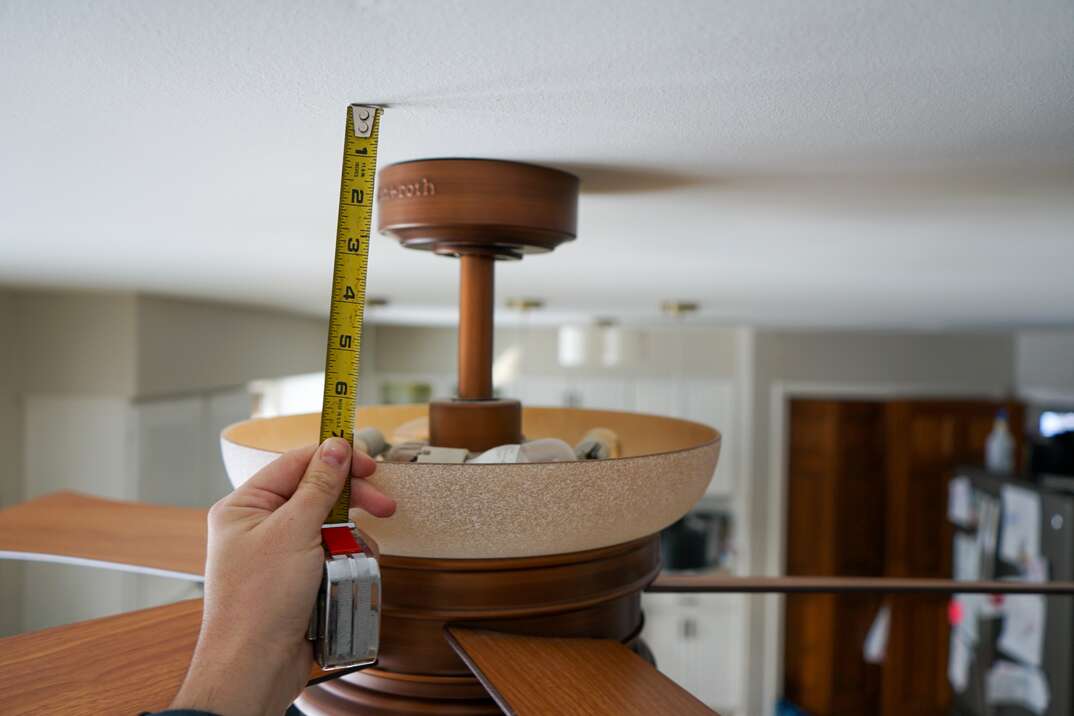 Ceiling fans are a great way to keep your home comfortable. In hot weather, they can provide a breeze. If you reverse the rotation, they can help distribute heat in the winter. Whether you're replacing your ceiling fan or installing a new one, its size can determine how well it keeps air moving around your room.
This May Also Interest You: How Much Does It Cost to Install or Replace a Ceiling Fan?
Here's how to measure your home — and your new fan — to make sure it's a good fit.
Where Should I Mount a Ceiling Fan?
Many ceiling fans can mount to existing ceiling light junction boxes and use the same connections for power. However, be aware that not all junction boxes can handle the weight of heavier fans. The best mounting locations for ceiling fans are areas adjacent to ceiling joists. Ceiling joists are strong and can use the safety chains and cables offered by many ceiling fan manufacturers for additional support.
What Do I Need to Measure?
In determining the size of your new ceiling fan, you're going to need to know these measurements:
Ceiling height
Square footage of the room
Length of downrod (for sloped or high ceilings)
The distance of the fan blades to the closest wall or sloped ceiling
Types of Ceiling Fans
Ceiling fans come in two basic styles: flush-mount fans and downrod fans.
Flush-Mount Fans
If you have a ceiling that is 8 feet or shorter, you will need a flush mount ceiling fan. They attach close to the ceiling to stay out of the way of tall objects or people. Flush-mount fans are common in bedrooms, offices and bathrooms.
Downrod Fans
If the room has a ceiling taller than 9 feet, or if the ceiling is sloped, you will probably want to opt for a downrod ceiling fan. As the name suggests, the fan motor or base is attached to a long rod that extends down from the ceiling mount.
How Long Should the Downrod Be?
All ceiling fans should be a minimum of 7 feet above the floor. The optimal height for ceiling fans is 8 to 9 feet above the floor.
If your room has a 10-foot ceiling, for example, you will want to install your ceiling fan on a 1-foot downrod so that it hangs about 8 feet above the floor. If you want to install a light kit on your fan, you will need to account for 8 to 12 fewer inches of downrod length to accomodate it.
More Related Articles:

Measuring the Span of Your Ceiling Fan
Your ceiling fan should be mounted so that the blades have a minimum of 18 inches of space between the tip of the blade and your walls or sloped ceiling. This not only gives the blades proper clearance, but it also increases efficiency for ventilation. For this measurement, you will need to measure the span of your fan.
If your ceiling fan has an even number of blades, simply measure from one blade tip across to the opposite side's blade tip. This is your fan blade span or diameter.
If your ceiling fan has an odd number of blades, measure from the center of the fan to the tip of one of your blades (this equals the radius) and multiply by 2. This is the span of your fan blade.
Use this measurement along with the measurement of your room to determine whether there will be adequate space on all sides of the fan.
Fan Size Based on Room Size
Fans sized 50 to 54 inches work best in rooms that are 225 square feet or larger. For a room that is 12 feet by 12 feet, the best fan size is between 36 and 42 inches. Average bedrooms are 10 feet by 10 feet. For rooms that size, you'll want a fan with a span of less than 36 inches.
Can I Mount a Ceiling Fan to a Sloped Ceiling?
As long as the ceiling is higher than 9 feet above the floor, you can. When purchasing a fan, look for a downrod ceiling fan and a slope mount. Slope mounts offer flexibility and strength so your downrod fan hangs straight down from your ceiling.
Three or Four Blades?
Four-blade fans work great for rooms with air conditioning as they move air relatively well. If the fan is going into a room or space where it will be the main source of ventilation, then a three-blade fan with higher RPMs will actually be better.
Since we're all home now more than ever, being prepared for unexpected home repairs with a plan from HomeServe is important. Having a plan in place gives you the peace of mind knowing that you can simply call our 24/7 repair hotline for covered breakdowns. See what plans are available in your neighborhood.