How to clean an Electric Stove Top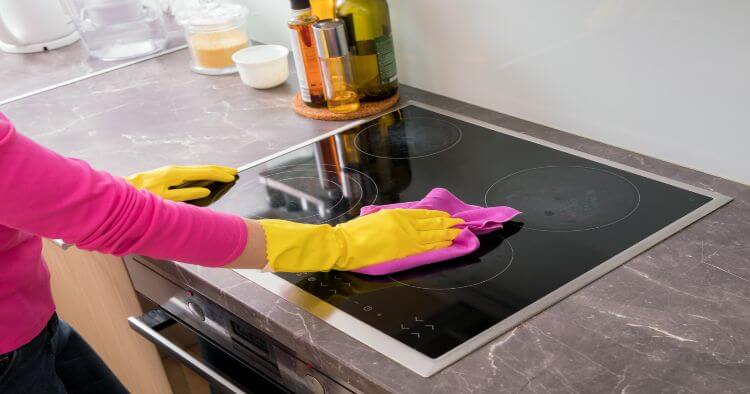 Oven. Stove. Cooktop. Before I became a homeowner, these terms were all synonymous to me. They were just all cooking appliances. But after buying a house and enduring a lengthy and costly kitchen reno a few years back, I realized how different they are. While I considered all my options, I ultimately choose a sleek, smooth electric cooktop. And I'm glad I did because gone is the hassle of burner pieces getting in the way of keeping my kitchen in clean and pristine condition. (I admit it, I'm a bit of a neat freak.) But in my quest for an always mirror-like complexion for my stove top, I can be a little over zealous. (Like yelling at my kids to not scratch the surface.)

So, for you newbies out there, here are a few easy steps on how to clean a glass electric stove top:
Safety first
Be sure the oven top is cool before you start cleaning. The cleaning experts at Merry Maids advise avoiding intense chemical cleaners as the residue can burn off as you cook and contaminate the air.
The ceramic cleaner way
Follow these steps if you already have a ceramic cooktop cleaner on hand:
1. Wipe down the surface.
Use a paper towel or cloth to remove loose crumbs.
2. Scrape off burnt-on spills.
CNET advises holding your razor-blade scraper at a 45-degree angle, carefully applying pressure to scrape away the residue.
3. Apply the cleaner.
Squeeze a few drops onto the stove top. Use a paper towel, cloth or sponge to spread the cleaner and wipe away stains.
4. Rinse and shine.
Spray the cooktop with water and wipe away the cleaner. Buff the surface with a dry cloth.
Learn More About Home Repair Plans Near You
The "au naturel" way
If you'd prefer to use all-natural cleaning ingredients, follow these steps from DIY Network:
1. Wipe down with vinegar.
Spray the cooktop with white vinegar. Use a damp cloth to remove debris and degrease the surface.
2. Cover the cooktop with baking soda.
This natural cleaner is mildly abrasive, so it can break down grit and grime without scratching the surface.
3. Place a wet towel on the stove top.
Run a towel under hot water, ring it out and then spread it over the stove top. Let it sit for about 15 minutes.
4. Wipe down the stove top.
Use the towel to wipe away the baking soda, removing stains and debris along the way.
5. Scrape away stubborn stains.
Use a razor blade as described above to remove remaining stains.
6. Polish and shine.
Wipe down the stove top with vinegar one more time. Use a dry microfiber cloth to buff in some shine.
And because I'm a bit OCD with cleanliness, I suggest you give your other appliances some love (for example, here's how to deep clean your oven, microwave and dishwasher.)
Regular cleaning can help keep your appliances in tip-top shape. Being prepared for appliance and home repair breakdowns is always a good strategy. See how plans from HomeServe can help with the costs of covered repairs.