Should You Repair or Replace Your Clothing Dryer?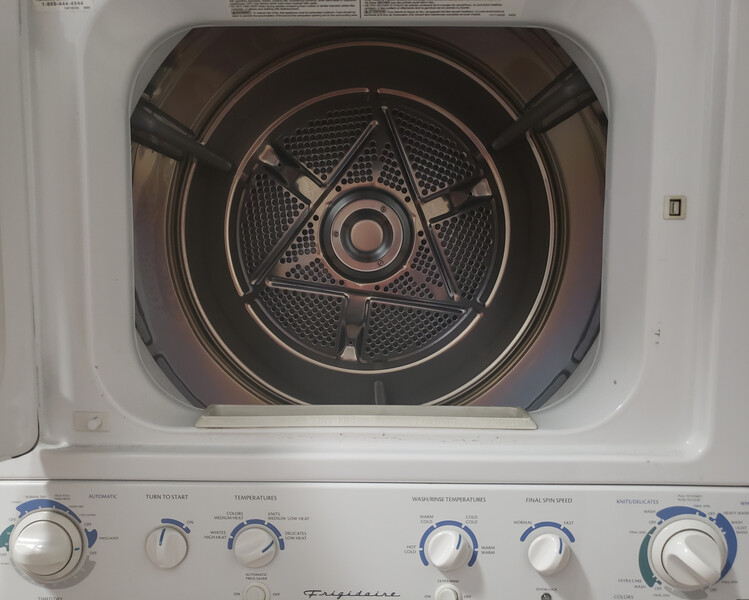 Malfunctioning home appliances can make you feel like you're being hung out to dry — speaking of which, should you repair or replace your broken clothes dryer? There are several factors you need to consider. If you can make an easy repair for a negligible cost, that's probably your best bet — bit if you're looking at a few hundred dollars' worth of repairs to your dryer, you need to determine what's going to be more cost-effective over the long cycle.
This May Also Interest You: The Pros and Cons of Stackable Washer and Dryers
It's recommended as a rule of thumb that if your dryer is close to 10 years old, you're better off replacing it outright, especially if the quote for repairs comes in high. Appliances are a household expense that can put a significant dent in your budget, but they're also vital in our day-to-day lives — which is why trying to make the right decision to repair or replace one can be so stressful.
Below, we've answered some commonly asked questions on the matter to help guide you in making your choice.
How Long Does a Dryer Last?
Most dryers are going to last you 10-15 years. That's if you take care of it and keep up with recommended maintenance. Letting minor problems go and not fixing them will come back to haunt you later — and probably right about the time you have a washing machine full of wet socks and underwear that need dried.
How Much Do Dryers Cost to Repair?
Dryer repair prices depend on what the cost of labor is in the area where you live or which company you use, or if you choose to do the repairs yourself.
If it's a minor repair, you may get away with a minor expense, but the more complex the problem is, the more it will cost. There are some instances where you may still be under warranty and be able to get the repairs done for free. The average cost for common dryer repairs is $100-$500.
How Much Do Dryers Cost to Replace?
When your dryer has reached the end of its lifespan and you're on the hunt for a new one, be sure to do your research. Dryers last for many years, and things may have changed since you last shopped for one. There are many new features and upgrades to newer models, such as:
Improved energy efficiency
Quicker drying times
Quiet running
A variety of settings
Steam-dry options
Prices can vary depending on brand, features and model. If you're just in search of a basic, plain jane dryer, you should expect to spend around $300. When you get into models that have a wider selection of features, prices can jump to as high as $2,000; there are multiple variations among these higher-end models, as well.
Do I Need to Hire a Professional to Fix My Dryer?
No, you do not have to hire a professional. If you have experience or the confidence that you need to fix it yourself, that may be an option — though you need to make sure that, in doing so, you aren't voiding your warranty. If your dryer is still under warranty, you might want to consult an expert first, and reduce your risk of messing something up.
Why Is My Dryer Not Drying My Clothes?
When your dryer isn't drying your clothes within the normal time setting for the load, there might be a problem. There are a few ways you can investigate the issue to try to determine a cause and if you need to consult a dryer-repair professional.
Check the air vents while the dryer is running. If you can't feel air blowing out of the vent, you likely have a clog — which is dangerous as it could cause a fire. You can clean out the vent on your own without the need of a professional. If that's not your problem, it could be the heating element or another component, in which case an expert may be needed.
What Are Some Common Reasons Dryers Break?
There are many reasons your dryer may be in need of repairs. When you call for a professional to come and fix yours, they may have a general idea of what the problem is because some issues are common. Some frequent causes of dryer malfunctions include:
A bad fuse
A heating element went out
Heating coils are bad
A belt is bad
The roller is bad
A motor malfunction
Vents are clogged
Not emptying the vent
A bad terminal block
The start switch isn't working
What's a Good Dryer Brand to Buy?
Searching for a replacement dryer can be stressful, as there are so many to choose from. You first need to decide if you want a gas dryer or an electric dryer. Read reviews and see which models have the best ratings. Some of the most commonly recommended brands are:
LG
Maytag
Estate
Whirlpool
Amana
Kenmore
Electrolux
GE
All of these brands have their own advantages. Some may have attributes that appeal to you more than others. It's a good idea to have a list of what you want in a dryer before you go shopping.
It never fails that you have a problem with one of your home appliances at 5:15 p.m. — 15 minutes after the repair company closes for the day. HomeServe can help you find a reputable company in your area to make the repairs you need. We offer service plans that cover your major home appliances. Our phone lines are open 24/7, so call anytime you need us.