What to do when your Basement floods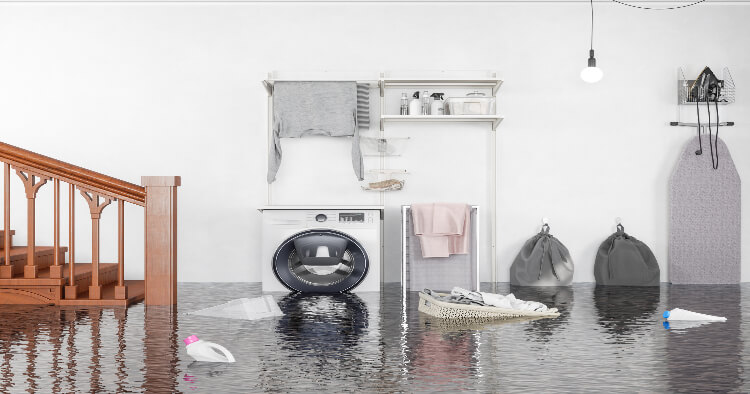 With the fierceness and destruction of Hurricane Dorian still making headline news (and the fact we still have weeks of hurricane season ahead of us,) many homeowners may be worried about basement flooding. And whether you live in a flood zone area or not, it's critical to know how to react if your basement floods - and also understand best practices to mitigate the risk of water damage.

Understanding insurance limitations
Your first instinct upon realizing there's been a flood might be to get your insurance agent on the line. While that's a common homeowner reaction, you might be wasting your time if you have a standard homeowners insurance plan.
Many homeowners insurance plans do not apply to damage done by flooding, no matter the cause. Insurers generally sell a la carte flood insurance packages (often backed by FEMA's National Flood Insurance Program) or offer it as an add-on to base policies.
Managing basement flooding
Knowing when to approach a flooded basement is a key part of dealing with this issue, as noted by HGTV. It's important that you not enter a flooded basement until the water source that has leaked (a common flood cause) or the external source, like a storm, has stopped.
SAFETY NOTE: Once water has stopped actively entering the basement, switch off your main breaker to power off any electronics down there and avoid the risk of electric shock. You can use a submersible sump pump to slowly but surely remove the water from the basement. These pumps are available at most major home improvement stores, many for between $110 and $150. You may also be able to rent one from a restoration company, along with other valuable tools like dehumidifiers.
Learn More About Home Repair Plans Near You
If you want be super prepared for DIY flood-repairs, HouseLogic explains how you can create an interior drain system by sawing a channel alongside the perimeter of the basement floor and filling it with perforated pipe leading to a sump pump. Only do this if you're confident in your abilities (you don't want to try this as a novice and risk making the whole thing that much worse.) When in doubt, call in a professional.
Preventative anti-flood measures
Being prepared and taking proactive steps to help prevent and mitigate flood risk is a smart idea. Here are just a few:
According to HouseLogic, adding metal or plastic extensions to your gutters is wise if downspouts release water less than five feet from your house. Check to see if your basement has a footing drain. If so, make sure it doesn't get clogged. Clean all gutters, spouts and drains regularly.
Angie's List recommends that homeowners regularly survey the house's foundation for cracks, along with the basement walls and floor. Use epoxy resin to patch up any holes or gaps you find, as leaving them unattended creates a major flood hazard.
Don't forget the windows:
Window-well covers are a must if your basement has older, leaky windows.
Being prepared for any type of home repair is important. Learn more about how plumbing and water-line repair plans from HomeServe can help with the costs of covered repairs.