How Much Does a Whole-House Generator Cost?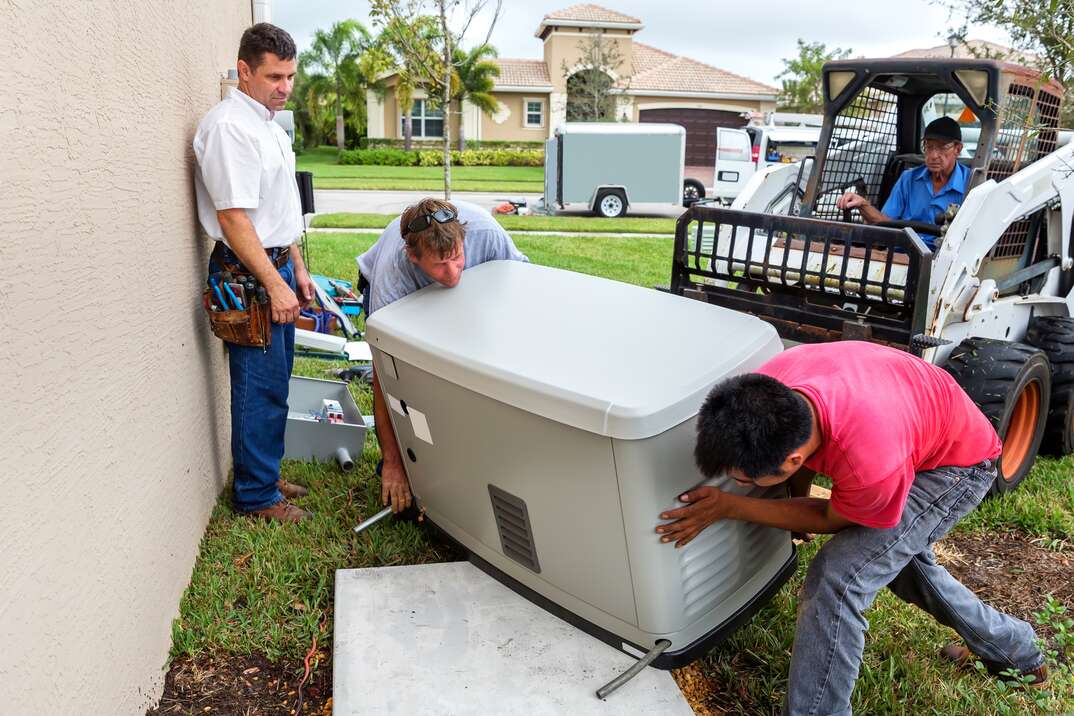 Whole-House Generator Costs at a Glance
Price range: $300-$15,000
Gasoline generators: $550-$3,000
Natural gas generators: $1,900-$5,000
Diesel generators: $3,000-$15,000
Liquid propane generators: $500-$6,000
Solar generators: $300-$5,000
Portable generators: $300-$1,200
Generac Generators: $1,900-$12,000
Price of installation: $500-$3,000
Electrician work: $600-$900
They say an ounce of prevention is worth a pound of cure — so, by that logic, setting yourself back a little now for a backup home generator could prove to be worth its weight in an emergency electrical outage. If the prospective price tag is making you hesitate, you may find a new generator to be more affordable than you imagined. Such systems start around $1,400 installed and, while they can run up as high as about $9,500, the average cost is around $4,475.
This May Also Interest You: The 411 on Home Generators
As you consider those costs, keep in mind that you might never realize how much a backup generator is truly worth to you until you lose power due to extreme weather or a natural disaster. When that happens, a so-called whole-house generator — named thus because it's able to power the vital functions of your "whole house," whatever that amounts to for your home — can provide you with light, heating, cooling and electricity until your power is restored.
A wide range of types and options can make a generator purchase and installation affordable for homeowners across the financial spectrum.
Generator Prices and Types
The specific type of generator you're looking to buy is the biggest price variable. A small portable generator can run you around $300, while a large diesel-powered one can run about $15,000.
Here are the different types, generally classified by the fuel they use:
Gasoline Generators
The most cost-effective option is a gasoline generator. Gas is easily available in most regions, making this generator a popular choice. Prices run from $550 to $3,000.
Natural Gas Generators
Natural gas generators tend to have a higher price tag and are more convenient. They don't require fuel storage because they can be hooked up to a utility grid. Natural gas generators range in price from $1,900 to $5,000.
Diesel Generators
If you're looking for an abundance of power, this is the one you want. The price ranges from around $3,000 to as much as $15,000.
Liquid Propane Generators
A liquid propane generator burns clean and has an indefinite shelf life when it's stored correctly. However, these models burn through propane rapidly, and the fuel can be difficult to store. If you're considering a liquid propane model, expect to pay $500 to $6,000.
Solar Generators
Solar generators run $300 to $5,000, and their greatest benefit is sustainability. They don't require a constant fuel supply, but can be hindered by limited sun exposure when, for example, you need your generator during a storm.
Portable Generators
A portable unit is priced between $300 and $1,200 depending on the power and the size. Their primary perk: No installation necessary.
Generac Generator Costs
Generac Generators are the top brand in home generators. The manufacturer specializes in permanent home models. If you have one installed, it'll typically turn on automatically when the power goes out; it runs on natural gas and liquid propane and can tap into local utility lines.
If you live in an area with frequent power outages and extreme weather, a Generac model may be the best option for your home. The generator's capacity as it relates to what you need to power your home affects the price. Generac generators start at about $1,900 and can cost up to $12,000.
Average Installation Cost
If you're looking to get a generator installed in your home, you're going to need to spend between $500 and $3,000 in addition to the cost of the generator you chose. Again, if you're purchasing a portable unit, you won't incur installation costs.
When looking to get a generator installed in your home, you should consult a professional to ensure the job is done right. Most generators are located outside your home, positioned on a concrete slab, and must be connected to electrical and gas.
Some factors that could factor in to how much a contractor charges include:
Your individual energy-needs assessment
Site preparation and concrete pad construction
Adding a fuel tank or connecting to utility lines
Improving your electrical panel, transfer switch and new wiring
Permits
Materials and equipment costs
Estimated Cost to Wire a House for a Generator
When having a generator installed in your home, you may need to hire an electrician to do some wiring. Some generators will require you to get a subpanel, and wire the house as well as a transfer switch.
On average, an electrician will charge $65 to $85 an hour, so a generator-wiring job could run you about $600 to $900 depending on the electrician and how long the job takes.
A subpanel is needed if your original electrical service panel, or breaker box, is full and you need more room to add new circuits for your generator.
New wiring will be needed to connect your generator to existing utility lines as well as the electrical panel. A transfer switch is needed to connect the generator to your existing wiring and to keep everything in safe order.
Cost to Operate Your Generator
Generators draw a lot of power and are expensive to run, making your utility bill higher during that time. During extended power outages, you can also expect to spend about $30 a day on gas.
A typical generator can last you about 20 years under normal conditions.
Since we're all home now more than ever, being prepared for unexpected home repairs with a plan from HomeServe is important. Having a plan in place gives you the peace of mind knowing that you can simply call our 24/7 repair hotline for covered breakdowns. See what plans are available in your neighborhood.