How Much Does It Cost to Install a Backsplash?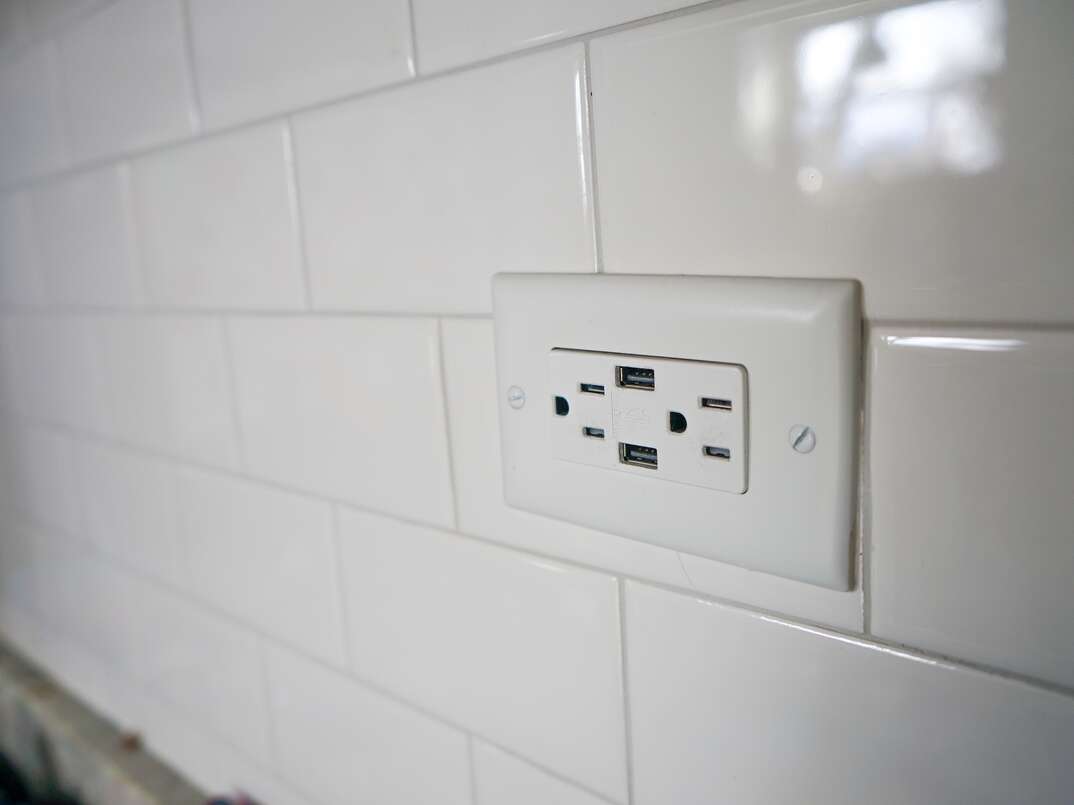 Backsplash Installation Costs at a Glance
Total installation cost: $1,500, average; $900-$2,500, range
Ceramic tile: $1-$10 per square foot
Natural stone tile: $9-$17 per square foot
Glass tile: $20-$30 per square foot
Stainless steel: $20+ per square foot
Labor costs: $40-$60 per hour
A space for your family and your guests, kitchens are often the most-used room of the house. So, it's important that your kitchen makes a strong first impression. One of the easiest ways to make your kitchen stand out for all of the right reasons is to install a backsplash.
This May Also Interest You: How to Install Kitchen Backsplash in 7 Simple Steps
A beautiful tile backsplash can make even the most average kitchen look more upscale.
Adding a backsplash is a great way to not only boost the appeal of your home but your property value as well.
Curious how much it would cost to install a tile backsplash? Here's a cost breakdown.
Backsplash Installation Cost Factors
As with any renovation project in your home, the price of the project will largely depend on the materials used and the size of the room. Labor costs can vary from state to state. When it comes to tile backsplashes, there are several factors that contribute to the overall cost:
Tile: The amount of tile needed, as well as the type of tile, will impact the cost.
Complexity: If the installation requires installing tile in hard-to-reach-spaces, the price may increase.
Obstacles: The price may go up if the installation team needs to cut around fixtures, electrical outlets or other features.
Contactor rate adjustments: Contractors' rates may change seasonally or based on other factors. In some cases, you may have to pay for transportation costs.
Before beginning a backsplash project, be sure to sit down and lay out your budget. This will allow you to determine just how much you can afford to spend on the project.
Average Cost to Install a Backsplash
On average, expect to spend around $1,500 on your new backsplash. According to Fixr, the price range for this project is $900 to $2,500, with the price largely dependent on the type of tile you use. If you install your backsplash yourself, you can save money on labor costs.

Kitchen Vs. Bathroom Backsplash Installation Cost
The biggest difference between a kitchen backsplash and a bathroom backsplash is the amount of space you're covering with tile.
An average kitchen backsplash covering about 30 square feet of space will cost about $1,500, depending on the price of the tile. If you have oddly shaped tile or you want the tile to be installed in a mosaic or other pattern, that may increase the price.
Bathroom backsplashes are generally cheaper because they are smaller. If you want just a small strip of tile above the vanity or sink, you'll probably pay about $100 for materials and installation. A full wall of tile will cost a lot more. As with kitchen tiles, the more features you want, the more expensive the project.
Backsplash Costs by Type
Here are some of the most common backsplash materials and how much they cost:
Stainless Steel
No, this one's not tile. A stainless steel backsplash adds a unique modern flair to your kitchen. Most homeowners install it above the stove or oven. One of the major benefits of stainless steel is that it's very easy to clean and care for. You can even opt for a certain finish that hides fingerprints — a common complaint when it comes to anything made out of stainless steel. However, it can lose its sleek appearance quickly, and you may have to replace it more often than other types of tile.
Expect to pay upwards of $20 per square foot when you opt for a stainless steel backsplash.
Natural Stone
A natural stone backsplash can provide a rustic feel. Some common stones are limestone, travertine, granite or marble. This type of backsplash goes wonderfully with marble or granite countertops. There are many different design options, meaning you can get the stone backsplash that best fits the aesthetic of your home. A natural stone backsplash can be very difficult to keep clean and may even require specialized equipment for maintenance.
According to Marble.com, you will spend anywhere from $9 to $17 per square foot for a natural stone backsplash.
Glass Tiles
If you're looking for customizability, glass tiles are a good option. The tiles reflect light and can make your small bathroom or kitchen seem brighter and larger. Glass tiles are very easy to take care of and require little maintenance.
Glass tile costs about $20 to $30 per square foot, though you will find plenty of options outside of that range. The quality of the glass may differ from company to company, so you may be able to find glass tiles for cheaper. If you want to form a design with the tile, the price will increase.
Ceramic Tiles
Ceramic tiles are often one of the most popular choices when it comes to backsplash materials because they are incredibly versatile easy to cut. They're also low-maintenance, durable and easy to clean. Plain ceramic tiles can fit with almost any style of kitchen.
You can expect to pay between $1 and $10 per square foot for basic ceramic tiles. High-end ceramic tiles may be more expensive.
Subway Tile
Subway tile is a very popular choice for backsplash projects, but it's really more of a pattern than a specific material. Most subway tiles are ceramic. The rectangular tiles mimic the look of New York City subway tiles and are usually installed in an offset pattern. Installing tiles in this pattern may cost 10% more than installing tiles that are stacked on top of each other.
Mosaic Tile
Mosaic is also a pattern rather than a material. Traditionally, mosaic designs are usually made up of tiny pieces of tile (stone, rock, glass, metal, ceramic, etc.) joined together to create a pattern or image. This isn't a common option for a backsplash. Some of these designs can be rather tacky, meaning the backsplash will go out of style relatively quickly.
It's difficult to estimate how much you might pay for mosaic tile as the design is usually made up of different materials. If the design comes premade on some kind of backing, it will be cheaper. If not, it may cost a lot to have each piece individually cut for the design. You'll also need a designer or installation team to work with you on the project, so factor that into the cost as well. For the most accurate pricing on this one, you'll want to get a quote from a contractor for the design you have in mind.
Other Factors to Consider
There are several other different things that can impact the cost of your backsplash installation project:
Return on Investment
One thing to keep in mind is that adding a backsplash can actually improve the property value of your home. While you may be spending some money upfront for the installation, you could see a solid return on this investment.
Labor Cost
Professional installation is your safest bet when it comes to installing tile, but you'll pay for the labor in addition to the cost of the materials. According to Porch.com, average installation costs for backsplash range from $40 to $60 per hour. The size of the room, type of material and any additional services all impact how long the project will take. Usually, it takes about two days from start to finish. The first day is used to take down the old backsplash, prep the area and start the installation of new material. This is finished, sealed and cleaned on the second day.
Ease of Maintenance
Simply put, some materials are much easier to take care of than others. While stainless steel may only require some all-purpose cleaner, other materials such as natural stone may require specialized equipment or cleaning materials. Some of the more high-quality materials may even require professional maintenance. This is also something that you should factor in when considering your budget. While it may only be an annual expense, paying for regular cleaning services can add up in the long run.
DIY Backsplash Ideas
It's probably best to call in an expert when you're installing tile, but that doesn't mean DIY backsplash installation is impossible. In fact, there are many creative things you can do that are a little less complicated than laying tile. Here are some easy DIY backsplash ideas:
Beadboard
Beadboard is a type of vertical wood paneling with grooves and raised portions called "beads." It's an inexpensive material that is easy to work with. Beadboard is easy to install yourself and offers a unique alternative to a tile backsplash.
Peel-and-Stick Tile
Peel-and-stick faux tiles eliminate messy and time-consuming grout work. They can cut down on the cost of the project, too. This type of tile is easy to order online and install yourself.
Paint
If you're looking to get more out of your backsplash, you can paint over the existing tile or drywall. You could turn a neutral shade into a dark tone or bright color, completely changing the look and feel of your kitchen.
Ceiling Tiles
Decorative metal ceiling tiles are another great option for an economical and beautiful backsplash. They look luxurious but are affordable and easy to install.
Since we're all home now more than ever, being prepared for unexpected home repairs with a plan from HomeServe is important. Having a plan in place gives you peace of mind knowing that you can simply call our 24/7 repair hotline for covered breakdowns. See what plans are available in your neighborhood.