How Much Does It Cost to Repair or Replace a Water Service Line?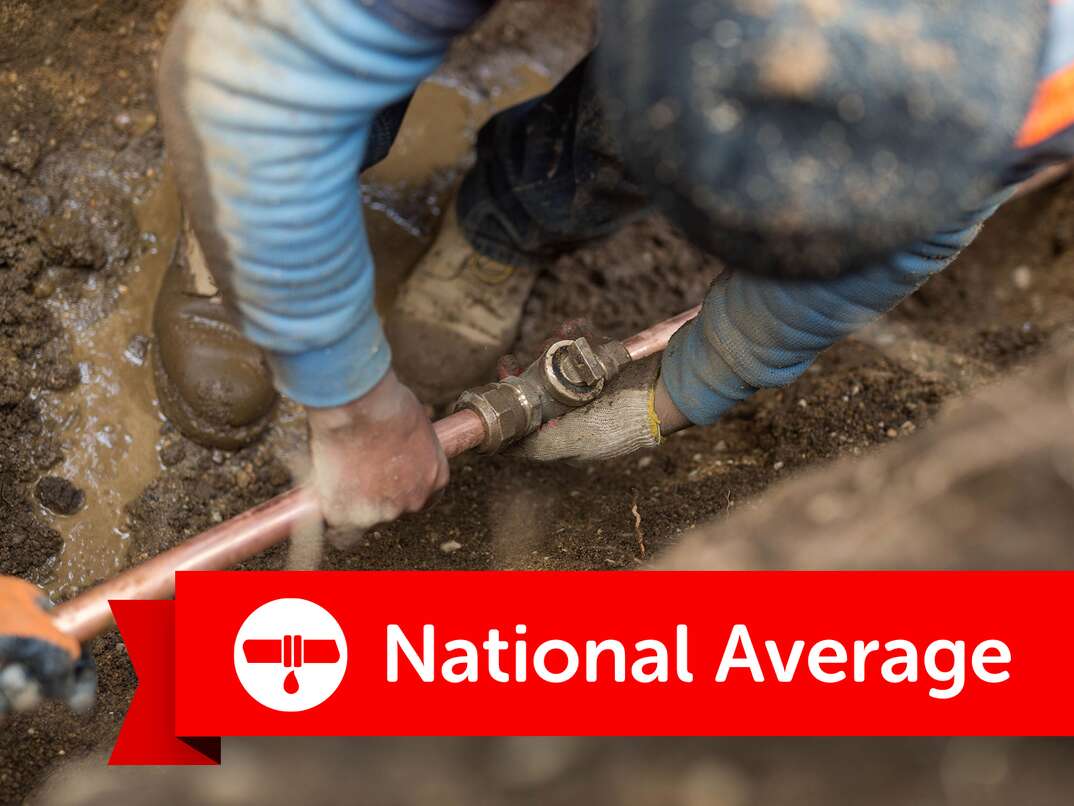 Your water service line is the underground pipe that carries water from the public water main into your home and out of your faucets and other fixtures. When something goes wrong — whether it be aging pipes, invading tree roots or digging in the wrong spot — all that water can end up flooding your yard and damaging your home.
This May Also Interest You: What's an Exterior Water Service Line?
A common misconception is that someone else will pay for those repairs. However, that's not usually the case. You are likely responsible for repairing or replacing your water service line should it break. Think of the system as having three main components: the water distribution main, the private service line and the public service line.
The Bucks Start Here...
The water distribution main is the community water supply. It's owned by the municipality and brings water within range of your home, usually by running under the street in front of your house. Water enters your home through your private water service line, which connects to the distribution main and runs under your property to your water meter and main shutoff valve.
When something goes wrong with your private water service line, you're on the hook for repairs. Depending on your municipality, there may also be a public portion of the service line, which is buried under city land, like a sidewalk. As soon as the pipe runs under your property line, however, it's your responsibility.
Deeper Ain't Cheaper
Water service lines are buried as deep as local building codes require — but usually the depth is determined by the frost line in your area. The frost line is the level to which the soil typically freezes during the winter. In the South, frost depths can be as shallow as 5 inches. In northern states, harsher winters push the frost depth to over 5 feet.
Water service lines aren't buried at the frost level; typically, some space is left to account for deeper freezing in a nontypical winter. In warmer climes, water service lines are buried less than 3 feet deep for this reason. In the coldest areas, they may be buried over 8 feet deep.
Pipe depth affects the cost to repair or replace. Think about it: The technician has to get to the broken line in order to work on it, so the deeper they have to dig, the more time and effort is spent in the process. That drives up the price.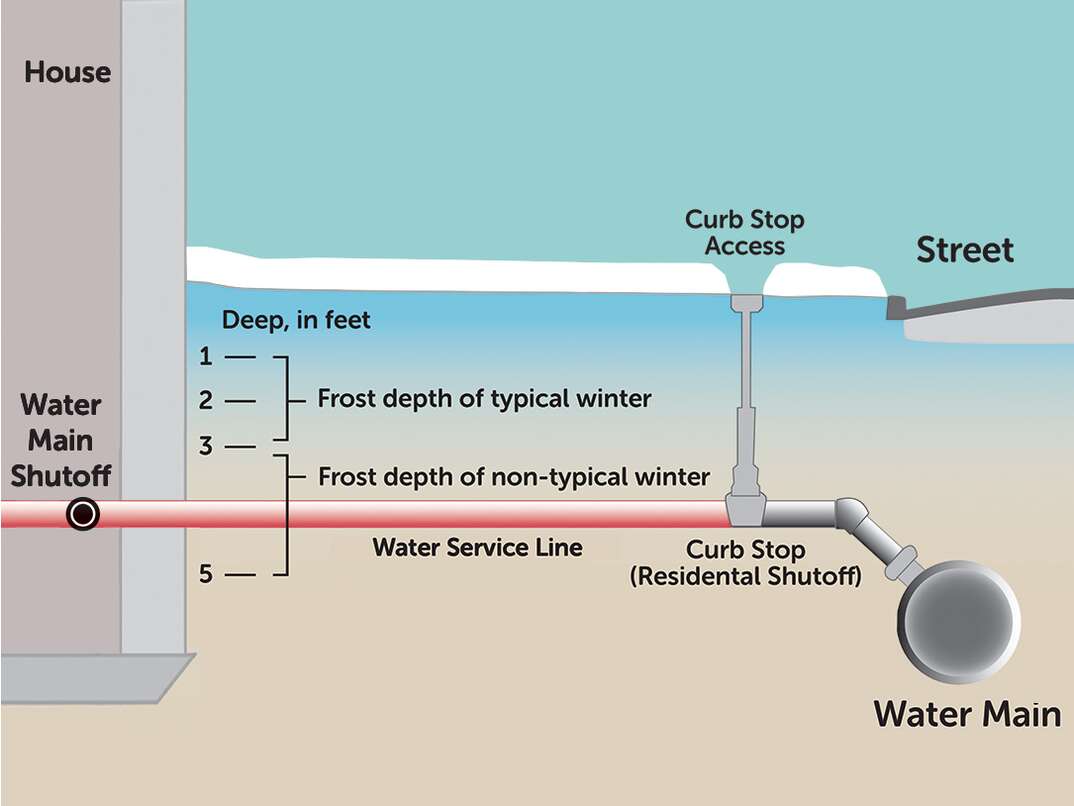 What's This Gonna Cost?
A small leak may be fixed by repairing or replacing just a small section of pipe. A clog or a fully compromised pipe may need to be replaced entirely. To give you an idea of what you can expect to pay for your water service line repair or replacement, HomeServe has calculated the average costs, both nationally and state by state, for comparison. Keep in mind that while these are the average prices, in some cases, costs can be much higher. In order to determine what's wrong with your system, you'll have to call someone out to diagnose the problem, which comes with its own cost. We've calculated that average, as well. As we mentioned, the depth of your pipes has a bearing on cost, so we've listed the average depth here, too.
There are several factors that figure into the cost to replace a water service line, so check out our state-by-state replacement cost guide for specifics. Or, go to our state-by-state repair cost guide to learn more about what goes into repair prices.
Below, you'll find the average costs for water service line repair and replacement in your state, plus the average depths the water lines are buried. All figures are based on aggregated HomeServe data reported by our network of thousands of contractors across the nation. Where insufficient data was available to determine a verifiable average, we've noted so.
(At the time of this publication, another factor dramatically driving up costs was pandemic-precipitated materials shortages, impacting home maintenance, repair and construction sectors across the board; those supply-chain issues are generally expected to be temporary and are not reflected here.)
Nationwide
Diagnosis: $222
Repair: $1,039
Replace: $3,581
Service Line Depth: 4.58 feet
State by State
1. Alabama
Diagnosis: $126
Repair: $721
Replace: $2,961
Service Line Depth: 2.49 feet
2. Alaska
Diagnosis: Insufficient data
Repair: Insufficient data
Replace: Insufficient data
Service Line Depth: Insufficient data
3. Arizona
Diagnosis: $190
Repair: $742
Replace: $2,654
Service Line Depth: 2.82 feet
4. Arkansas
Diagnosis: $230
Repair: $931
Replace: $2,687
Service Line Depth: 3.67 feet
5. California
Diagnosis: $168
Repair: $865
Replace: $3,062
Service Line Depth: 3.17 feet
6. Colorado
Diagnosis: $152
Repair: $797
Replace: $4,423
Service Line Depth: 6.16 feet
7. Connecticut
Diagnosis: $150
Repair: $972
Replace: $4,088
Service Line Depth: 7.32 feet
8. Delaware
Diagnosis: $152
Repair: $1,020
Replace: $3,125
Service Line Depth: 4.45 feet
9. District of Columbia
Diagnosis: $98
Repair: Insufficient data
Replace: $1,431
Service Line Depth: 4.00 feet
10. Florida
Diagnosis: $179
Repair: $742
Replace: $2,731
Service Line Depth: 2.53 feet
11. Georgia
Diagnosis: $287
Repair: $713
Replace: $3,125
Service Line Depth: 3.08 feet
12. Hawaii
Diagnosis: Insufficient data
Repair: Insufficient data
Replace: Insufficient data
Service Line Depth: Insufficient data
13. Idaho
Diagnosis: $195
Repair: $1,151
Replace: $3,484
Service Line Depth: 4.95 feet
14. Illinois
Diagnosis: $159
Repair: $854
Replace: $3,435
Service Line Depth: 5.26 feet
15. Indiana
Diagnosis: $143
Repair: $889
Replace: $2,971
Service Line Depth: 3.83 feet
16. Iowa
Diagnosis: $184
Repair: $861
Replace: $3,021
Service Line Depth: 5.97 feet
17. Kansas
Diagnosis: $126
Repair: $937
Replace: $3,103
Service Line Depth: 4.68 feet
18. Kentucky
Diagnosis: $150
Repair: $1,100
Replace: $2,471
Service Line Depth: 3.75 feet
19. Louisiana
Diagnosis: $199
Repair: $799
Replace: $2,973
Service Line Depth: 3.81 feet
20. Maine
Diagnosis: $170
Repair: $612
Replace: $3,330
Service Line Depth: 5.00 feet
21. Maryland
Diagnosis: $112
Repair: $1,020
Replace: $2,974
Service Line Depth: 5.11 feet
22. Massachusetts
Diagnosis: $158
Repair: $1,171
Replace: $2,493
Service Line Depth: 4.79 feet
23. Michigan
Diagnosis: $208
Repair: $978
Replace: $3,413
Service Line Depth: 6.07 feet
24. Minnesota
Diagnosis: $174
Repair: $901
Replace: $5,369
Service Line Depth: 8.27 feet
25. Mississippi
Diagnosis: $241
Repair: Insufficient data
Replace: $2,493
Service Line Depth: 2.52 feet
26. Missouri
Diagnosis: $126
Repair: $924
Replace: $3,437
Service Line Depth: 5.15 feet
27. Montana
Diagnosis: $206
Repair: $780
Replace: $5,211
Service Line Depth: 5.64 feet
28. Nebraska
Diagnosis: Insufficient data
Repair: $715
Replace: $4,818
Service Line Depth: 5.80 feet
29. Nevada
Diagnosis: $92
Repair: $274
Replace: $1,439
Service Line Depth: 3.50 feet
30. New Hampshire
Diagnosis: Insufficient data
Repair: $1,254
Replace: $5,809
Service Line Depth: 5.00 feet
31. New Jersey
Diagnosis: $123
Repair: $855
Replace: $3,343
Service Line Depth: 5.04 feet
32. New Mexico
Diagnosis: $188
Repair: $998
Replace: $2,712
Service Line Depth: 3.96 feet
33. New York
Diagnosis: $137
Repair: $1,039
Replace: $4,790
Service Line Depth: 5.02 feet
34. North Carolina
Diagnosis: $205
Repair: $834
Replace: $3,218
Service Line Depth: 3.89 feet
35. North Dakota
Diagnosis: $198
Repair: $474
Replace: $5,243
Service Line Depth: Insufficient data
36. Ohio
Diagnosis: $268
Repair: $935
Replace: $2,899
Service Line Depth: 5.76 feet
37. Oklahoma
Diagnosis: $138
Repair: $973
Replace: $2,568
Service Line Depth: 2.90 feet
38. Oregon
Diagnosis: $185
Repair: $964
Replace: $3,359
Service Line Depth: 4.05 feet
39. Pennsylvania
Diagnosis: $159
Repair: $964
Replace: $3,154
Service Line Depth: 4.62 feet
40. Rhode Island
Diagnosis: $195
Repair: $937
Replace: $5,294
Service Line Depth: 6.00 feet
41. South Carolina
Diagnosis: $308
Repair: $687
Replace: $2,596
Service Line Depth: 2.68 feet
42. South Dakota
Diagnosis: $153
Repair: $866
Replace: $4,487
Service Line Depth: 6.30 feet
43. Tennessee
Diagnosis: $195
Repair: $830
Replace: $2,716
Service Line Depth: 3.07 feet
44. Texas
Diagnosis: $211
Repair: $859
Replace: $2,382
Service Line Depth: 2.93 feet
45. Utah
Diagnosis: $94
Repair: $789
Replace: $2,200
Service Line Depth: 4.16 feet
46. Vermont
Diagnosis: Insufficient data
Repair: $1,240
Replace: $2,933
Service Line Depth: 4.00 feet
47. Virginia
Diagnosis: $209
Repair: $1,062
Replace: $3,175
Service Line Depth: 4.58 feet
48. Washington
Diagnosis: $243
Repair: $968
Replace: $3,530
Service Line Depth: 3.18 feet
49. West Virginia
Diagnosis: $252
Repair: $1,058
Replace: $3,020
Service Line Depth: 3.88 feet
50. Wisconsin
Diagnosis: $123
Repair: $876
Replace: $4,801
Service Line Depth: 6.82 feet
51. Wyoming
Diagnosis: $164
Repair: $737
Replace: $4,032
Service Line Depth: 6.37 feet
More Related Articles:

Video produced and directed by Eric Rossi: