How Do Emergency Hurricane Shutter Install Services Work and How Much Do They Cost?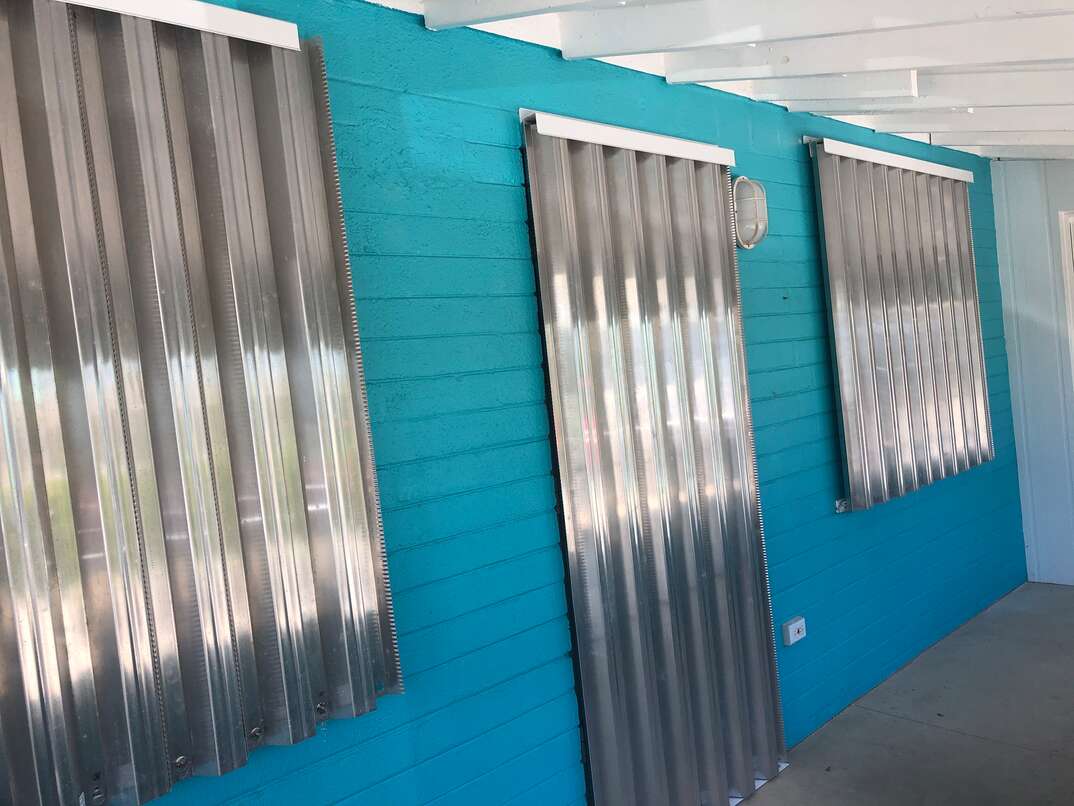 Hurricane Shutter Installation Costs at a Glance
The Home Depot installation (non-emergency): $8,000
Average hurricane panel installation cost: $2,300-$7,900
Plywood shutters: $390-$1,670
Roll-down shutters: $10,000-$21,500
Keeping yourself and your family safe during hurricane season is paramount, but protecting your home is also essential. Hurricane shutters safeguard you and your property by stopping flying debris from breaking the windows. They also help maintain a steady air pressure inside your house to avoid catastrophic damage to your walls and roof.
This May Also Interest You: It's Hurricane Season! Here's Everything You Need to Know to Prepare Your House for Storms
You can install some types of hurricane shutters yourself, but what if you're not around when the storm hits? You can book an emergency installation service for some peace of mind while you're away. Here's how much that's likely to cost.
Can I Have Emergency Hurricane Shutters Installed Right Before a Hurricane?
It's unwise to wait until a hurricane warning is issued before booking hurricane shutter installation. According to the National Weather Service, hurricanes are most likely to strike the U.S. from June 1 onwards, and you'll only get about a 48-hour notice when a hurricane is imminent. Demand for hurricane shutter installation services drastically increases when a hurricane is expected, so you may find yourself unable to secure an appointment, especially if you're not currently at the property.
Therefore, it's a sensible idea to book a contractor to install your emergency shutters well in advance of hurricane season so that you're well prepared. If you end up leaving it too late and can't get a professional to install them, you may be able to install them yourself if you can get to the property. If an imminent hurricane means that shutters are sold out in local stores, you can screw plywood boards to your ground floor window frames in a pinch. Doing so could damage your window frames, but this will probably be quicker and easier to fix than the damage your home could sustain if left unprotected.
Does Lowe's Install Emergency Hurricane Shutters?
Lowe's provides a hurricane shutter installation service by prescreened contractors with specific expertise in this type of window treatment. However, this service will likely be in high demand in emergencies, so it's best to book an appointment to install your storm shutters as early as possible.
More Related Articles:
Does The Home Depot Install Hurricane Shutters?
The Home Depot offers a hurricane shutter installation service. The process involves a free consultation at your property so that a contractor can recommend the best solution for your structure and local restrictions. Your hurricane shutters will then be custom-made to measure and fully installed.
According to the company website, it costs around $8,000 for an average hurricane shutter installation project. As the consultation process is relatively involved and your shutters are manufactured to order, you should allow plenty of time before hurricane season to ensure your shutters are installed before a storm hits, which means this is not an emergency service. You will likely have to meet the contractor in person, too, which could prove difficult if you aren't near the property.
How Much Does It Cost to Have Hurricane Shutters Installed in an Emergency?
You may be able to call a local emergency shutter installation service to do the work. How much it costs to install hurricane shutters depends on the type of shutters you want, how many windows you have and how large your windows are. Costs also vary according to manufacturer and contractor.
On average, it costs between $2,300 and $7,900 to install hurricane panels, according to Fixr data. Plywood shutters are the cheapest option, costing somewhere between $390 and $1,670 on average, while premium roll-down shutters could set you back between $10,000 and $21,500. Installation during hurricane season — or right before a hurricane — might increase these prices.