How Much Does a Home Theater Cost?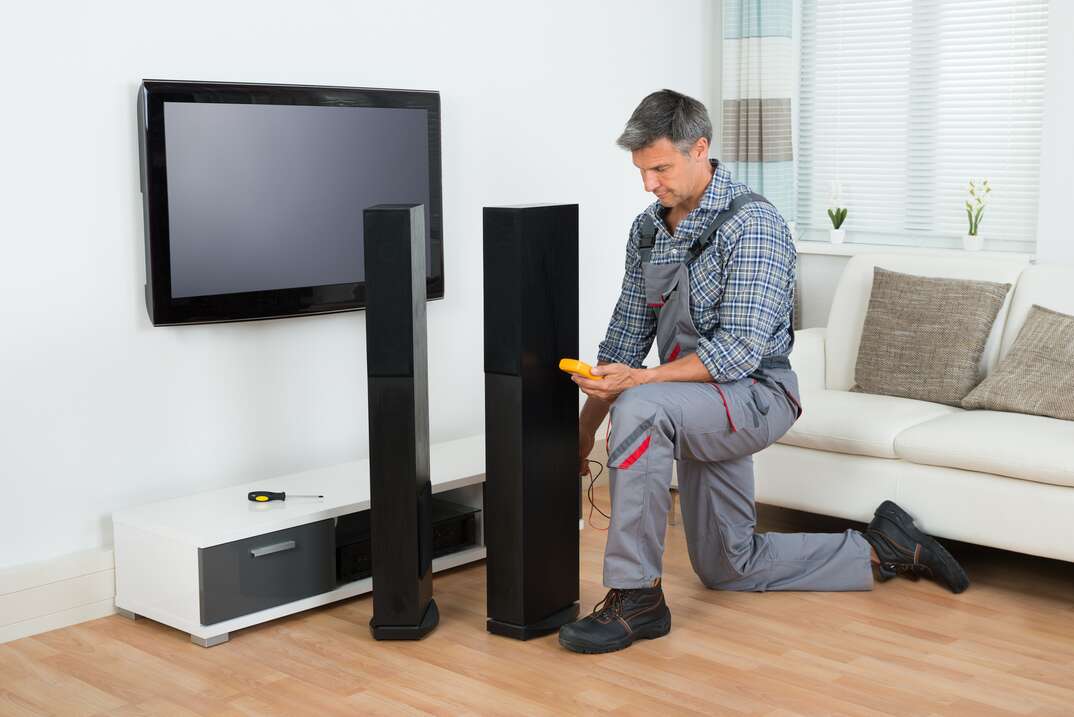 Home Theater Costs at a Glance
Average total price: $1,300
Total price range: $300-$10,000+
Electronics specialist: $100, consultation; $150-$800, installation
The idea of a home theater seems more attractive now than ever. Some streaming services are offering films the same day as their theatrical release, which means you won't have to wait until they're available on digital or DVD to watch them. No more telling strangers to quiet down or silence their phones. And perhaps the best part of a home theater is that you have the ability to pause the movie while you refill your popcorn.
This May Also Interest You: How to Mount a Flatscreen TV to a Wall
Eager to build a private theater space for you and your family? Here's a breakdown of the costs.
Home Theater: Overall Cost
"Home theater" just sounds expensive, doesn't it? But it doesn't have to be. It's easy to customize a home theater to work for you and your budget. The three basics are a screen, a sound system and seating, but the rest is entirely up to you.
You can create a decent setup for about $1,300. If you already have some of the equipment, like a TV, your cost could be as low as a few hundred dollars. If you want all the bells and whistles, you may spend upwards of $10,000.

Consider Hiring an Electronics Specialist
Before you start installing cables yourself, think about hiring an electronics or media specialist who has experience setting up a home theater. If you aren't tech-savvy, a specialist can help you run all the cables and wires and can also help set up your equipment.
A consultation usually costs about $100. Basic installation starts at $150 and could go up to $800 or more if you want to add extras, like lighting or an audio system.
Location Is Everything
A home theater doesn't have to be a separate room with soundproofing and movie theater-quality chairs. It can be as simple as updating your current living room to make your movie-watching experience a little more immersive. You'll want to pick an area of your house that has space for your equipment and few distractions. Make sure to account for any neighbors or outdoor lighting that could interfere with your home theater.
Here are some options to consider:
Loft area
Attic
Spare bedroom
Basement
Garage or backyard
If your setup requires it (or if you just want to close off an area in your house), you will need to look into framing and insulating. This can get expensive and will potentially add several thousand dollars to the overall cost. But this is also a chance to add some soundproofing. That way, the explosions from action movies stay in your theater and don't make their way into the kitchen or living room.
TV or Video Projector
You can use your current TV or upgrade to one with higher quality. But if you are looking for a realistic large-screen theater experience, you may want to consider a projector system. Most projectors hang from a ceiling or sit on a shelf attached to the wall. It's best to get the screen that is made specifically for your projector, but you can also project on a smooth, blank wall.
How Much Does a Projector Cost?
Cheap projectors start at $100. For a projector of higher quality, expect to pay $2,000 to $3,000 on average. Projector screens are sometimes bundled with projectors but can cost $200 to $600 on their own, depending on the quality.

Surround Sound
If you're trying to replicate a theater experience, surround sound is a must-have. Home theaters typically use a 7.1 surround sound system. This usually includes seven speakers and a subwoofer. In this setup, three speakers are placed in front of the viewers — to the left, center and right of the screen. There are two speakers behind the viewers and one on either side of them.
Some home theaters use a 9.1 surround sound system, which adds another set of speakers to the front of the room. This helps to further diversify the sound and make it crisper.
The location of these speakers is also important. Here are some tips for setup:
The left and right speakers need to go on either side of the screen at ear level.
Side speakers should go on the side walls behind the first row of seating if you have multiple rows.
The rear speakers should go on the back wall.
How Much Does a Surround Sound System Cost?
Speakers can cost anywhere from $150 to more than $1,200 dollars. You may want to splurge on wireless speakers for a cleaner look, especially in larger rooms.
Don't forget the mounts or stands for your speakers. These allow you to change the location of your speakers as you please.
More Related Articles:
Other Equipment You May Need
You will need a spot to house the receiver and all of the other A/V equipment. This hub is usually hidden in a cabinet or in a nearby closest. Receivers can run from $35 to $4,000.
Receivers accept content from a variety of multimedia devices like:
Cable and satellite
Game consoles
Home theater PC
DVD players
Satellite, Cable or Streaming Service
Today's movie-viewing options are plentiful. No longer does family movie night mean running to the video store and hoping they have the latest release. Now, you can sit in the comfort of your home and scroll through nearly endless options.
1. Internet
If you plan to use streaming services, start with a high-speed Internet package. Depending on available service in your area and how much speed you are looking for, it may cost a few hundred dollars for setup and a monthly fee thereafter. Then, sign up for streaming services to gain access to their libraries of movies. Each service usually costs less than $10 per month.
2. Satellite or Cable
From there, consider either satellite or cable options. They also typically have a setup fee and then a monthly charge. Expect to pay between $30 and $240 per month, depending on the service.
3. DVD Player
Don't forget a DVD or Blu-ray player. They may seem outdated compared to today's streaming technology, but it's good to have one on hand. If your Internet or TV service ever goes down, you can retreat to the old tried-and-true DVD player.
Some DVD or Blu-ray players can also act as a streaming device. Others can network into your personal computer so you can enjoy music, photos or home videos in your theater. You can find a good DVD player for less than $30. A high-quality one could cost up to $260.
A Place to Sit
Clear picture and crisp sound don't matter if the seating is uncomfortable. Consider a few options: Are you setting it up theater-style with reclining chairs, or are you keeping your existing couch? New furniture, of course, will add to the total cost.
Lighting
Even though you probably want your home theater as dark as possible for movie viewing, you may want dimming lights. These lights dim on command, so it's not as much of a shock to go from light to dark and vice versa. Running new electrical wires and installing outlets is best done by a professional electrician and could cost a few hundred dollars. You can add dimmer switches to existing lighting for cheaper.
Since we're all home now more than ever, being prepared for unexpected home repairs with a plan from HomeServe is important. Having a plan in place gives you peace of mind knowing that you can simply call our 24/7 repair hotline for covered breakdowns. See what plans are available in your neighborhood.