How much does it cost to repair a Garage Door?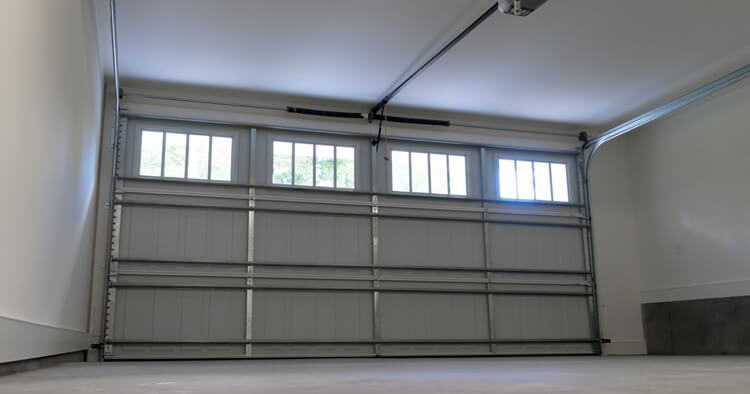 If you're like me, the garage door of your home is the main entrance to your house. Gone are the days when neighborhood kids would ring the front doorbell to ask if Stevie can come out to play. Nowadays, my kids' friends all know to come into the garage and knock on the mudroom door to gain entry – which always results in hours of Xbox. (Some of them even know the garage door code. That way, even if the garage door is closed, they can find their way up to my son's room – aka "the gaming den.")

In defense of a good garage door
At my house, the garage door is key to home life. This past holiday season, we spent a lot of time shuttling in extended family from the airport. With all the luggage, it's not as if we're going to escort them back down the driveway and around the path to the front door just so they can catch my a glimpse of my gorgeous foyer — especially not if it's snowing out. Inevitably, we bring the folks straight up to the garage and in through the mudroom. (Just like the neighborhood kids.)
So, it's important that my garage door not be dented, or off its tracks. (I know my observant mother will immediately point it out.) And I don't really want to come home every night to that sorry sight, either.
Since it's such a high-traffic area, there's a lot of DIY potential in and around the garage. Personally, I love taking on those painting projects and DIY storage hacks, but I don't necessarily love it when there are repairs involved. (Too much work!) And they're not exactly cheap.
Average costs for common repairs
Most garage door repairs will set you back around $125 to $300, including labor and replacement parts. Short of paying to replace your garage doors, here are some of the costs you can expect to patch up common problems (based on ballpark figures from HomeGuide and Fixr):
Extension springs: $100 to $120.
Torsion springs: $200 to $290.
Garage door cable or chain: $120 to $200.
Wheel tracks: $125 to $300.
Garage door opener: $30 to $200.
Broken glass: $150 to $300.
Garage sensor: $85 to $100.
Dents, rust or gouges: $150 to $400 or more.
Learn More About Home Warranty Plans Near You
Cost considerations
When you're looking into garage repair rates, keep in mind that you'll be paying for parts and labor.
Repair professionals typically charge an hourly service fee. Most professional repair companies will charge around $80 per hour. And you'll pay an additional fee for materials.
Unfortunately, this means fixing high-end materials and finishes could raise your quote into the thousands of dollars. Also, depending on how your garage door actually works (extension springs, torsion springs or cables, oh my) the rates for new parts will vary.
Most repairs can be finished within three hours, but even a three-hour fix could cost $240 or so, not including parts.
To try to minimize the risk of a costly repair, you can do annual maintenance on the garage. To help extend the life of your garage door's mechanisms, look around for signs of wear and tear like rust, fraying cables, and sensors obstructed by dirt. Don't forget to lubricate the tracks, too.
But, if your garage door won't budge and it seems to be beyond all hope, consider paying a professional to come out and inspect it for you. The inspection fee — typically around $40 — is often deducted from the cost of any necessary repairs.
Learn More About Home Warranty Plans Near You
Some repairs are best left to the professionals
Among the list of garage door fixes, there are a few risky repairs that you should never try on your own. First of all, messing with the garage springs can be very dangerous — they manage an immense amount of tension and weight, so you shouldn't touch them yourself. Also, anything to do with wiring should be done by a professional electrician. Remember, safety first -- DIY enthusiasm second.
In an effort to be the best homeowner I can be (and keep my mother's criticisms at a minimum), I thought about saving a slice of my home maintenance budget for the garage. However, I realized I would get much better value by paying a little bit more for a home warranty plan.
For around $200 to $600 per year, you can buy a home warranty plan that covers garage door repairs along with a slew of other home systems and appliances that sometimes require costly maintenance as well. Compare that to a potential bill of $125 to $300 for a single garage repair and being prepared with a home warranty plan is really a no-brainer.
That's why you should investigate plans from TotalHome Warranty by HomeServe. Once you have it in place, you can stress less knowing that if your garage door needs repair, you will receive help with covered costs. See what plans available from TotalHome Warranty are best for you.