How Much Does It Cost to Build a Shed?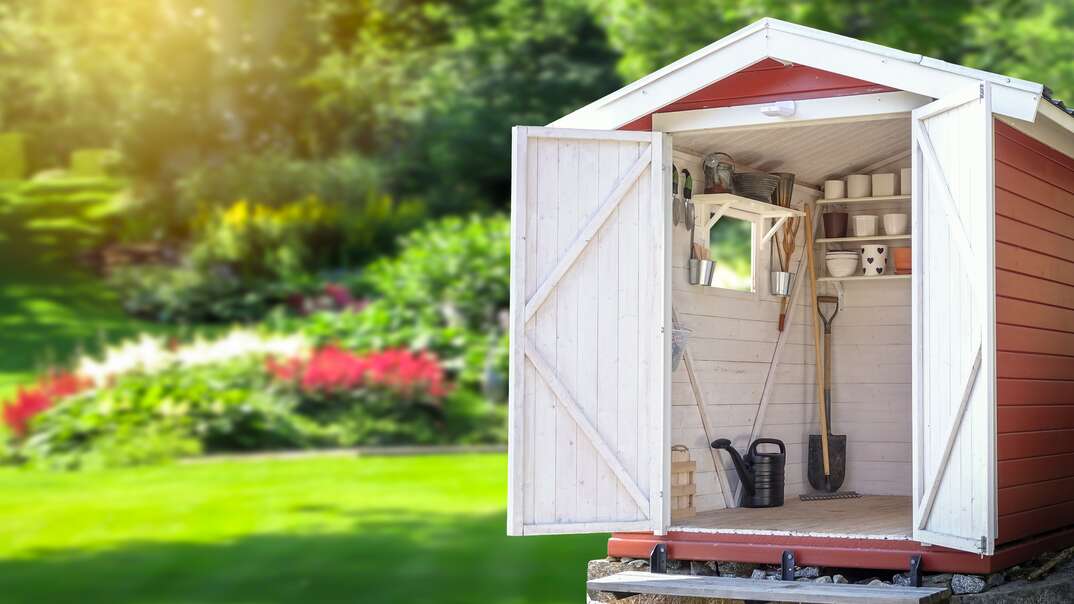 Do you need more space to store things? Maybe you need someplace out back to house all your tools for those do-it-yourself projects. Or maybe you're in the market for a man cave or a she shed. Whatever the reason, you're probably contemplating many scenarios to do it for the right cost. Trying to decide between building it from scratch, buying a kit or buying an already-built one that gets delivered ready-to-use to your property might have you overwhelmed with options.
This May Also Interest You: DIY Tips for Organizing Your Garage
Well you can shed some of that stress because here we're here to help you anticipate the costs and narrow down the options you have when it comes to building a shed.
Different Costs for Different Kinds
Having a shed to store outdoor-type items or even having a place for general overflow storage can be a clutter-corralling addition to a home — removing all that flotsam and jetsam you can't seem to part with or find a spot for and putting it in a safe, dry, out-of-the-way place. Now that you've decided a shed is the way to go, you have some different options to consider that come at different price points. The average cost of a shed is somewhere between $15 and $24 per square — but you can spend anywhere from a few hundred dollars for a simple tool shed to multiple tens of thousands for high-end models intended for use as studios and pool houses.
Building a Shed From Scratch
If you have the experience, confidence or assistance you need to build a shed on your own, you can save money on labor costs. Plans are available online for a fee, though some basic plans may be available for free. There's always the option of drawing up your own plans, as well, if you're so inclined and/or skilled.
This DIY route is most likely going to be the most cost-effective approach. The size and extras you add to the shed will impact how much it costs. An average-size shed measures roughly 8 feet by 10 feet.
Shed Building Kits
Alternatively, you can go online to Home Depot, Lowe's or another home-improvement store and purchase kits to build a shed. Included in the kit is everything you'll need to build the shed. The most you might need above and beyond what comes in the kit is the tools required to put everything together, which most likely you already own or can purchase at a local store.
If you're looking to do the work yourself, you should expect to spend around $2,000 on a kit. Of course, that price can go up or down depending on the size that you're building. You can also hire someone to do the work for you, but that assistance of course comes with additional costs — generally around $1,200 for the entire job.
Is It Cheaper to Buy or Build a Shed?
The cost of building a shed can grow by thousands of dollars, depending on size and design, but it's still decidedly cheaper to build it yourself because you're eliminating labor costs. If you have the skills and knowledge to the work, or know someone who does, you can get more for your money.
By buying a shed, of course, you're going to pay more for the finished product, as labor costs and other expenses are going to be folded into the final purchase price. If you're simply not equipped to take the DIY route, or could do it but fear of making mistakes, buying your way out of the frustration is always an option.
What Tools and Materials Are Needed to Build a Shed?
When building your own shed, you want to make sure you're fully prepared before you begin. Make a checklist of all the materials and tools you're going to need. That'll prevent you from having to make unanticipated and inconvenient trips to the hardware store, delaying the completion of your project.
Some of the tools and materials you're going to need include:
A hammer
Nails
A drill
Drill bits
A screwdriver
Screws
A framing square
A tape measure
A level
A carpenter's pencil
Wooden stakes
Chalk
Twine
Wood
Wood clamps
A wood chisel
Sandpaper
A saw (handsaw or electric)
A ladder
It's a good idea to also have safety equipment to prevent mishaps while building your shed. Goggles to protect your eyes, masks to protect your face and lungs while cutting wood, and earplugs while using noisy power tools. In addition, make sure you have first aid essentials on hand just in case — better to have it and not need it than the reverse.
Since we're all home now more than ever, being prepared for unexpected home repairs with a plan from HomeServe is important. Having a plan in place gives you the peace of mind knowing that you can simply call our 24/7 repair hotline for covered breakdowns. See what plans are available in your neighborhood.