How Much Does It Cost to Repair a Water Heater?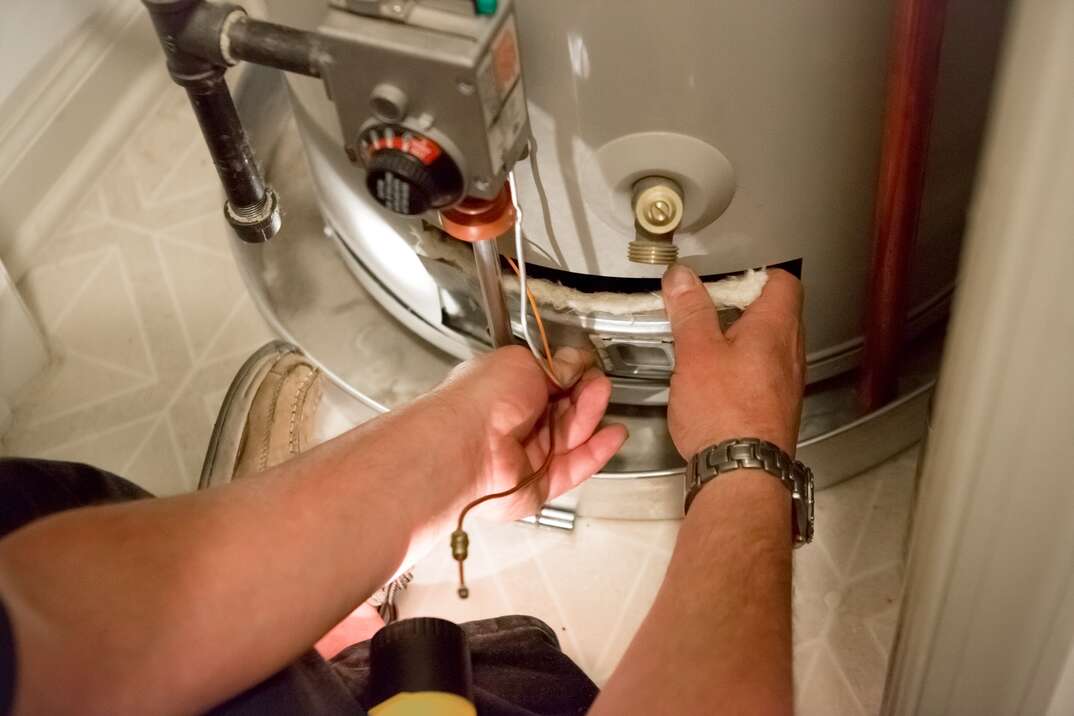 If your water heater is on the fritz and you wind up needing just a repair versus a total replacement, you're in luck. The national average cost for water heater repairs is less than a third of what it would cost you for a total unit replacement. According to HomeServe data, the average water heater repair totals less than $500 compared with a replacement, which'll run you more than $1,700 on average.
This May Also Interest You: Hot Water Ran Out While You're in the Shower? 5 Reasons You're Freezin'
Several variables will go into the calculation of what you'll ultimately pay for your water heater repairs. First off, don't forget to factor in an average $99 diagnostic fee — as the contractor you call almost certainly will charge you to show up and determine what's wrong and how to fix it. Moreover, it's likely that the problem will be the result of a combination of factors, which in turn will necessitate a combination of solutions carrying their own individual costs that, taken together, figure into the national average.
Read on for a rundown on the common causes of a water heater breakdown and their associated costs for repair, plus a state-by-state breakdown of average water heater repair costs to help you get an idea of what you should expect to pay where you live, all told.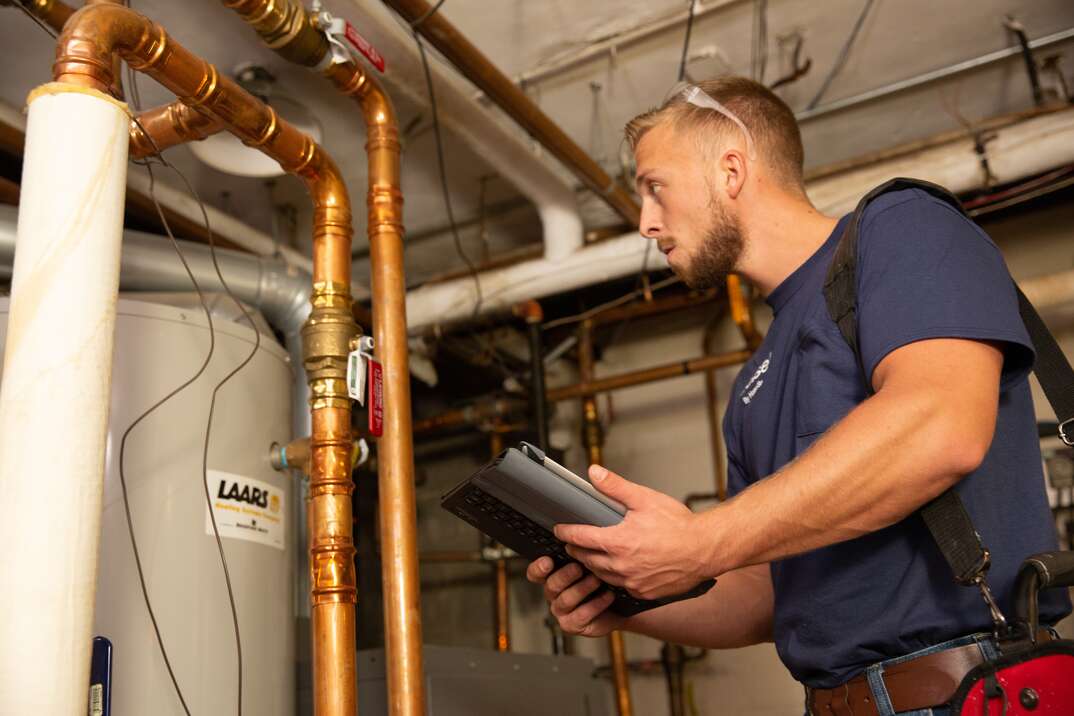 For a broader look at water heater pricing, check out our cost guide covering pricing averages for both repair and replacement state by state. And for a deeper dive into what factors into how much you'll pay to get your water heater replaced outright, go to our state-by-state replacement cost guide.
All figures are based on aggregated HomeServe data reported by our network of thousands of contractors across the nation. Where insufficient data was available to determine a verifiable average, we've noted so. Also note that HomeServe water heater data should generally be assumed to refer to conventional "tanked" models — the most common type — as opposed to tankless or "on-demand" models, which can cost roughly twice as much.
Common Parts Replacements Contributing to Water Heater Repair Costs
Gas control valve: $303.38
Gas flex: $91.40
Gas shutoff valve: $99.22
Hot and cold flex lines: $126.23
Lower element: $147.70
Lower thermostat: $142.58
Pilot assembly: $198.17
Pilot safety sensor: $201.11
T&P or pressure relief valve: $149.79
Thermocouple: $151.40
Upper and lower element: $254.01
Upper and lower thermostat: $251.44
Upper element: $146.45
Upper thermostat: $143.34
T&P discharge tube: $59.59 per foot
National Average Total Cost for Water Heater Diagnosis, Repairs
Diagnosis: $99
Repair: $493
State by State Average Total Costs for Water Heater Diagnoses, Repairs
Find the average cost to diagnose and repair a water heater in your state, and compare that cost to other states, with the state-by-state breakdown below.
1. Alabama
Diagnosis: $87
Repair: $405
2. Alaska
Diagnosis: Insufficient data
Repair: Insufficient data
3. Arizona
Diagnosis: Insufficient data
Repair: Insufficient data
4. Arkansas
Diagnosis: $78
Repair: $318
5. California
Diagnosis: $71
Repair: $340
6. Colorado
Diagnosis: $92
Repair: $283
7. Connecticut
Diagnosis: $59
Repair: $509
8. Delaware
Diagnosis: $74
Repair: $319
9. District of Columbia
Diagnosis: $87
Repair: $398
10. Florida
Diagnosis: $102
Repair: $494
11. Georgia
Diagnosis: $91
Repair: $351
12. Hawaii
Diagnosis: Insufficient data
Repair: Insufficient data
13. Idaho
Diagnosis: $87
Repair: $454
14. Illinois
Diagnosis: $87
Repair: $357
15. Indiana
Diagnosis: $82
Repair: $290
16. Iowa
Diagnosis: $85
Repair: $261
17. Kansas
Diagnosis: $84
Repair: $263
18. Kentucky
Diagnosis: $88
Repair: $310
19. Louisiana
Diagnosis: $87
Repair: $278
20. Maine
Diagnosis: Insufficient data
Repair: Insufficient data
21. Maryland
Diagnosis: $84
Repair: $466
22. Massachusetts
Diagnosis: $69
Repair: $439
23. Michigan
Diagnosis: $82
Repair: $236
24. Minnesota
Diagnosis: $84
Repair: $339
25. Mississippi
Diagnosis: $80
Repair: $246
26. Missouri
Diagnosis: $83
Repair: $332
27. Montana
Diagnosis: $94
Repair: $310
28. Nebraska
Diagnosis: $92
Repair: $274
29. Nevada
Diagnosis: $59
Repair: $197
30. New Hampshire
Diagnosis: Insufficient data
Repair: $468
31. New Jersey
Diagnosis: $64
Repair: $333
32. New Mexico
Diagnosis: $74
Repair: $484
33. New York
Diagnosis: $84
Repair: $310
34. North Carolina
Diagnosis: $89
Repair: $364
35. North Dakota
Diagnosis: $102
Repair: $288
36. Ohio
Diagnosis: $88
Repair: $567
37. Oklahoma
Diagnosis: $89
Repair: $343
38. Oregon
Diagnosis: $104
Repair: $386
39. Pennsylvania
Diagnosis: $76
Repair: $515
40. Rhode Island
Diagnosis: $81
Repair: Insufficient data
41. South Carolina
Diagnosis: $84
Repair: $295
42. South Dakota
Diagnosis: $94
Repair: $283
43. Tennessee
Diagnosis: $82
Repair: $398
44. Texas
Diagnosis: $88
Repair: $325
45. Utah
Diagnosis: $76
Repair: $360
46. Vermont
Diagnosis: Insufficient data
Repair: Insufficient data
47. Virginia
Diagnosis: $84
Repair: $295
48. Washington
Diagnosis: $89
Repair: $261
49. West Virginia
Diagnosis: $81
Repair: $393
50. Wisconsin
Diagnosis: $81
Repair: $326
51. Wyoming
Diagnosis: Insufficient data
Repair: $271
More Related Articles: