How Much Does It Cost To Install An Attic Ladder?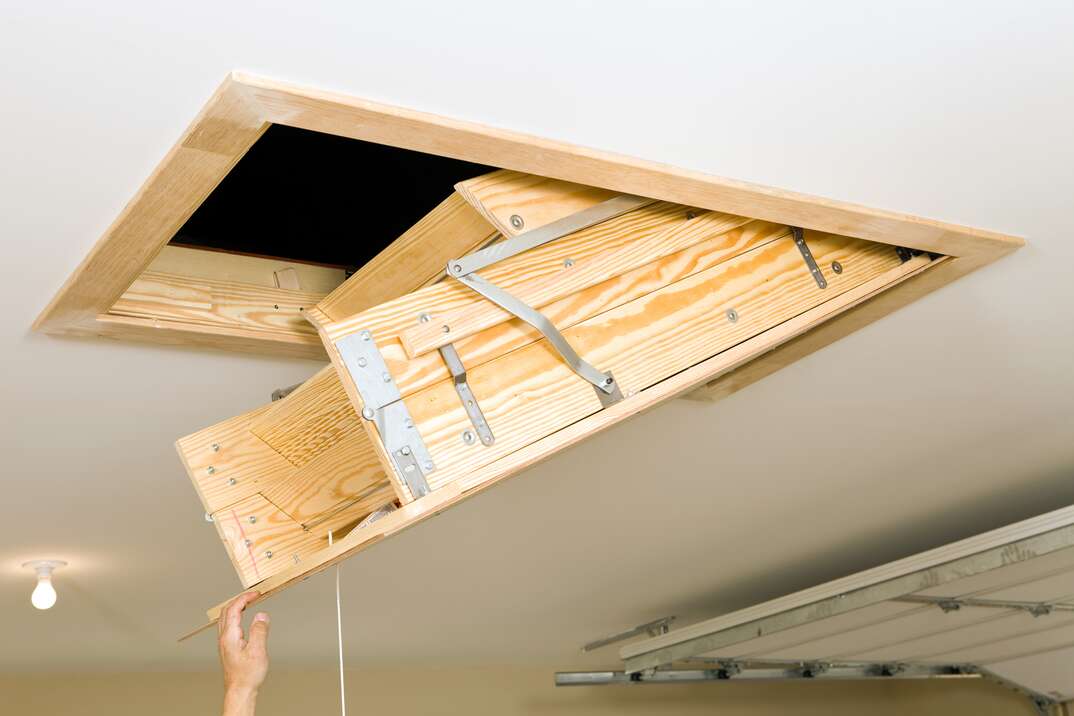 Attic-Ladder Costs at a Glance
Average cost, including installation: $445
Professional installation, per hour: $60
Wooden attic-ladder kit price: $124-$751
Aluminum attic-ladder kit price: $180-$240
Steel attic-ladder kit price: $482-$1,011
Are you looking to install an attic ladder or replace an old worn-out one? Shopping around, figuring out what your options are and estimating how much everything is going to cost will prepare you for when your new attic ladder is, well, rung up at the register.
This May Also Interest You: How Much Does Attic Insulation Cost?
Read on to learn about the things you need to factor in when determining the price you're paying.
Should I Go Pro or DIY?
Whether you wish to install an attic ladder or stairs, you need to figure out what you're willing to spend on the project. To get a better idea of what your budget is, you need to have a general understanding of the basic costs associated with this particular job.
The cost to have a professional come to your home and perform this service is about $60 an hour. The average total price for attic stairs or a ladder is around $445. If you're somewhat handy with hand tools and think you can take on this project yourself, you can save substantial money on the labor costs.
Is Wood or Aluminum Better?
When it comes to attic stairs, there are different options you can go with, with aluminum or wood being the most popular, though steel also common if you're willing to pay the price. Ultimately, it just comes down to preference — and to each his or her own — but we've got some info on each that could help you decide.
Aluminum
This option is going to be sturdy and likely last you a long time. One of the many perks of aluminum versus other metals is that it doesn't rust. As far as cost, this is going to be the more affordable choice. In addition to being lighter on your wallet, it's also just lighter: When you're pulling attic stairs down from the ceiling, some materials can be quite heavy, but aluminum is very lightweight.
Aluminum attic-ladder kits range in price from $180 to $240 at your local big-box home-improvement store — so, depending on what tools you already have, you'll pay around that amount if you go the DIY direction.
Wood
Wooden stairs are very sturdy ... and very heavy. They'll last a long time, but you do have to be aware of moisture and weather changes that often occur in attics, which can take a toll on the wood. Wood is also a little bit more pricey than aluminum at the high end.
Wooden attic-ladder kits run from around $124 up to $751 at your average Home Depot- or Lowe's-type store.
Steel
Steel is, by far, the most expensive of the typical attic-ladder materials. You should expect to spend somewhere between $482 and $1,011 if you want a steel attic-ladder kit.
How Do You Measure Attic-Ladder Length?
If you're looking to do your own attic ladder installation, you're going to need to know the proper way to measure to get the correct length, which can be a little tricky to get right. The measurements are going to be made by the rough opening of the attic space. For example:
Measure from the hinge to hinge on the frame of the attic opening
Measure the length of your existing opening
Measure the height, from the floor to the ceiling
Measure how far out the stairs can come

What's the Best Pulldown Attic-Ladder Option?
There are many different options you can choose from for your attic ladder. You'll need to know the price range you're comfortable with in order to make your decision. Different brands, types and materials can cause the price to go up or down. The best choice for most people for an aesthetically pleasing, durable and affordable attic ladder is going to be aluminum.