Considering an Epoxy Garage Floor? You'll Want to Read This First...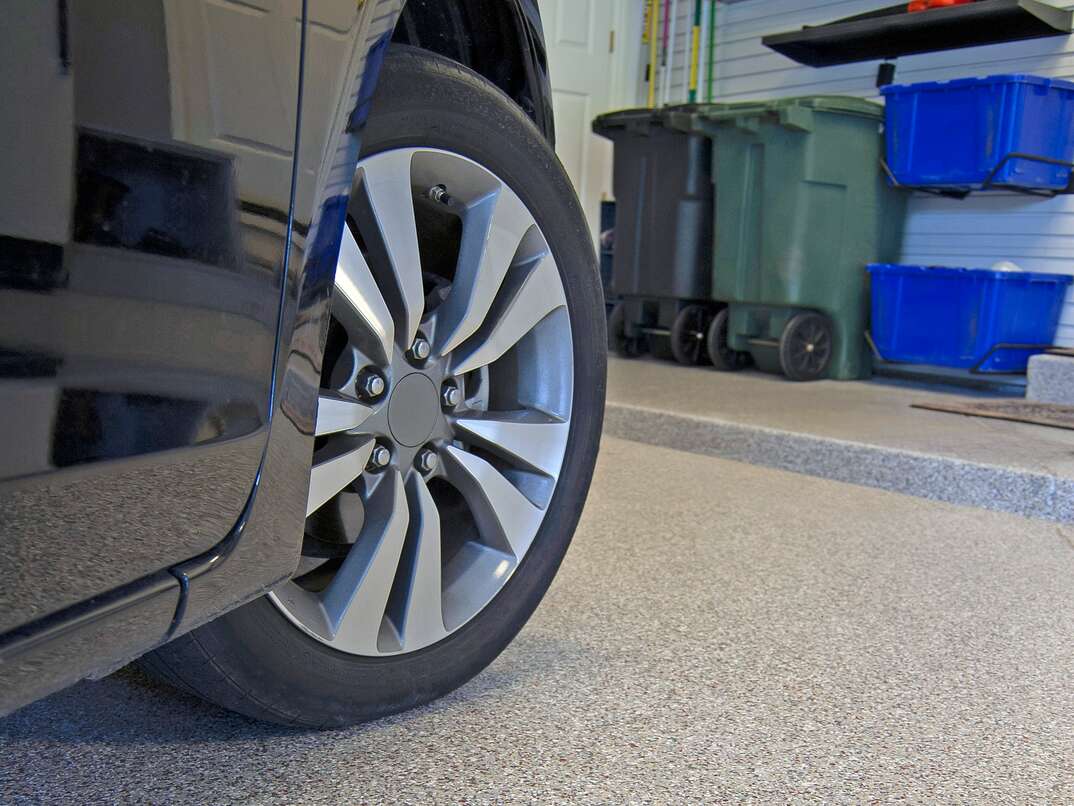 Epoxy flooring is widely considered the flooring of choice for places where messes are regular occurrence. It is durable, strong and stain-resistant, making it easy to clean up — oh, and it's also affordable. You'll commonly find epoxy flooring in hospitals, auto repair shops and other industrial-type facilities. Increasingly, people are opting for this type of flooring inside of their homes — specifically, their garages — for a little extra visual pop with swirls, patterns and colors.
This May Also Interest You: Garage Door Replacement and Installation Cost Guide
Considering applying an epoxy coating to your home's garage floor? Read on to learn all about what it is, advantages and disadvantages, installation costs and much more.
What is Epoxy Flooring?
Epoxy flooring is designed to be structurally hardy and durable. It's applied on top of concrete to give it a hard-plastic finish. This chemical mixture that composes it is produced by mixing two components: a resin and a hardening agent.
How Much Does Epoxy Cost?
Epoxy is one of the more affordable options for places like residential garages. On average, you can expect to pay about $3 to $7 per square foot.
As with any project, the overall cost is going to depend on the size of the area that you need to cover. Epoxy is sold in gallon-size buckets, so you'll need to figure out the number of buckets you need for your project, and then weigh your options to determine if it is worth the money to you.
What Are the Different Types of Epoxy?
Don't make the mistake of assuming there's only one kind of epoxy; they're not all the same or used in the same way — so be sure to do your research before going with one over another.
There are three different types to choose from:
Pure epoxy
Polyester resin
Epoxy acrylates
What Are the Advantages of Epoxy?
Durability
Low shrinkage
Strong adhesion
Resistant to chemicals and solvents
Inexpensive
Low toxicity
What Are the Disadvantages of Epoxy?
Everything has its pros and cons, and epoxy flooring is no exception. For one: It doesn't last forever, and will need to be replaced as wear and tear happen over time. Maintenance intervals will depend on how much use it gets and, therefore, how much damage occurs, but you can expect it to hold up for an average five to 10 years. Other shortcomings include:
It's noisy when you walk on it.
It's cold.
Uneven surfaces beneath it are noticeable.
Epoxy Garage Floor DIY: Can You Do It Yourself?
Hiring a professional can minimize mistakes when installing your epoxy floor — but if you're up for the challenge, you can do it yourself. You'll need to be sure you get the right materials, and it may also be a good idea to enlist the help of some friends.
Steps to follow and equipment you'll need are as follows:
Clear the garage of everything inside it.
Sweep and clean thoroughly to ensure all dirt, dust and other substances are removed from the floor.
Power wash the garage floor. If you don't have a power washer, you can hire someone to do it, purchase one or borrow one from a friend.
Let the floor dry completely before proceeding any further.
Apply your first coat of epoxy and leave it alone until the next day.
The next day, repeat the application for a second coat.
Allow the second coat to dry for two days.
Don't put anything heavy on the garage floor for a full week — including your cars, machinery, appliances, or anything other weighty items.
Garage Floor Resurfacing and Refinishing Costs
Flooring in general can be a pricey proposition. Even if you're planning to do it yourself, it's an investment. When it comes to resurfacing and refinishing your concrete garage floor, you're looking at an average of up to $10 per square foot.
The cost to refinish epoxy flooring, on the other hand, may be roughly as affordable as the initial cost or even a little less, depending on how much product the job requires. You can refinish epoxy as needed, so long as you thoroughly clean it and degrease the surface to ensure the finish adheres properly.
Is the Cost of an Epoxy Garage Floor Worth It?
Again, epoxy is extremely durable against the weight of things that rest on it, and it's easy to clean up any type of mess. Most everything you wind up needing to clean up will completely come off and not leave a stain. If you already have the concrete base, you'll likely only need to spend a couple thousand dollars, maybe less.
Since we're all home now more than ever, being prepared for unexpected home repairs with a plan from HomeServe is important. Having a plan in place gives you the peace of mind knowing that you can simply call our 24/7 repair hotline for covered breakdowns. See what plans are available in your neighborhood.