Ready for the Tab? Here's How Much It Costs to Build a Wet Bar in Your Home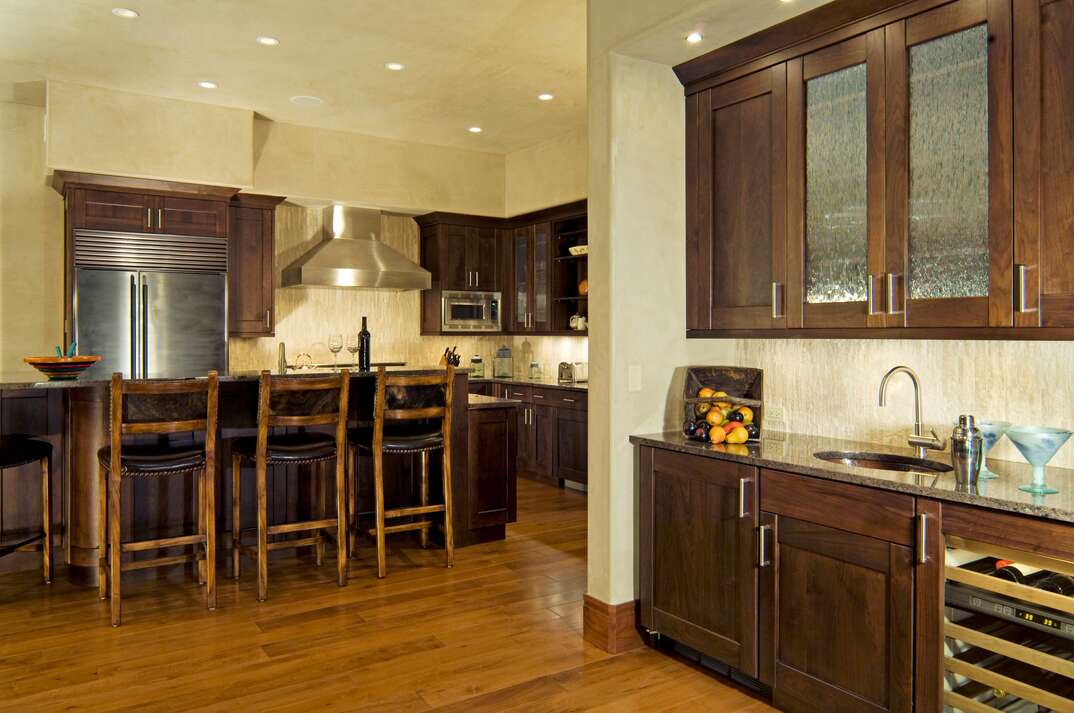 Wet Bar Costs at a Glance
Total price range: $500-$20,000+
Countertops: $150-$1,000
Shelves: $150-$800
Cabinets: $1,000-$10,000
Lighting, electrical wiring and plumbing: $1,000-$5,000
Refrigerator: $500-$5,000
Sink: $250-$1,200
Countertop: $600
Mirror backsplash: $400
Whether you enjoy kicking back with family on weeknights after a long day at work or entertaining friends on the weekends, a wet bar in your basement, living room or outdoor patio is a great way to improve your home's appeal and versatility. The cost to build a wet bar depends on many factors, in addition to what you want the space to look like.
This May Also Interest You: How Much Does a Home Theater Cost?
Here's what you need to consider when pricing out your wet bar project.
Does a Wet Bar Add Value to a Home?
According to Remodeling magazine's cost-versus-value projection, a basement remodel with a home-based pub and bathroom is around 70%.
What's the Difference Between a Dry Bar and a Wet Bar?
No matter how flashy, simple, expensive or elaborate you want your new drink station to be, you have two options when it comes to designing and installing a home bar: dry and wet.
A dry bar includes a spacious countertop for making drinks and storing supplies, and it typically has an outlet for small appliances and a refrigerator to keep everything chilled.
A wet bar has many of the same components as a dry bar, but it also has a sink with running water, which can be a convenient feature for a bar space. A sink provides a place to drain and empty liquids, access to water and a place to wash dishes without having to haul everything back and forth to the kitchen.
Installing a sink and plumbing may be challenging, depending on how your house is outfitted and whether you can tap into a main plumbing source. A dry bar is typically a less-expensive option and can be as simple as converting an old armoire or large bookshelf into a creative place to store, mix and enjoy alcoholic beverages. You can even go with smaller options: a bar cart or antique table that allows you to keep your bar tools organized.
Cost to Build a Wet Bar
The cost to build a wet bar can run you anywhere from $500 up to $20,000 or even more, depending on how elaborate your features are, whether your bar has a sink, and if you decide to go the do-it-yourself route or hire a professional.
Costs for materials such as countertops, cabinets, shelves, electrical wiring and outlets, lighting, plumbing and a sink (for a wet bar) depend largely on whether you're converting an old armoire, refurbishing furniture or installing a custom system.
À la carte wet bar costs might include countertops, ranging in price from $150 to $1,000; shelves, $150 to $800; cabinets, $1,000 to $10,000; lighting, electrical wiring and plumbing, $1,000 to $5,000; a refrigerator, $500 to $5,000; a sink, $250 to $1,200; a countertop, $600; and a mirror backsplash, $400.
There are, as The Spruce notes, additional expenses — custom design, barware, a blender and other small appliances — that you may need to factor into the cost of your wet bar project.
More Related Articles:
Are Wet Bars Outdated?
During the 1970s and '80s, wet bars were popular among middle-class families and served as a symbol for up-and-coming homeowners that they had achieved success.
Today, the popular wet bar setup serves as a hub for making craft cocktails and serving beer and wine. Like many other trends — think man caves and she sheds — the wet bar has evolved and undergone a major makeover in recent years.
Wet bars with dark wood and mirrors have become modernized spaces with lighter and brighter features. Even its purpose has evolved to serve as a dessert station, coffee cart or wine bar with everything you need to host fun get-togethers.
Enjoy your new wet bar without the hassle of unexpected repairs — to the plumbing, for example. Surprise maintenance issues will likely come up when you least expect it. See how having a plan from HomeServe can help with the cost of covered home repairs and keep you on a regular maintenance schedule.