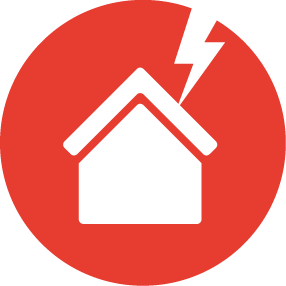 Electrical Surge $1,000 Coverage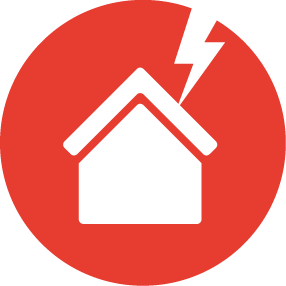 Electrical Surge $1,000 Coverage
30 Day Money Back Guarantee
Why choose this plan:
24-hour repair hotline
Local, licensed and insured technicians
One-year guarantee on all covered repairs
What's covered
Repair or replacement of residential electrical products that fail due to an electrical surge
Refrigerators
Dishwashers
Window air conditioning units
DVD players and game consoles
Replacing electrical products that are damaged due to a power electrical surge could be expensive.*
If an electrical power surge occurs, it can cause damaged to plugged in:
desktop computers
televisions
tablets
With Electrical Surge Coverage from HomeServe, you'll be protected if your valuable electrical products fail as a result of an electrical surge up to your benefit amount.
*North American Warranty, Inc. national average repair costs as of May 2018. No charge for covered repairs up to your annual benefit amount.
Severe lightning strikes can cause surges that go along your main electrical line into your home destroying major appliances including refrigerators, dishwashers, and washing machines, leaving you responsible for the repair cost. Help protect your electrical products from damage due to power surges with a home service repair plan from HomeServe.

Have peace of mind and safeguard your major electrical appliances against the cost of repair due to a power surge. A surge coverage plan will protect you $1,000 annually if your valuable electrical appliances fail as a result of an electrical surge. Covered appliances include air conditioning units, clothes washer and dryers, refrigerators, dishwashers, and electric ranges.
Frequently asked questions
What is the cancellation policy?
You may cancel within 30 days of your start date for a full refund; cancellations after the first 30 days will result in a pro rata refund less any claims paid (where applicable). Most basic homeowners insurance policies do not cover repair or replacement due to normal wear and tear of these components. If you find you have similar protection, you can cancel and receive a refund of your service agreement fee, less any claims paid (where applicable).
What quality of repair can I expect?
Local, licensed and insured technicians perform covered repairs, which are guaranteed against defects in materials and workmanship for one year.
Does my homeowners insurance cover this?
Many homeowners believe their utility companies or homeowners insurance is responsible for emergency repairs to the water, sewer, plumbing, electrical, heating and cooling systems, but the reality is that in many cases you, the homeowner, are responsible. Most basic homeowners insurance policies and local utility companies or municipalities do not cover repairs to or replacement of the major systems in and around your home.
HomeServe is an independent provider of home repair service solutions. For over a decade, we have helped homeowners protect against the expense and inconvenience of water, sewer, electrical, heating, and cooling home emergencies by managing affordable coverage, and offering a quality service. HomeServe, with an A+ rating with the Better Business Bureau, serves more than 4 million homeowners in the U.S. and Canada and dedicates itself to being a customer-focused company providing best-in-class emergency repair services through leading utility partners, municipalities and directly to consumers.
Plans from HomeServe help protect homeowners from the high cost and hassle of covered emergency home repairs with repair service plans that cover parts and labor to repair critical electrical, gas, heating, cooling, and water systems. These affordable plans provide repair service in an emergency through our 24/7 repair hotline by local, licensed, and insured technicians and come with a one-year guarantee* on all covered repairs. *Surge plans have 90 day guarantee.
*Surge Plans include a 90 day repair guarantee.