HomeServe: The Spigot of the Blitz
April 8, 2020
by Financial Times, Lex.
Source link: https://www.ft.com/content/7c7f6b86-5906-4d25-af9b-5e6c2109b946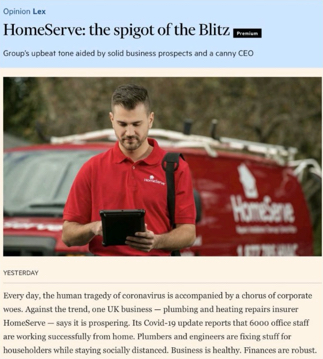 Every day, the human tragedy of coronavirus is accompanied by a chorus of corporate woes. Against the trend, one UK business — plumbing and heating repairs insurer HomeServe — says it is prospering. Its Covid-19 update reports that 6000 office staff are working successfully from home. Plumbers and engineers are fixing stuff for householders while staying socially distanced. Business is healthy. Finances are robust.
Profits in the year to March will even be slightly ahead of forecasts. Good for HomeServe. The group sells peace of mind like all insurers — these days without the compliance infractions that once landed it in hot water. The question is whether the shares offer reassurance to investors too. A one-tenth jump suggests so.
The price performance in recent years has reflected HomeServe's growth more than defensive qualities — 250 per cent gains over five years before the recent market plunge. Acquisitions have made the difference, mostly in the US where sales have almost tripled since March 2014 to £330m.
The valuation had reflected that success — a peak rating of 30 times forward earnings. A sharp fall in line with the rout looks unjustified.
Redundancies and furloughing are not on the table yet. That reflects ample liquidity: £125m of cash in the bank plus unused debt facilities take total reserves to £320m. Net debt as a ratio of ebitda was 2 times in March, below the 3 times covenant boundary.
Profits for the year are secure. A decision on the dividend will be made in May. Even if earnings deteriorate, the moderate payout should be safe. Although rising with profits, the yield has barely exceeded 3 per cent over the past five years. The expected payout of £80m for this year is well covered by free cash flow. Cuts to capital spending will protect it.
Finances and business prospects aside, there is another reason for HomeServe's upbeat tone: chief executive Richard Harpin. He founded the business. Entrepreneurs survive and succeed because they are optimists. Moreover, Mr Harpin is a proud former Boy Scout. The motto of boy scouts is one CEOs should obey right now: Be Prepared.