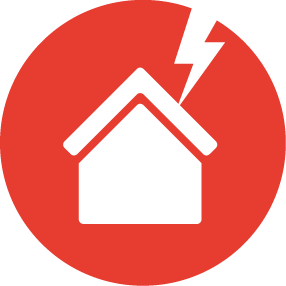 Surge Help Home Electronics Loss Protection ($1,000 Coverage)
30 Day Money Back Guarantee
Why choose this plan:
$1,000 annual benefit amount
Multiple service calls up to annual benefit
30-day wait period with a money-back guarantee
Severe lightning strikes can cause surges that go along your main electrical line into your home destroying major appliances including refrigerators, dishwashers, and washing machines, leaving you responsible for the repair cost. Help protect your electrical products from damage due to power surges with a home service repair plan from HomeServe.

Have peace of mind and safeguard your major electrical appliances against the cost of repair due to a power surge. A surge coverage plan will protect you $1,000 annually if your valuable electrical appliances fail as a result of an electrical surge. Covered appliances include air conditioning units, clothes washer and dryers, refrigerators, dishwashers, and electric ranges.
Important coverage information
Frequently asked questions
HomeServe USA Repair Management Corp. ("HomeServe"), with corporate offices located at 601 Merritt 7, 6th Floor, Norwalk , CT 06851, is an independent company separate from NOVEC Solutions. NOVEC Solutions is not responsible for the service plans offered by HomeServe and its affiliates. HomeServe offers this optional service plan as an authorized representative of the service contract provider, ServicePlan of Florida, Inc./National Product Care Company, 175 West Jackson Blvd., Chicago , IL 60604. Your choice of whether to participate in this service plan will not affect the price, availability or terms of service from NOVEC Solutions.
Surge Help Home Electronics Loss Protection ($1,000 Coverage) for only $3.95/mo.