Disabled Teacher Receives Complete Air Conditioning Replacement from HomeServe
Sometime in early April, Houston, Texas was finally experiencing its first warm spring day. Resident and homeowner Melissa H. started to feel the heat, so naturally, she went to turn on her central air conditioning system. That's when she realized that she had a problem – the unit wouldn't turn on. Since it hadn't been used in quite a few months, Melissa was hoping it just needed a refill on freon gas. She had a policy with HomeServe that covered that type of repair, so she swiftly gave us a call.
Unfortunately, while a member of HomeServe's contractor network arrived quickly to replace the freon gas, the technician notified Melissa that the entire unit was bad, and that it would need to be replaced. Melissa inherited the home from her parents who had recently passed and knew that the air conditioning system was on the older side. What she wasn't prepared for was the potential cost of a replacement: $6,500.
For Melissa, that simply wasn't an expense she could manage. As a disabled teacher who was forced to retire early due to several serious medical conditions, she didn't have access to social security, and only had a yearly income of about $15,000. That meant to be able to stay cool in her home this summer could potentially cost nearly a whopping 6 months' worth of income.
"My various health conditions make it very difficult for me to deal with heat," Melissa explained. "So when I turned on the air conditioning for the first time this season just to have it not work, I was definitely panicking. If it was more of an issue than the freon gas, I knew it wouldn't be covered with the plan I had. While HomeServe service plans are all affordable, for my situation, I picked lower-level coverage, as it is all I can afford on my limited income."
Luckily, a HomeServe repair management specialist told Melissa about HomeServe's Customer First initiative. The Customer First program is part of HomeServe Cares and is available so our agents can go above and beyond to help customers in special circumstances. Because Melissa was an established customer and facing some significant personal hurtles, in this case, we were able to cover the full cost of a new air conditioning unit, even though replacement was not part of her repair plan.
Within just a few days the replacement was coordinated, and a trusted local member of our contractor network, Royal Air, completed the job. The timing couldn't have lined up better – a short time after the new air conditioning system was installed, Melissa went in the hospital for a major medical procedure. She was grateful to be able to recover comfortably at home.
"I have shared the story of this incredible gift from HomeServe with anybody that will listen. From the bottom of my heart, thank you."
In a video Melissa sent to us after she recovered from her procedure, she said, "You can't imagine how appreciative I am of your generosity. It's going to be a hot summer, and there is no way I'd survive the heat. So, from my enlarged heart, I really do appreciate your thoughtfulness. I want to say thank you very much."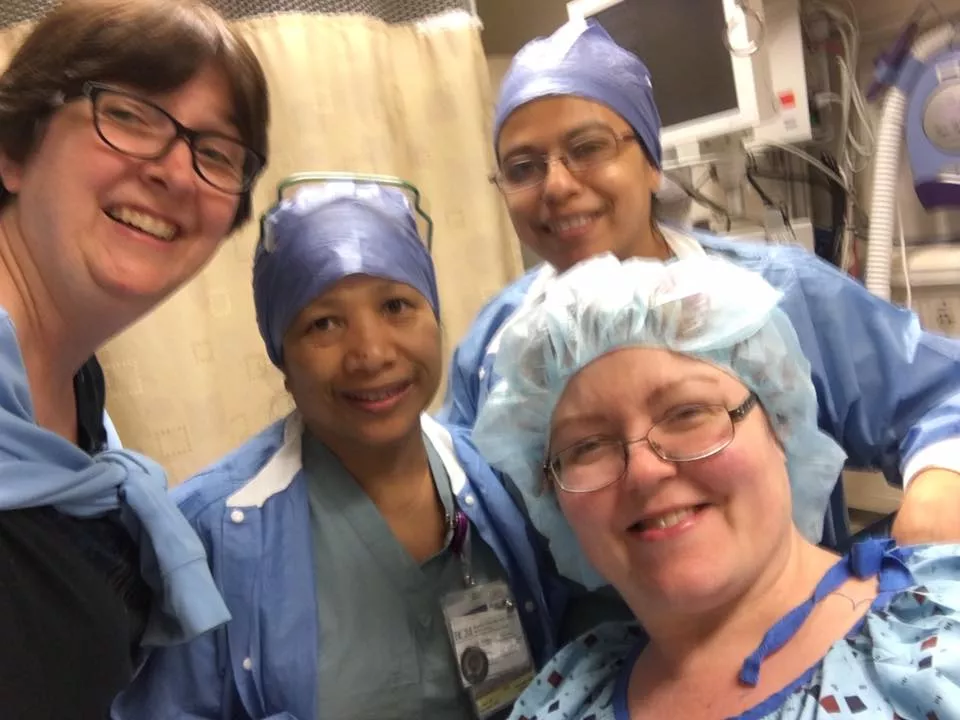 Melissa first enrolled in a HomeServe service plan in June 2021 through CenterPoint, her energy provider. One month while reviewing her bill, she noticed that there was a note that said additional repair service plans were available. That caused her to investigate, and as a result she enrolled in one of our cooling plans. She felt that the few dollars per month the coverage cost her would be worth any potential issues down the road.
"Not only did you all do a great job on the repair – but beyond that, it's clear that you really care about me as a person rather than just an account number like many companies would," Melissa said. "I was thrilled that somebody was willing to help me. I have shared the story of this incredible gift from HomeServe with anybody that will listen. From the bottom of my heart, thank you."