How much does a Home Generator cost?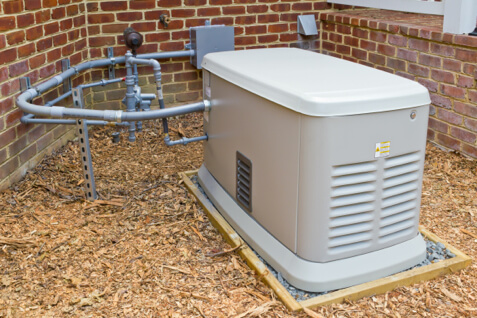 I went for years in my new home without a generator. Growing up, my parents never invested in one, and every time there was a power outage during the winter we faithfully piled on layers of clothes to stay warm. By the time I was a homeowner myself, I was convinced I could survive without one.

Boy was I wrong. My husband finally made me see the light after one particularly tough winter where we didn't have power for almost a week! Having reliable backup power from a home generator has already come in handy (hello being able to bake cookies and binge my favorite Netflix shows during a snowstorm)
New generators are safer - and more affordable - than they were in my parents' day and age. Here's what you need to know when buying a home generator:
Breaking down the costs
After shopping around, I learned all about the three most popular generator options. While we ultimately opted for a home standby generator, there are also portable generators and inverter generators to consider.
Portable Generators:
Can cost anywhere between $400-$1,500, according to Consumer Reports. These systems are easily connected to your home's circuit-breaker panel with a transfer switch. By using 12-20 gallons of gallons of gasoline per day, they can provide upwards of 8,500 watts of power.
You'll need to store a portable unit properly when it's not in use and keep it at least 20 feet away from your home in accordance with carbon monoxide safety practices.
Learn More About Home Repair Plans Near You
Inverter Generators:
Similar in many ways to a portable generator, except the high frequency AC current is converted to a DC current and back into an AC current, explains Best Generator. They're a popular option because they have a battery, alternator and inverter included. Some models from Home Depot can set you back nearly $4,500 (but are $500 on the low end).
Home Standby Generators:
Are by far the most powerful (and most costly) option for backup energy. Consumer Reports explains, while these systems usually cost between $2,000-$5,000, they can consistently provide your home with 20,000 watts of power.
For fuel source, these units usually take 13 to 48 gallons of liquid propane or natural gas per day. They are sized to power an entire house, but you can definitely opt for a mid-sized unit depending on your needs.
These generators are already protected from the weather and can run efficiently (and relatively quietly) for days. They might be pricier, but their automatic transfer switch is convenient for getting your electrical system immediately up and running during a power outage even if you're not at home.
Other factors to consider
If you choose a home standby generator, there are some other factors that can alter the overall cost. If your electrical panel is hard to reach or needs maintenance, you may end up paying more in installation fees. The size, brand and the type of fuel source can also affect the price of a home generator.
You'll also want to budget for yearly maintenance costs. When generator power is used sparingly and maintenance is kept up, these systems can last more than a decade. If you're worried about missing essential maintenance appointments, download the HomeServe App to receive reminders for keeping your home running at peak efficiency.
Ultimately, choosing the right generator comes down to your budget and your electricity needs.
Get peace of mind that you're prepared for electrical home repairs with a home repair plan. See how plans from HomeServe can help with the costs of covered repairs.